With the new year, comes new fashion trends. This spring and summer season, as was seen on the fashion runways of Paris, Milan and London Fashion Week 2019, scarves in their own right have become a statement accessory.
Here are five chic ways to style scarves:
1. Square Scarves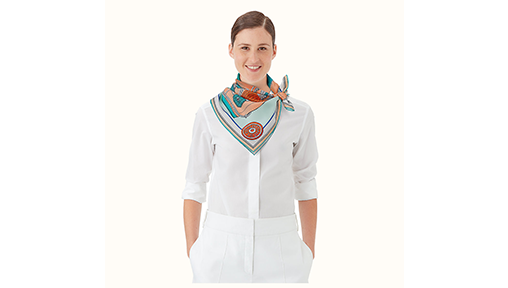 Image source: Hermes
Square scarves are the easiest to style and can easily accompany both weekend shorts as well as dressier outfits. Fold a square scarf in half forming a triangle and wrap it around your neck as the point faces a southward direction knotting the loose ends together at the back. Drawing attention for their silk square scarves for Spring 2019 is Hermes, featuring new designs exhibiting fun, vibrant prints and graphics, alongside their iconic traditional patterns.
2. Scarves as Accessories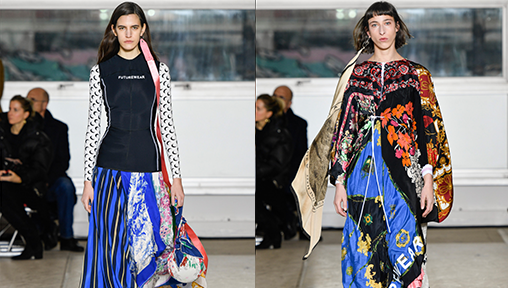 Image source: Marine Serre Manic Soul Machine Collection
Another designer who made the headlines with scarves is Marine Serre. Her scarves held a degree of confidence and a sense of purpose as they dangled from the earrings on the runway for the Fall 2018 ready-to-wear collection. Tied either in a stud or knotted on a hoop, Marine Serre gave us a new definition of quirky to obsess over.
3. Scarves to Style Handbags
This year's scarf trend has found new stylish friends apart from the neck. Taking a cue from Louis Vuitton, this season is more about scarves bonding with the handbags. The best way to style any handbag, this trend is witnessing fashionistas tying bold, printed scarves on to the handles and straps of their bags.
4. Scarf Covered Bags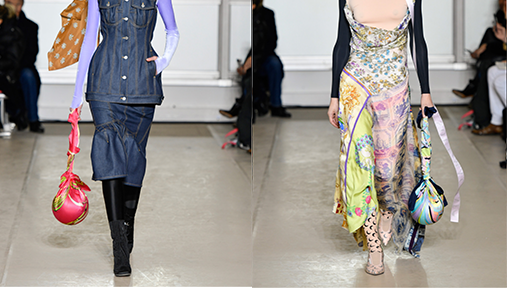 Image source: Marine Serre Manic Soul Machine Collection
Scarves used as accessories were the highlight of Marine Serre's show and it did not just stop with the earrings. While the trend was established by just tying the scarf on a handbag handle, Marine Serre took it a notch higher with her spherical scarf-covered bags.
5. Head Scarf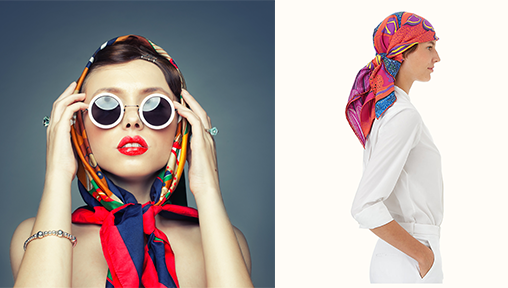 Image source: Hermes
Paying homage to fashion in the sixties, as the angular framed sunglasses and animal prints have made a comeback for the season, another retro chic timeless styling that came back with them is a scarf worn on the head and knotted on the front. The Hermes collection saw the silk scarves tied as bandanas around the head too.
Given how versatile scarves are, they should be a staple in every women's wardrobe!