If you're looking for more reasons to shop, then we have exciting news! Reebonz, the online luxury shopping platform is playing cupid this Valentine's Day. In line with Valentine's day, Reebonz is introducing the Love Roulette game. 
Reebonz has been a favourite go-to website when it comes to buying and selling luxury. From February 1 to 7, Reebonz is inviting shoppers to try their luck and strike their hearts' fancy with a chance to win discount codes with every spin of the Love Roulette.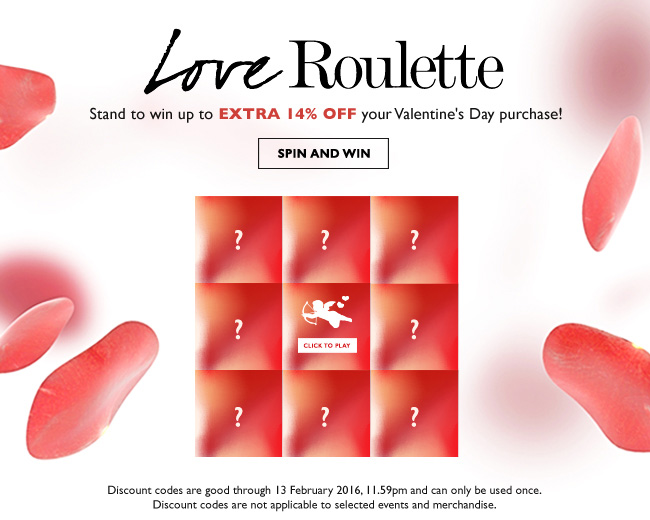 To participate, Shoppers are invited to visit Reebonz's website, sign in, and click on the cupid icon to stand a chance to win discount codes up to 14% off. The discount coupons can be used on selected Reebonz events featuring brands such as Alexander McQueen, Balenciaga, Chloe, Celine, Prada and many such. Discount codes from the Love Roulette are valid until the 13th of February and can only be used once a day. 
Shoppers are also invited to visit the website's Valentine's Day Gift Shop events, which will offer a range of selected designer items. More details on its website or through the Reebonz mobile app for iOS and Android devices.
What are you waiting for? Keep spinning to win those discounts and shop your hearts away for yourself and your special someone this Valentine's Day. 
For the latest updates on Reebonz, visit their website and follow them on Facebook. 
*Image Credit: Reebonz