What's new in Singapore's vibrant local food scene since Phase 2 has opened up? In a bid to #SupportLocal businesses, we've rounded up the exciting new menu launches at some of our favourite restaurants in Singapore.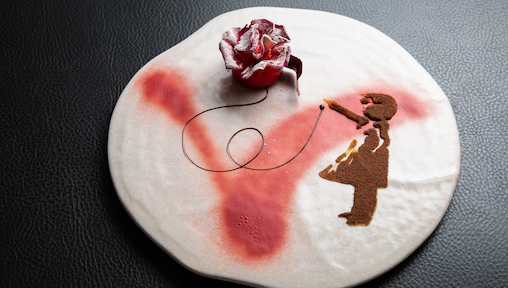 V-DINING by V-ZUG is located at Scotts Square. The laid-back fine dining restaurant with floor-to-ceiling windows and a bustling open kitchen taps on the energy of being in the heart of Orchard while offering views of the hustle-bustle in town.
The new executive chef of V-DINING by V-ZUG, John-Paul Fiechtner (or JP for short), debuts with a bold new multi-course menu that steers away from classic fine dining conventions. While it is adventurous and defiantly casual, JP's cuisine remains refined. Chef JP is quick to point out that a refined cuisine does not have to rely on flashy ingredients nor the elaborate trappings of fine dining convention. Drawing from his over two-decade-long culinary career that has taken him across the globe, the Australian chef blends his classic European training with innovative modern techniques and flavours that reference multiple cuisines and cooking techniques. Unlike most restaurants that boast commercial kitchens, the culinary team at V-DINING creates the entire dining experience using V-ZUG's state-of-the-art Swiss home appliances in the kitchen.
The multi-course menu opens with the Oyster Pearl, Nasturtium Kimchi. A playful imagination of what a pearl from someone's necklace would taste like if he could eat it, it is also Chef JP's subtly subversive nod to the convention of opening a fine dining meal with oysters.
One of our favourite dishes from the menu is the Braised Taro, Parmesan, Onion, Braising Liquor. Chef JP has taken the humble taro, believed to be native to southeast Asia, and demonstrated that even a familiar and commonplace ingredient can be elevated and transformed into something surprising and delicious.
Towards the end of the meal, you can delight in three sweet desserts, starting with the Rose, Plum, Raw Cacao that takes its form as art on a plate inspired by Banksy. This is followed by a deceptively simple yet flavourful Brown Rice and Miso Amazake Ice Cream with tea-smoked olive oil and mandarin. Finally, the menu draws to a close with Roast Jerusalem Artichoke, Grapefruit, White Chocolate. The flesh of slow-roasted Jerusalem artichoke is scooped out and turned into a sweet creamy custard before it is filled back into the skin that has been dried and coated in caramelised white chocolate.
A vegan menu is also available for those who wish to try plant-based dishes thoughtfully created by Chef JP. One of the highlights on this menu is the Salted Baked Beetroot with aged pear, pickles and preserves.
Enjoy KOMA's set lunch menus priced from S$39++, choosing from a selection of favourites that include the Bincho Sakura Chicken served with cherry tomatoes, crispy shallots and steamed rice and the unmissable Wild Mushroom Fried Rice with shiitake, shimeji and maitake mushrooms with koshihikari rice. We added on the Crispy Tokyo Gyoza and Miso Glazed Eggplant that were delicious. We highly recommend going with the 3-course set lunch menu for S$49++, which includes desserts and do try their Japanese Cheesecake with Strawberry Sorbet that is simply outstanding. It's best to dine as a group so you'll be able to share all 3 dessert options which includes their signature Bonsai, which is filled with molten dark chocolate and crunchy praline and Lemon Yuzu that's a perfect palate cleanser. 
There's also a refreshed cocktail menu at KOMA to look forward to, as the restaurant introduces several handcrafted cocktails, including a new signature cocktail, KOMA Phoenix - a refreshing mix of tequila, chilli umeshu, agave nectar and lime juice. Other new additions include the Sakura Spritz with Brachetto d'Acqui, Prosecco di Valdobbiadene and Sakura vermouth, and the spirit-forward Shiso Negroni, KOMA's rendition of the classic negroni using distilled umeshu and shiso.
For reservations, call (+65) 6688 8690 or e-mail koma.reservations@marinabaysands.com.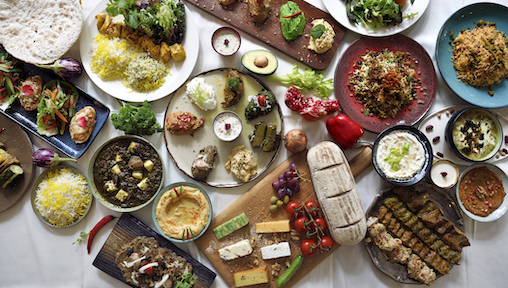 Multi-Award Winning Persian Restaurant in Singapore, Shabestan, celebrates it's 7th Anniversary with a 7-course menu for $77++ from 7th to 31st October 2020. Get a grand welcome with a glass of Prosecco, Wine or Mocktail as you embark on a gastronomic journey to Persia. 
Starting the gastronomic journey with appetisers, you can choose between 7 most popular vegetarian and non-vegetarian appetisers which include Hummus, Muhammara and Kash-e-Bademjan. Meat lovers can indulge in the true taste of Persia with kebabs, and meat cooked using traditional Persian recipes and techniques. 
Shabestan's award-winning Shah Pasand Chicken is a special recipe from the Gulf where tender boneless chicken breasts are marinated in saffron and herbs that's a must-try. Our favourite dish on the main's menu is the Tekeh Masti. Made with premium beef fillet cubes marinated in yoghurt and Persian spices, this kebab is pure melt-in-your-mouth kebab deliciousness. 
What's more? Shabestan is introducing Impossible™ Kebab, a new signature dish, on its menu along with Sabzi Kebab which is a favourite amongst vegetarians. 
No meal is complete without desserts and it's tough to choose between these popular Middle Eastern sweets - Bakhlava, Kunafe and housemade Persian Ice Cream.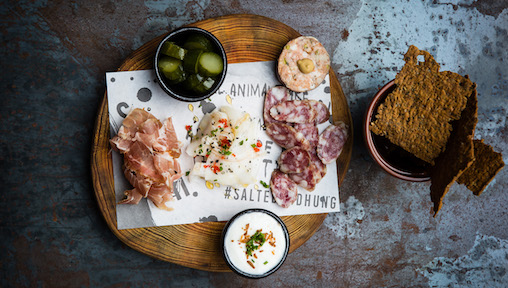 Contemporary Australian restaurant, Salted & Hung presents a new tasting menu guided by Chef Drew Nocente's philosophy of 'minimal-wastage'. The menu revolves around creative usage of every ingredient, showcasing the beauty and functionality of the forgotten.
The 7 to 10-course tasting menu starts with bite-sized snacks such as Fish & Chips which brings an elevated style of the good ol'British classic using textures of Chickpea, pea puree and Amur Caviar. Other highlights include The Jerusalem Artichoke - a party of fresh vegetables, wing beans, fresh seaweed, toasted buckwheat, confit egg and mushroom dashi; as well as the Green Lip Abalone, lightly grilled over Bincho-tan charcoal, finished with sourdough essence reduction and a side of lemon gel.
Other dishes on the menu include Salted & Hung's house-cured Charcuterie selection, and honestly one of the best desserts we've had in a while - the Gold'n Gaytime. This is a play on one of Australia's most iconic ice-cream, re-invented with Salted Toffee, Almond Honeycomb and Wattle Seed Chocolate Crème.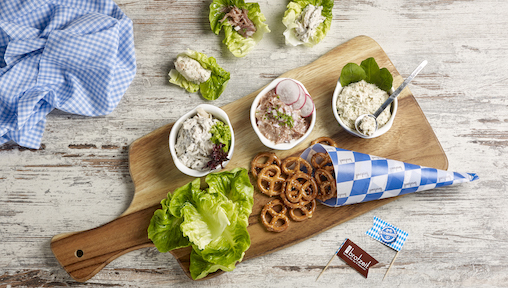 While Oktoberfest may have been cancelled due to COVID-19, Brotzeit continues to celebrate this festival till 25 October. The menu this year has been created personally by their new Austrian Group Executive Chef Lorenz Raich.
Brotzeit's Kalter Schweinsbraten is freshly made from pork collar marinated overnight in Brotzeit's own secret 12-spice mix, slow-roasted on a bed of root vegetables and Brotzeit's lager, then chilled. Thin slices are then served with rocket leaves, dots of mustard aioli, crispy pork skin and house-pickled daikon cubes.
Fans of Brotzeit's custom-made sausages and justly famous pork knuckles should turn their attention to the Riesenbrezn or Giant Pretzels. Specially created just for Brotzeit, their size alone – 23cm long and 18cm wide! – would earn cheers of awe and approval from the table but it'll be the flavours that'll inspire return visits.
Other Oktoberfest goodies to look forward to include the Dreierlei Eingemachtes or Preserved and Smoked Spreadswhere housemade savoury spreads of smoked trout, duck confit and chicken truffle are served with crisp lettuce leaves and crispy mini pretzels.
Oktoberfest isn't complete without beer! Brotzeit is the only restaurant in Singapore that imports and serves the Hofbräu Oktoberfestbier.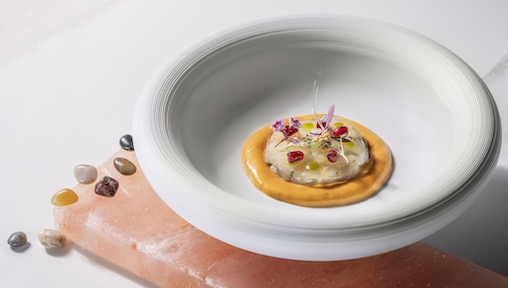 Italian restaurant Forlino is now Riviera Forlino, a new concept that celebrates Mediterranian cuisine inspired by the coastal flavours of the French Riviera. Set against the scenic backdrop of the Marina Bay waterfront, your delicious meal is accompanied by panoramic views of Singapore's stunning skyline.
Riviera Forlino's new menu is conceptualised by the star-studded pairing of Executive Chef Rémy Carmignani and Executive Pastry Chef Nicolas Vergnole. Highlighting Mediterranean cuisine's speciality which is fresh fish and seafood, the dishes are innovative and exciting. Our favourite dish by far was the Wild-Caught New Zealand Langoustine with tomato jelly, tomato vinaigrette and young shoots - fresh, zesty, and a symphony of well-balanced flavours.
Riviera Forlino serves up the Lobster & Shellfish Bouillabaisse with blue lobster, scallops and tender fresh catch, garlic parmentier and a tarragon and orange crust topped off with tableside service of lobster soup, elevating this dish from a lowly fisherman's stew into an otherworldly experience.
End of your meal with stunning desserts like the Riviera Vacherin, a product of Chef Remy and Chef Nicolas' first collaboration after they were both inspired by Chef Corrado Assenza's Ricotta Di Pecora Pistachio gelato dessert that was featured in an episode of Chef's Table: Pastry. The Riviera Vacherin features ricotta di pecora gelato that is complemented with Sicilian pistachio chantilly, Amalfi lemon gel, and meringue.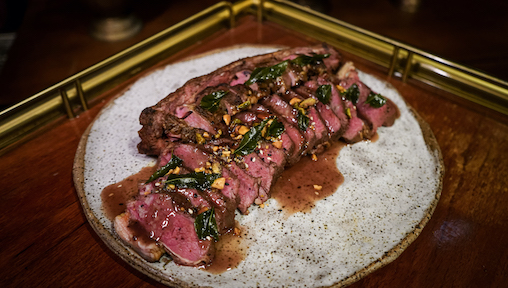 Modern Middle Eastern restaurant Fat Prince, has always defied tradition and changed the way we've viewed Middle Eastern cuisine. The new and updated dinner menu at Fat Prince pushes the envelope further with appetite-whetting mezzes, succulent roasts and grilled kebabs.
Start off the meal with Fat Prince's selection of Mezzes including the Grilled Octopus with fennel, arugula, and walnut crumble or try the newest variation of their signature hummus, the Sweet Corn Hummus, made in-house and served with semi dried tomato and crispy curry leaf. Additions to the house-grilled kebabs include the smoky Harissa Prawn Kebab with turkish hot sauce, watermelon, and buckwheat and the Roasted Pumpkin Kebab featuring pickled pumpkin and smoked cheese.
Stars of the show are the three new meaty dishes perfect for sharing and prepared in a traditional earth pit oven: Omega Lamb Porterhouse with Moroccan 7-spice, pistachio dukkah and juniper; fall-off-the-fork Wagyu Beef Cheek with fermented chilli, zata'ar and walnut crumble; as well as Iberico Pork Rack with turkish coffee, szechuan peppercorn and zhoug. The meats are slow-roasted in a custom built, underground oven that cooks in temperatures of up to 450°C and allows the meats to braise in their own juices. 
End off the meal on a delightfully sweet note with the Milk and Cookies Cake or the sinfully-moist Chocolate Cardamom Cake. 
Not to forget, their signature 'Koktails' that deliver bold, unique and creative flavours through a variety of styles. Try the Gimlet 100 with roku, japanese cucumber, cordial, citrus or the heady Negroni Rouge, a beefeater, mancino rosso, peppercorn, juniper concoction created to please. 
Want to have your own house party? Welcome Fat Prince in your home, where you can celebrate with friends or family with their House Party package that takes care of prep, food, drinks, cutlery, glasses and even cleaning up! You'll also get their playlist, pillar candles, candelabra and frankincense oil burners to get that Middle Eastern vibe going.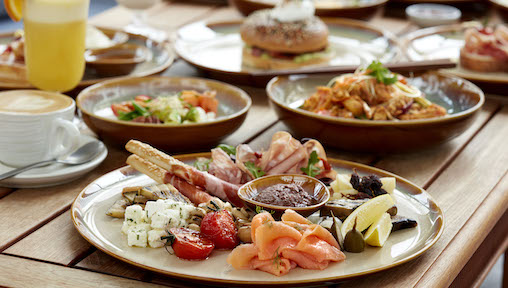 The recently renovated iconic Raffles Hotel Singapore houses an alfresco dining venue - Raffles Courtyard - which offers weekend brunch in a lush landscape right in the middle of the city.
You can indulge in a selection of fresh patisseries straight from the bakery, local delights and a hearty spread of contemporary dishes. Choose from hearty brunch classics such as Smok noed Salmon Tartine; healthy Yellowfin Tuna Tataki Bowl; or Asian favourites including Nasi Lemak and Seafood Mee Goreng. Going for brunch with a small group of friends? Get the Antipasti Platter to share. Pair your brunch with cold-pressed juices and nutritious smoothies.
The new weekend brunch menu is exclusively available on Saturday and Sunday from 9.30am to 3pm.
The first restaurant in Singapore to combine the taste of India with fixed roots in American barbecue, Meatsmith Little India offers an interesting fusion of barbecue with an accent of Indian flavours.
The menu at Meatsmith Little India combines the technique of slow cooking and barbecue, using wood and fire to grill, smoke, char, roast and burn the best ingredients from the local Tekka market and around the world.
We've been fans of their existing menu and our favourite dishes are their Crab Biryani, Madras Pork Cheeks and Veal Brisket Chapati which you can still order. 
We were really impressed with their Tasting Menu which is well priced at SGD85 and you can opt for an additional cocktail pairing for SGD65. Our favourite dishes include Potato Pani Puri with Coriander, Biryani Nigiri, Leek and Foie Gras, Brisket Donuts, Fish and Chips, Tandoori Beef Cube Roll and the list goes on.
We're not going to spoil the surprise for you as you guess each dish and the flavours of the cocktails with alcoholic twists such as honey + tea, coconut + mango, coffee + sakura and more. We had good fun guessing the alcoholic base of each drink and the various flavours that was just bursting with each sip.
Stellar presents an all new alfresco dining experience at 1-Altitude's rooftop. Located on the 62nd level of One Raffles Place, you can now indulge in a gastronomic dining experience matched with unobstructed views of Singapore's cityscape.
With both à la carte and 5-course dinner options available, you can also opt for wine pairing to complete your dinner experience. Arrive at 6.30pm, just before sunset, and start your evening with wine or cocktails. If you're lucky, you'll get a beautiful sunset dinner experience which can get really mesmerising.
Here is the list of dishes we tried and enjoyed:
German Smoked Eel with Asparagus charred over wood fire, parmesan cream, chives and Greek feta sprinkled over it (SGD28++)
Pickled and braised Devesa Argentinian Angus Beef Tongue that was brined for 3 days and then braised with vegetables and dressed with herb vinaigrette, finely chopped carrot, zucchini, bell pepper, shallot, capers, gherkins and lemon zest (SGD29++)
Seared Canadian Scallops with roasted sweet potato, red endives, Australian Avocado, herbs and toasted pine nuts (SGD32++)
Sustainable Red Snapper with Allium, Anchovy Shallot Butter, Poached Leeks and Hazelnuts (SGD38++)
Tasmanian Ocean Trout with Zucchini, Kampot Peppercorns, Pickled Red Cabbage with Chive Butter Sauce (SGD48++)
1kg Wood-fired Sanchoku Wagyu OP Rib with Thinly Sliced Nicola Potatoes Cooked in Goose Fat and Garlic, Pickled Carrots and Charred Kale to be shared (SGD220++)
We tried all 3 desserts which were presented in a Dessert Art format consisting of their Pavlova, Chocolate Cloud, Floral Infused Marshmallow, Kaffir Lime Leaf Curd, Coconut Sable Wheel that are SGD18++ each.