Want to get salon-ready for the festive week but still wondering what hairstyle to show off? Whether your hair is short, medium or long, here are some suggestions of the trendiest hairstyles straight from the professionals. They've got you covered come this Valentine's Day and Chinese New Year.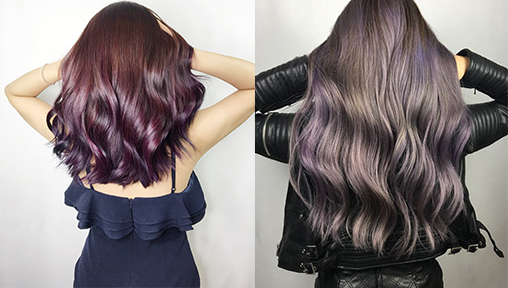 Looks like it's time to hop on the metallic hair colour bandwagon with Kimage! Metallic shades give your hair a stunning shine and multidimensionality, and its perfect for the chic girls who want to stand out. The salon suggests mixing two hot trends together - metallic shades and purple hair.
The first style is a deep brown balayage with a metallic plum sheen (left image by stylist Michelle Teo) to make your hair look ultra luxurious. The second mesmerising look comprises a stunning medley of metallic lilac and ashy-silver (right image by stylist Scarlett Zhu). Drop by any of Kimage's 13 outlets all over Singapore, or visit their flagship store Kimage Cove at Marina Square to get your metallic fix today!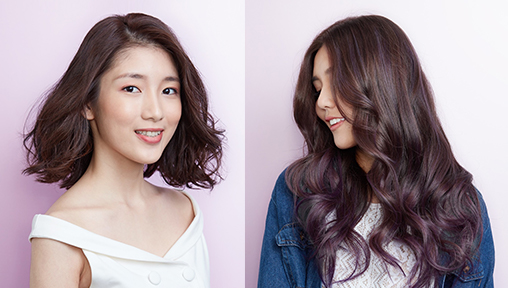 Associate Salon Director, Shawn Chia, has done backstage styling for multiple fashion labels including Gucci, Prada, Calvin Klein, Guess, Miu Miu and Chanel. So you can bet he knows what he's talking about when it comes to trending hairstyles.
He says that the (Wob) Wavy Bob is the must-have hairstyle for 2018! This season, the Wob sees a more relaxed and tousled approach (left image). Wear yours with subtle waves for an effortless, I-Woke-Up-Like-This look.
Following the revelation of Ultra Violet being the Pantone Colour of the Year, the future of hair colours is looking to shades of purple. Shawn warns, "Before you jump on the Bandwagon, please be warned that not everyone can pull off the colour purple. Violet takes colour away from many Asian's skin complexion. Unless you're one who wears makeup daily, we don't advise you to go with a whole head Violet as it might make you look pale and dull."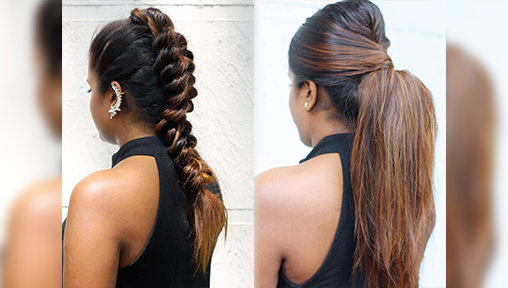 Blonde Boudoir is one of Singapore's leading hair salons catering to both locals and expats. The international team specialises in precision cutting, styling and all things colour! Italian Creative Director Joe Galeotti has been hairdressing for over 25 years. He has travelled the globe mastering the Art of Hair and has worked backstage at Fashion Week in Milan, Paris, Sydney, Dubai and Beirut.
Going the romantic route, Joe recommends the Mohican Braid (left image)or the Textured Party Ponytail (right image). If you want to look like you've put in more effort to get ready specially for your date, then this is the way to go!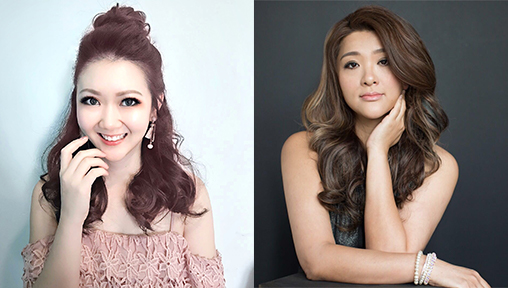 Cynthia Oh, is a Award-Winning Makeup and Hair Artist from Singapore, and Director of Cynderella. A graduate from a New York University, she went on to upgrade her skills in Korea, Thailand and Taiwan. She has a vast experience styling celebrities and brides.
For this festive season, she recommends the fashion chic half-bun (left image) that is cute, youthful, and easy to style. Another option is the perfect volumized curls (right image) for the Victoria Secret Angels' look. It looks naturally effortless yet sexy.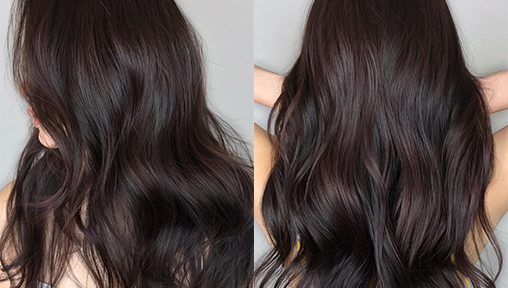 Karl Ko, Senior Stylist at mi the salon, recommends the Lob (Long Bob) complemented with a long fringe this Chinese New Year and Valentine's Day. This hairstyle has recently been sported by celebrities Gal Gadot and Bella Hadid.
It looks best with a chocolate brown base, further emphasised with rose highlights. This combination is romantic, subtle and wearable, yet appropriate for the festive season. In addition, ash rose is in the list of 2018's Top 12 Pantone Fashion Colour Trends.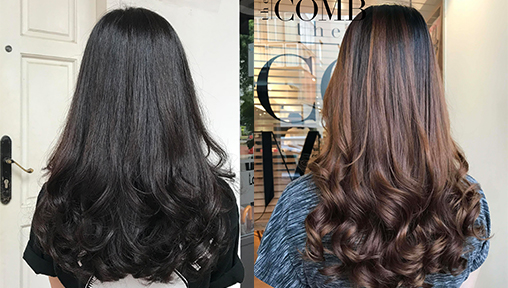 The Comb is a quaint salon located in Club Street popular for their Korean-style customised perms and hair manicure colouring. The team comprises of young but experienced senior stylists with an eye for style and the latest hair trends.
The team recommends their signature Korean perm, which is categorised by soft and feminine big curls. It is all in the technique, chemicals used and the skill of the stylist to achieve this gorgeous look.