The Pintxo Exchange brings three of San Sebastian best mouth-watering pintxos to TXA Pintxo Bar located at the iconic Alkaff Mansion in Singapore. 
Curated by the award-winning food tour guide, Eskerne Falcon, who was awarded the title of "Culinary Tour Operator of the Year - San Sebastian-Donostia-Spain 2019", Eskerne has managed to get three of San Sebastian's best pintxos recreated exclusively in Singapore at The Alkaff Mansion's TXA Pintxo Bar from 22nd to 25th August 2019. 
TXA Pintxo Bar
TXA (pronounced cha) Pintxo Bar is the first bar in Singapore dedicated to the unique Basque pintxo experience, long acknowledged as one of the top food experiences in the world – fun, uninhibited and buzzy.
Pintxo (pronounced pin-cho) is a Basque word that literally means "spike". It is now commonly referred to as a bite-sized snack served on a stick; these are traditional in the Basque Country.
Here are teo of Vanilla Luxury's favourite dishes from TXA Pintxo Bar's regular menu.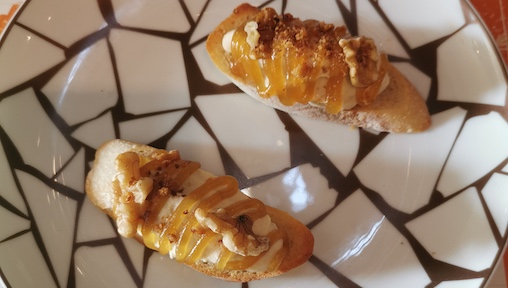 Crema de Roquefort Con Manzana Y Nueces is a perfect combination of sweetness from the apple jam, creaminess from the Roquefort cream and crunchiness from the walnuts.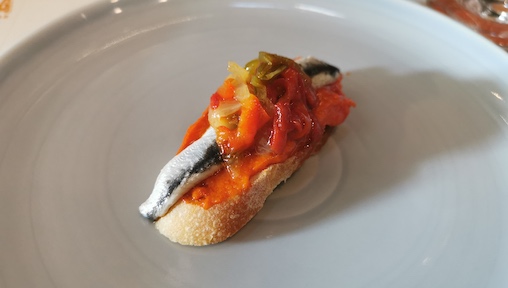 The delicious Pintxo Igeldo features confit tomato, tuna, anchovies, and piparra.
San Sebastian, Basque Country
San Sebastian is widely considered as one of the best places to eat in the world. Located in Basque Country, San Sebastian isn't like the rest of Spain as it is near the border of France and it has its own language and its own culinary traditions. Basque Country is home to the second most Michelin star-restaurants per capita. 
Step into any bar and you will see a lavish spread of pintxos. Since San Sebastian is so far from Singapore, we are glad to be able to taste these mouth-watering pintxos conveniently in our city. Guests will also be able to try out TXA's regular pintxo menu, a cider from Basque, which is called txakoli that is a slightly sparkling, dry white wine from Spain, typically serve as an aperitif. 
With the permission and endorsement to recreate pintxos from two famous restaurants in San Sebastian, here are pintxos that TXA's very own Chef Marta Elvira Segales will make exclusively for foodies in Singapore.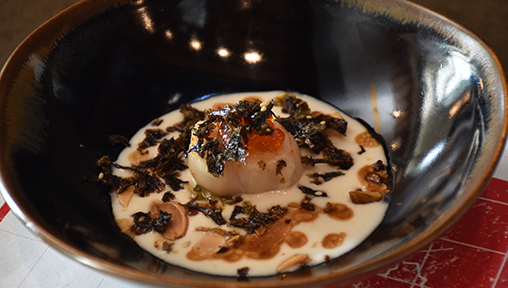 Scallop with Ajoblanco & Bacalao with Green Beans from Restaurante Casa Urola
Both of these pintxos are recreated from Restaurante Casa Urola's recipe, a dining venue founded in 1956 that offers "perfectly turned out pintxos". These pintxos are highly recommended by Jose Mari Aizega, the Director of the Basque Culinary Centre, a culinary foundation located in San Sebastian.

Pintxo de Foie from Bar Restaurante Txuleta
Pintxo de Foie is replicated from Bar Restaurante Txuleta. Based in San Sebastian, Txuleta is famous for their grilled local meats and are known for serving the best Txuletas in Plaza de la Trinidad. The Foie Gras with apple jam and a touch of salt is wholesome and absolutely divine.
The Pintxo Exchange
Eskerne Falcon, will personally be present every night at The Pintxo Exchange to share more about her culinary journey and San Sebastian's popular pintxo food culture.
Date: 22nd to 25th August 2019
Time: 6pm – 10pm
Location: TXA Pintxo Bar, The Alkaff Mansion
Address: 10 Telok Blangah Green, Singapore 109178
Make a table reservation to receive a complimentary glass of Basque cider and one welcome pintxo. Reservations can be made at 8123 8484 or [email protected].