PINKSALT, a modern swimwear label by Singaporeans Belinda Lee and Ng Su May, offers refreshing takes on swimwear that are both modest and feminine. The debut collection, Bloom in Detail, ranges from SGD $109 for a one piece strapless swimsuit to SGD $159 for a two piece halter swimwear set.
Vanilla Luxury: What made you ladies decide to launch a swimwear brand in Singapore?
Belinda: I wanted to create more urban silhouettes in swimwear and design my own print. As a graphic designer I was interested in transferring my skills onto textiles design and I thought that swimwear was a good platform to make that transition.
Su May: I thought that it was a great opportunity when Belinda first proposed the idea because I believe that there is a gap in the local market for modern and unique swimwear.
Vanilla Luxury: What makes PINKSALT unqiue?
PINKSALT: Our swimwear is made with heavier weight polyester and spandex blend that provides a snug and comfortable fit which helps to shape the body, enabling ladies to feel more secured and supported. Strategic color blocking is also used in the designs by placing darker panels along the waistline; this helps to create an illusion of a slimmer waist. In addition to the urban silhouettes, matte fabric was used to help enhance the versatility of the swimwear allowing the wearer to seamlessly transition from the beach to the cafe.
Vanilla Luxury: What is your inspiration for your first collection?
PINKSALT: We wanted to mark the beginning of our debut collection, Bloom in Detail, with the bloom of a flower as it reflected our emergence into the world of swimwear.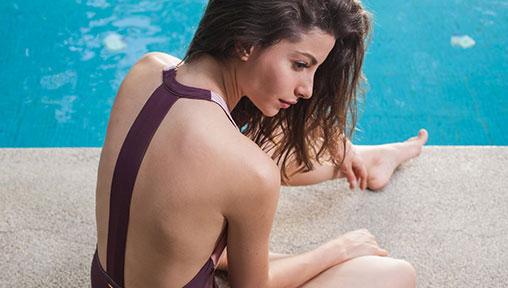 Vanilla Luxury: What made you choose this colour palette for your first collection?
PINKSALT: Our palette for this collection consists of the rich and intense colours of plum and puce. These colours were chosen to reflect the flowers in our textiles design. The darker hues also help to reflect the modern and urban look of our swimwear. Much like the idea behind the LBD, we added a black piece in our collection because we felt that most women need a classic little black swimsuit in their wardrobe!
Vanilla Luxury: Is the fit for Asians and Caucasians?
PINKSALT: Most of our designs are geared towards Asian sizes because that is our target market. However, we do have some designs that are adaptable and will equally fit Asians and Caucasians.
PINKSALT swimwear is available exclusively on their online store only, both local and international shipping will be available.