It's going to be a busy month ladies. Social events, parties and family get together's will not only take a toll on your mind but also your skin! While you indulge in the season's festivities don't forget to take the time out to pamper yourself and that beautiful body of yours. ÉLÉVATIONE, a leading international skin care brand, was born from the idea that beauty goes beyond skin deep, and radiates even more than an aura. Together with best in class ingredients, chosen to turn the years back on your skin, they provide a holistic pampering range for your body – head to toe!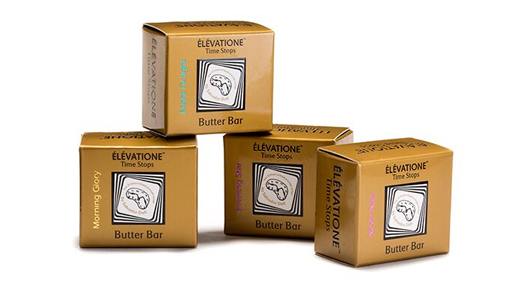 If there is one soap to use on your body, believe us when we say it's the Butter Bar. Skin cultivating butter bars melt in contact with the skin when combined with the natural body heat. The butter bars work wonders on all areas of dry skin, elbows, knees and heels, delivers a nutritive, moisturizing boost with softening qualities for the ultimate enjoyable spa experience at home. Enriched with Shea butter and avocado butter, its unique qualities will leave your skin soft and supple.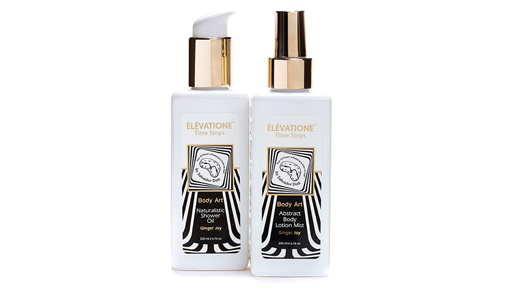 2 joys in one package! This bestselling kit comes with a shower oil that allows water and oil to mix together and deliver clean freshness while leaving your skin soft and with a wonderful scent. The shower oil is enriched with argan oil and avocado oil, enhances lasting moisturizing qualities, along with ginger energizing benefits and aloe vera leaf juice soothing properties during cleansing.
The body lotion mist works on a formula that is based on a handmade infusion of cinnamon, eucalyptus and olive leaf, boosted with vitamin E and provides your skin with antioxidant protection and nutrients.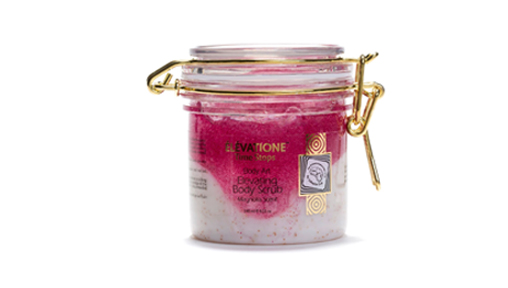 This special pre-bath recipe is designed from three layers of delicate exfoliation agents. Two of these layers are based on rice powder, a widely acknowledged  skin polisher known to protect the skin from blemishes. The middle layer is based on apricot grains for gentle scrubbing of the skin, removing impurities and dead skin cells, keeping the skin hydrated, cleansed and clear. The Body scrub boosted with vitamin C, pomegranate extract and elastin, keeps your skin well moisturized, soft and resilient.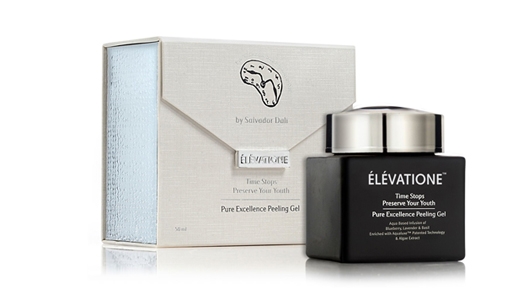 Perfect for refreshing your skin, this weekly refreshing gel treatment designed to clarify and revitalize your facial complexion, helps in restoring weekly energy. Apart from removing  surface dirt and dead skin cells, eliminating impurities, oil, toxins and pollutants, and leaving the skin renewed and revived – this gel also mimics the osmoprotectant system that enables marine algae to survive the salinity of water. This phenomenal ingredient ensures an optimal water balance within the skin, improving the skin's water holding capacity and boosts the skin's moisture level for an extended time after application. What can you expect? Deep nourishment and getting the very natural essence of beauty for your skin.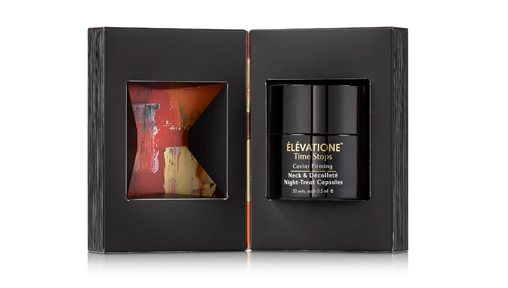 Yes, your face needs treatment but don't ignore that neck or décolleté that starts showing signs of ageing well before the rest of your skin. Neck & Décolleté Night-Treat Capsules essence is designed to keep all the ingredients fresh until they are activated by contact with the skin. The serum essence absorbs into the skin during the night hours to repair daily skin damages, enhancing skin's texture, resiliency, and plumpness for a renewed and remarkably younger, revitalized look by morning.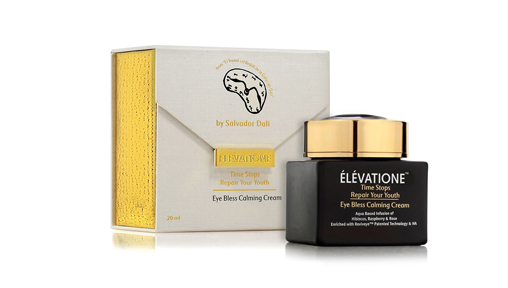 Those eyes need all the rest they can get. Invest in this exceptionally nourishing nightly eye cream, that instantly seals in essential vitamins and minerals, gradually exposing a younger and more plumped complexion appearance with continuous usage. This extraordinary eye cream is based on Reviveye, peptide based patented technology which helps prevent and fight the appearance of bags under the eyes, visibly improves firmness and elasticity, soothes and decreases puffiness appearance. Brimming with vitamin C antioxidant protection and perfect to replenish the hydration, the smoothness and the softness of your skin; this is one party essential you have to get!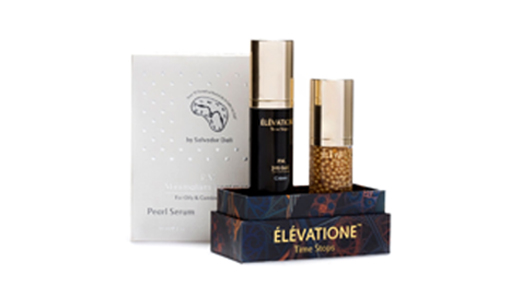 We have all read about the wonders of gold for your skin and the P.M. 24K Gold Pearl Kit is a great way of following the trend at a reasonably cheaper cost. A combined set that contains a gold pearl serum and gold crème, if you are seeking a gift for your loved ones this festive season; we promise the kit works to delight! Lightweight serum that glides over your skin with pure 24 Karat gold flakes enhancing brighter appearance. And rich facial cream based on Matrixyl®3000 patented complex which promotes skin soothing and improves the appearance of your skin tone and elasticity. Your skin is left renewed, smoother and more radiant in the morning.