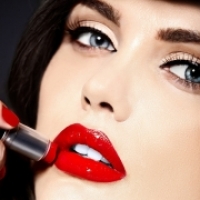 A slick of red lipstick can make all the difference in lifting your complexion for a classic look that will never go out of style. Everyone can look fabulous in red lipstick, it's all about finding the right shade and texture and mastering the application. With so many shades, undertones and finishes, it can be confusing to navigate through a sea of red lipstick choices. Here's our guide to rocking red lipstick!
1. Choosing the right shade
Make sure to choose the right colour for you skin colour and undertones for your complexion to shine. Vibrant blue-based reds that steer on the side of orange and corals will pop against fair skin tones with cool or pink undertones. They'll also make teeth look whiter. Those with fair skin with yellow undertones will suit gold-toned lipsticks like warm brick or fiery reds. Lucky ladies with bronze complexions can wear just about any shade of red! Cocoa skin with gold undertones, works perfectly with orange red colours while those with deep, dark skin blue-based skintones can opt for cool shades in deep, rich colors like burgundy or warm brick. Light shades give a youthful, fun look that brightens your face. Darker reds gives a more mature, mysterious and darker look and gives a striking, gothic look against fair skin and a modern, chic look with darker skin tones.
2. Textures & Finishes
Lipsticks come in a variety of textures, from matte to gloss to in-betweeners like satin and lustre finishes. Tinted balms and sheer lipsticks give a subtle wash of colour for a more subtle look. This works great on those new to red lips and are hesitant to dive straight into bold looks. Plus, the sheer texture makes touching up on-the-go fuss-free! Sheeny textures like glosses give an illusion of a larger, plump pout for a luscious look. Matte textures will downplay full lips while giving an intense colour pay-off. The drier finish of matte lipsticks may feel thick and uncomfortable on dry lips, but lasts long and gives a bold, modern look. For a balance, satins and creams offer decent colour and a delicate sheen on the lips, perfect for women looking for noticeable colour on their lips without drawing too much attention. If you're unsure of which you prefer, have fun testing away!
3. Application is Key
Chapped lips can ruin the perfect pout. Make sure your lips are exfoliated and moisturized for a smooth and seamless look. For a perfect, polished red lip that lasts through the day, lip liner is your best friend. Choose a lip liner in a similar shade to your lipstick and start with a sharp lip liner to create a precise line around your natural lip shape, and gently sketch around the entire lip line. Push the colour into your lips for a deep stain. For fuller-looking lips, try tracing slightly outside your lip line. After the lip liner, apply your lipstick in thin layers while blotting with tissues between each layer. To seal in everything, use a tissue as a filter and lightly blot your lips while applying a thin layer of translucent powder over your lips.
4. Styling your outfit
Red looks great with the classic LBD and evening gowns for a glamorous, party look. The contrast of formal bold red lips with a casual get-up of jeans with a t-shirt and leather jacket gives an effortless chic twist. Beware of going overboard with prints and accessories like piling on loud leopard prints and chunky gold jewellery which may verge on the lines of tacky. Tone down the rest of your makeup to let your lips take centre stage for a sleek look. Match your bold lips with an equally bold winged liner with a simple outfit to make an impact with your makeup look.
Contributor: Karmen Leong
Karmen is a fashion and beauty content contributor for VanillaLuxury.sg. Apart from being a social media marketer, she's also an avid enthusiast of literary classics, art and design.