Overtreated hair or as an effect of humid weather, if frizz is getting to you don't fret! Keratin, Brazilian Blowouts or good old Rebonding can help achieve tamed, smooth tresses leaving your hair easy to manage. Prefer a smoothening treatment with no nasties instead?
LeeKaJa at Mandarin Gallery offers their signature (and best selling) Cinderella treatment that ticks all the right boxes. Cinderella treatment, already a rage in South Korea, helps achieve soft, smooth locks without the use of harsh chemicals. Similar to Botox for hair, it uses organic ingredients like Aloe Vera, vitamins and Collagen, to leave your hair moisturized and nourished. And did we say low maintenance?
If you have dry, damaged, bleached or frizzy hair; the use of organic products will help achieve an easy to manage mane in a mere 1.5 hours. And if you aren't a fan of poker straight hair - that's even more reason to go the Cinderella route. Perfect for that subtle smoothness and not resulting in a super-straight look that often comes with Keratin or Rebonding sessions; this is a great way to achieve a natural glossy look.
The Process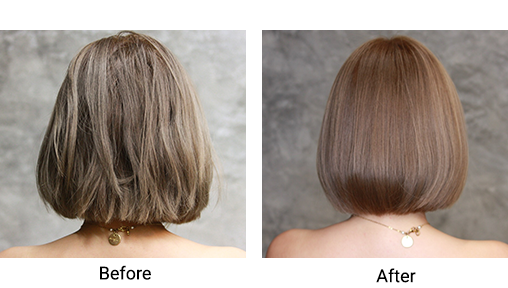 Similar to other straightening processes, the treatment cream is applied to freshly shampooed hair. This isn't as harsh on the eyes or smelly either - with 90% organic ingredients including Aloe Vera, Pomegranate, Cedarwood oil and Green Tea extract. The cream is then ironed out to achieve the shape you seek. VL pro tip - ask the genius stylists (in our case Nik) to give you that subtle natural wave at the bottom!
Post ironing, the treatment is rinsed out, dried and va-va-voom it's time to show of your newly acquired tame and luscious locks! Should you want to indulge in a perm after, the Cinderella treatment allows for it versus a typical rebonding session. Flexibility and all natural - no wonder they have a constant stream of repeat customers!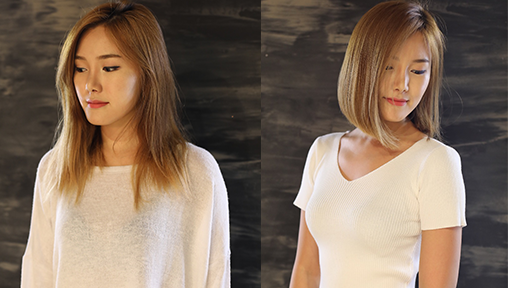 The treatment by nature of its ingredients is less offensive and hence won't last as long (in comparison to Keratin or Rebonding). A typical Cinderella treatment stays up to 3 months and can be prolonged with the use of the right aftercare products such as sulphate free shampoos. What's amazing though is the way your hair grows-out after the treatment fades away. No more typical kinks that come from Keratin or Rebonding. The hair grows out in a  rather subtle and natural way - just how we love it!
LeeKaJa - there's more on offer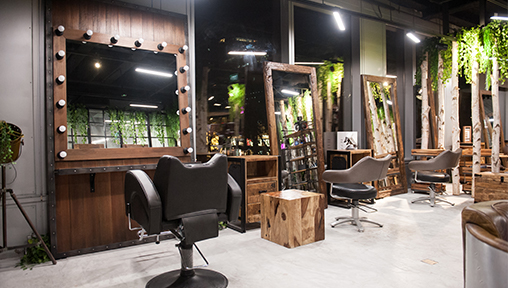 For the uninitiated, LeeKaJa is one of Korea's well-known salon chains (with branches in Australia and USA) that is regularly frequented by Korean celebrities. Their salon in Singapore is located at Mandarin Gallery and is well lit, airy and complete with a smattering of luxurious touches.
Whether it's cold pressed juices and freshly brewed coffee from their dedicated bar menu or being pampered by the indulgent accessories (lap pillow!) and Dyson hair dryers; you will probably be back just for the ambience alone. If you are looking for a different style or treatment, we suggest giving a quick call or visit to the super friendly guys at LeeKaJa. They also offer a range of services including nails, hair, facials and semi-permanent makeup.
Luscious locks are now possible with the au natural Cinderella treatment! Call LeeKaJa for your appointment today!
Cinderella Treatment starting from SG$300, LeeKaJa Beauty Salon,333A Orchard Rd. #03-13 Mandarin Gallery