In the current climate of virtuality, staying fit is no longer determined just by being physically present at gyms and fitness studios. The latest COVID-19 restrictions (Phase 3 Heightened Alert) in Singapore means gyms and indoor fitness studios have opened again, but if you're still wary about that, you always have the option of online training or outdoor classes.
Stay responsible, vigilant and fit by exercising in the comfort of your own home or participating in outdoor fitness classes with proper safe distancing measures. Here is a list of safe and affordable online and outdoor exercise classes. Whether you are looking for HIIT, Yoga, Zumba and Bollywood dance cardio sessions or looking for a live workout session with a personal trainer in Singapore, we've got your back.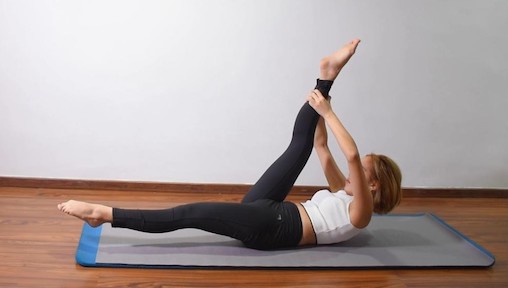 Specialising in Pilates as a form of movement and rehabilitation, Advantage Pilates Singapore was founded by a versatile team of Certified Pilates Instructors. The instructors bring their passion and many years of experience from fitness, sports, dance, parenthood and injury rehabilitation to creatively select and plan your exercise programme.
Their Pilates classes are all-inclusive, suitable for all body types, all ages, all fitness levels and all walks of life. If you're looking for a customised class for specific medical conditions or your fitness level, join their Online Pilates Private Classes. There are also various well-curated Pilates Livestream classes for groups that happen daily. 
Once it is safe for studios to open, Advantage Pilates will be offering Pilates classes at various locations - PLUS Building, Core Collective Anson, Core Collective Dempsey, Marine Parade and HomeTeamNS Balestier.
Contact (+65) 8831 8599 or email [email protected] for more information.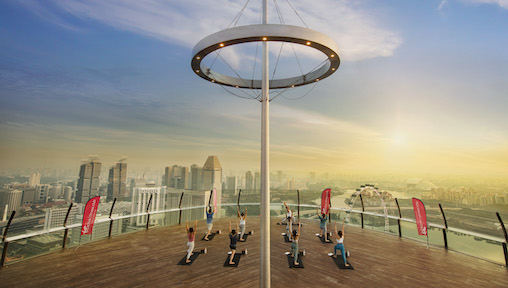 Yoga on the rooftop of one of Singapore's most iconic buildings? You can enjoy this experience from 20 July 2021 with SkyPark Yoga by Virgin Active at Marina Bay Sands. Offering a stunning backdrop of the Singapore skyline, get into your yogi pose and relax 57 stories high.
The series of 16 yoga classes with varying intensities will be led by Virgin Active yoga teachers for 45-minutes per class. Sunrise yoga sessions are available at 6.45am and 8.00am daily except Wednesdays, while sunset sessions are available at 6.30pm and 7.45pm only on Wednesdays and Thursdays.
To ensure a fully immersive experience for all, every participant of SkyPark Yoga will be equipped with a set of professional wireless headphones to receive crystal-clear instructions as though the yoga teacher is right beside them, even if they are at the back of the class.
For an added post-yoga treat, all participants will be entitled to 15% off at Marina Bay Sands' signature patisserie Origin + Bloom located at Hotel Tower 3. Enjoy the discount off the patisserie's daily selection of fresh bakes, sandwiches and salads, desserts and coffee.
Sands Rewards Lifestyle members (S$20) and the public (S$30), make your booking online. For Virgin Active members (S$15), make your booking here.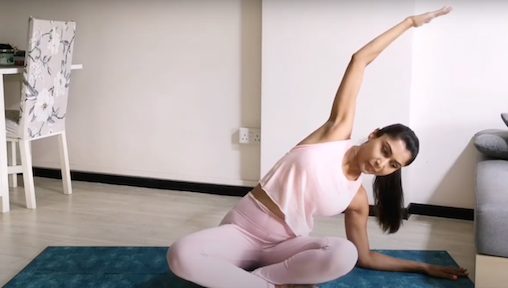 Noopura works as a personal trainer in Singapore. Her main focus is antenatal and postnatal training. She especially enjoys personal training with mums, helping them get back to shape safely after childbirth.
Possessing a Masters Degree in Clinical Exercise and a Bachelors in Physiotherapy, she specialises in Diastasis Recti correction.
Having become a mother herself, Noopura shares lots of postnatal weight loss and exercise tips on her Instagram @TrainWithNoop.
If you are interested in one-on-one personalised virtual training sessions, discuss your history, fitness goals and any injuries with her, and she will customise an exercise programme based on your goals. Simply choose a package that suits you.
Contact Noopura at [email protected] for more information.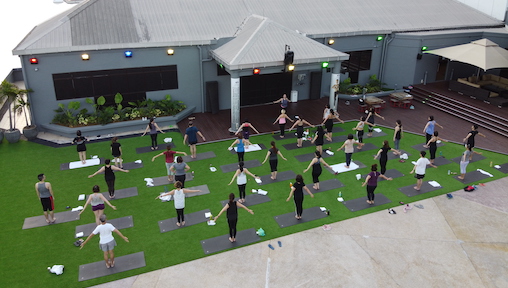 Outdoor Fitness & ZOOM Classes with True Group
Feeling down that the gyms are closed till 13 June? Fret not 'cause True Group has launched over 120 outdoor editions of their most popular gym classes each week to help you keep fit and stay sane.
Kick off your mornings with Sunrise Yoga with popular instructors and greet the evening with Sunset Yoga. Punch your stress (and calories) away with Les Mills BODYCOMBAT and pump up those muscles with an intense Les Mills BODYPUMP workout. Dancers don't have to sit on the sidelines, with KPop Dance and BodyJam available too. 
Classes are being held at appropriate outdoor areas located at True Fitness Harbourfront, TFX Millenia Walk, ESR BizPark @ Chai Chee, Great World City, Velocity @ Novena and Funan Mall. Each class is only S$10 with limited slots available, held in accordance with the government's safe distancing advisories.
True Group is also conducting ZOOM sessions for Pilates, Barre, BodyCombat and Zumba. View the ZOOM sessions schedule on www.truefitness.com.sg and www.tfx.sg where the ZOOM Meeting IDs and Passcodes will be available upon booking.
Outdoor class bookings are available via True Group's GFX App (Apple App Store and Google Play Store).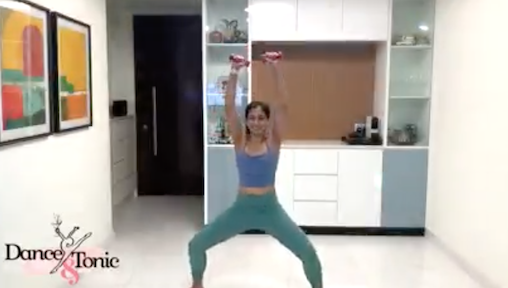 Online Zumba Classes with Neha Sethi, Dance & Tonic
Work up a sweat and have an absolute blast while doing it with Dance & Tonic's fun Bollywood & Zumba Fitness Classes where you can shake leg to the latest beats and tunes. Dance & Tonic is organising online classes of varying intensity levels and focus areas. These 45-minute to 60-minute online classes are either in the mornings or in the evenings, conducted virtually through ZOOM and designed to give you the experience of working out at a live class with a professional instructor.
What's more? Participants are encouraged to keep their video on during the entire Zumba session to motivate each other and to build a strong virtual fitness community. A single class pass comes at the affordable price of $15 and a package of 5 classes at $65. Burn away all those extra calories even while staying at home!
Check out the schedule and book your slot to join the virtual Zumba classes at https://bookwhen.com/danceandtonic.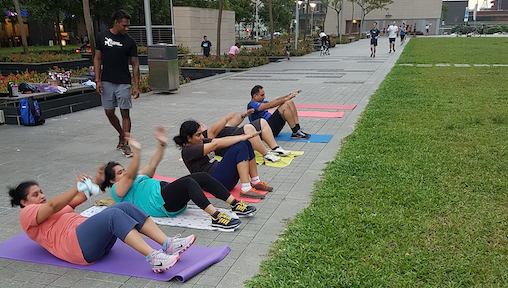 Personal Training with Ivan McCall, Fitness Functions
Nothing is better than still being able to train with a professional personal trainer during these uncertain times. Performed over Skype and specifically designed for your needs, personalised training sessions with Fitness Functions' personal trainers can help you stay consistent in a fitness routine.
In addition, you will receive personal nutritional advice on what you should eat according to your fitness goals and body type. Catered to you and your fitness goals, the main goal of these live sessions is for you to stay in shape whilst working from home. All this will only set you back S$700 for 10 online training sessions.
Contact Ivan via WhatsApp at (+65) 9654 7064, email at [email protected], or visit www.fitness-functions.com for more information.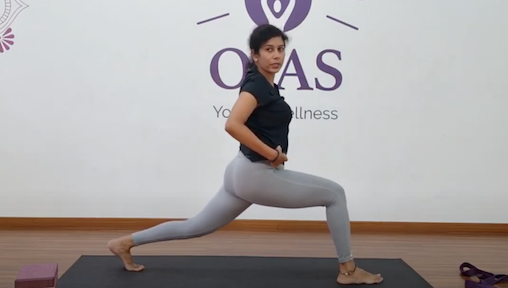 Join the yoga community over at Ojas Yoga & Wellness where Archana and her team of yoga instructors are conducting various online yoga classes. Keep yourself updated with the latest class schedule on http://ojasyog.com/schedule/. Ojas Yoga & Wellness is focusing its online classes on different types of yoga such as core yoga, power yoga, shoulder opening, wheel yoga, hip opening, yoga flow and even yoga for cyclists!
Besides yoga, you can also look forward to live meditation sessions. The yoga studio also goes live on Instagram @ojas_yoga_wellness and Facebook occasionally with yoga tips such as hip-opening poses, how to tone tummy fat and more.
Register your interest via email at [email protected].