I am a Singaporean of Indian origin. Every year my 'very unique' family celebrates Chinese New Year with quite a fair bit of excitement. I will come to the 'very unique' part in a little while and no, I am not some exotic Peranakan mix. In fact, we have no Chinese blood or immediate Chinese relatives but Chinese New Year is very special to us.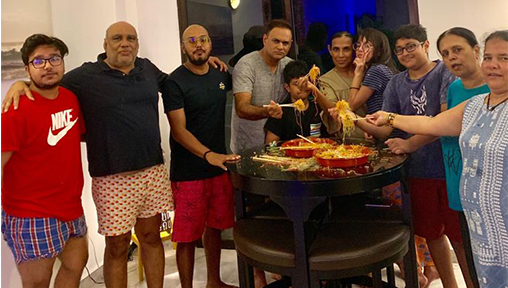 It is an annual holiday of two days that allows the entire family to bond free of distractions coming together free of any work or school-related excuses. Most restaurants and bars are closed for two days, none of us can sneak away for fancy dinner dates or give into our food cravings. This ensures we dine at home, together.
It's not Deepavali. As it's not a Hindu family observing a Hindu festival this is completely a secular bonding exercise free of customs and obligations. It actually is purely family time for us.
We get to toss Yu Sheng. I am aware that Yu Sheng is a fairly modern construct but the simple fact is that the young and old of my family come together, practice our broken mandarin and wish each other health and happiness as we toss salmon and peanut high in the air.
So now, what makes us unique?
My parents are amicably divorced. I am fortunate enough to now have two mothers. My stepmother and my real mother. I have a 34-year-old sister, a 14-year-old half sister and an 18-year-old half brother. Both my half siblings speak fluent Mandarin and have been studying Mandarin since they were really young. You can hear my half brother Arjun saying auspicious phrases as we "Lo Hei". The key word here is amicable. This means every year during Chinese New Year, we all come together along with my cousins, uncle and aunts for an epic reunion in ones home.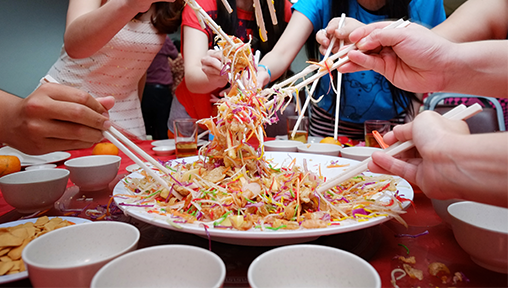 Hunkered down will all the supplies we need - this includes several bottles of my dad's favourite single malt and enough groceries to make 2 days of curries and cater for our Chinese New Year BBQ and of course, Yu Sheng. These days bring me great joy and leave me thinking about how fortunate I am to inherit this great holiday and no, it is not because I am Chinese.
* This is the personal opinion of the columnist.