Have you been looking for cute twinning outfits that are just right for those mommy and me moments? Whether its pyjamas and nightwear or dresses and resort wear, the number of brands offering an opportunity to dress up mothers and daughters(or the entire family) in the same clothing are growing in popularity.
Turns out you don't have to look like your three-year-old to twin with her! Several designers and local businesses are now making matching clothing for the family that is age-appropriate and stylish! So, if you too have little girls that would love to match with mommy, take a look at our favourite stores with twinning outfits that deliver to Singapore.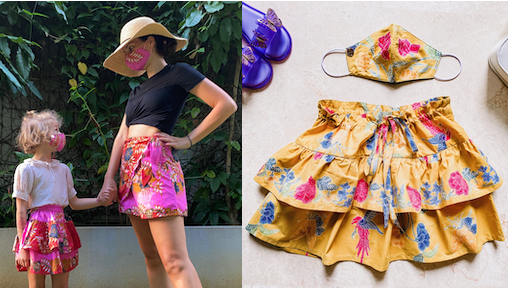 Have you ever played with your mum's or grandma's shoes, makeup and dresses trying to feel like a grown-up? Almalu's founder and designer Martina Calabresi grew up trying on pearl necklaces, vintage earrings, shoes and amazing straw hats in her country home in Italy. So, when she started her own line of fashionable bespoke clothing, she knew there was a Mini-Me collection that would speak to multiple parents and kids in Singapore. 
Offering a range of matching clothing and made-to-order designs, Almalu sells fun ways to play and coordinate outfits with your kids. The first to introduce a novel concept to Singapore, AL.MA.LU's MASKirt is a coordinated facemask and skirt set that is great for the tropical climate we live in.
Handmade using the ancient and unique oriental technique of Batik, the matching sets or MASKirt by AL.MA.LU come in vibrant colours. And this isn't your ordinary Batik either! Made with Batik Tulis or hand-drawn Batik, the patterns are drawn with a pencil and redrawn with hot wax using canting (a pen-like instrument consisting of a small copper reservoir with a spout on a wooden handle). The whole process of making Batik Tulis is immensely complex and time-consuming. The more intricate the pattern and colours desired, the longer the process takes - making it more expensive and highly sought after by fashion collectors!
Take the cuteness level on your family outings a notch higher by getting matching MASKirts - perfect for mothers and daughters who enjoy twinning or coordinating their outfits!
From lounging by the poolside to enjoying that brunch together, the matching mask and skirt sets by AL.MA.LU are a fun way to dress mummy and her mini-me - and stylishly so! 
Have something special in mind? AL.MA.LU work with a number of clients on bespoke designs and can create just what you need. Simply drop Martina an email on [email protected] or Whatsapp her directly at +65 85918547 to get your dream outfits designed.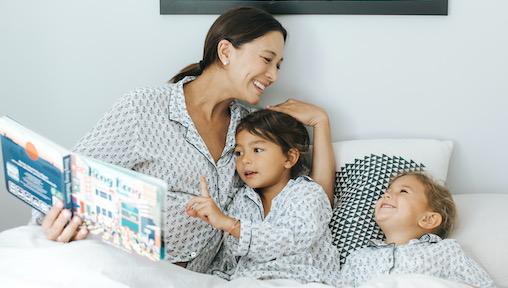 Affordable, luxury brand Malabar Baby should be on every mum's circuit when looking for gorgeously soft, luxe fabrics for her little ones. Started by mum Anjali Harjani, in a quest for quality, eco-friendly and breathable fabrics for the young ones, Malabar Baby is known to produce high-quality products in natural fabrics with a timelessly pleasing design sensibility. So, whether you're seeking sumptuously-soft bedding, organic swaddles, baby towels or lifestyle accessories, this brand for the family will make its way to your homes- and hearts.
Looking for the most comfortable matching pyjamas or twinning outfits to lounge at home? Malabar Baby's PJs and loungewear is made with 100% natural cotton voile, the same fabric as their bedding and is super soft and lightweight! Each set is handmade and block-printed on the finest cotton voile from India and includes a top and bottom packaged in an adorable, reusable travel case. 
Should you prefer to twirl together in comfortable dresses, their newly launched range of matching mommy and me outfits is sure to please. Soft, stylish and breathable, they make for the perfect dresses to lounge in! Each piece is handmade and hand block-printed with carved wooden stamps to make them as unique as you and your little one.
If you are tempted to add more to your basket(and we won't judge you for it), take a look at their range of quality bedding for the nursery, growing kids and adults. We've got an extra-soft (pun intended!) corner for Malabar Baby's hooded towels. Sold in generous sizes that last through the years (newborn- 4 years old), their luxe label is made of bamboo for that extra softness. Practical for bath time or the ultimate style factor for your little one on the beach!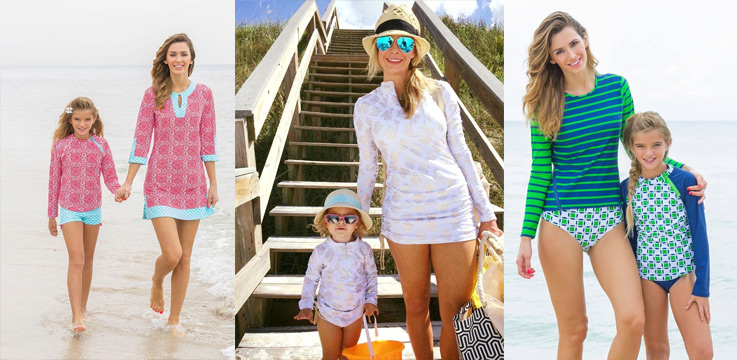 Cabana Life puts together fashion with function by offering chic clothing with 50+ UV protection through their patented SkinSafe™ Technology. While they offer a variety of beach-friendly clothing and accessories, they also offer fashionable 'beach club chic' outfits for both mommy and daughter to enjoy.  
Ready to hit the beach with your family? Designed with you in mind, Cabana Life uses only the highest-rated UPF and most luxurious fabrics that are quick-drying. Breathable, stylish, and of course, sun-protective, the mommy and me collection by Cabana Life offers various rashguards, dresses, and matching swimsuits for you and your little girl.
Bonus points for being protective! Your little girl will love all of the fun, fashionable options at Cabana Life – and you'll love that she's protected from the sun. Whether you and your little ones are playing in the sand, relaxing by the pool, or simply looking for an adorable matching beachwear set, there's a perfect piece for every 'mommy and me'!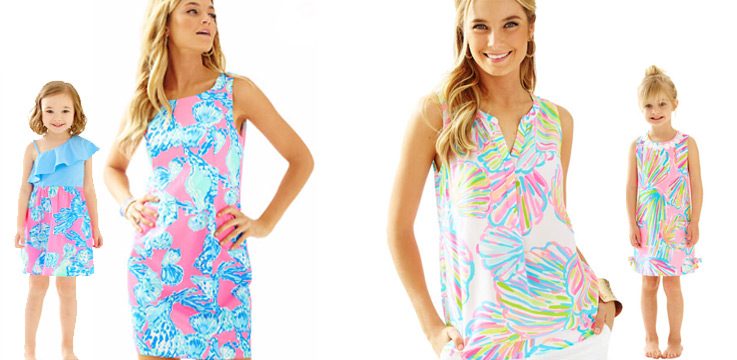 A wife and mother to three beautiful children, Lilly Pulitzer started this brand to support her husband's orange groves back in America. She sold boxes of oranges to the kitchen staff in Palm Beach but soon realized she wanted more. The brand that started as a juice brand has now expanded to flowy dresses, colourful shift dresses and yes, mother-daughter dresses. The bright, colourful pieces definitely scream the stories of summer and resort wear.
For occasions that call for matching outfits, whether its parties, reunions or photoshoots you can find matching family looks that include styles for men, women, girls, boys and infants. What's more, you'll find quite a  variety of styles that can become a part of your twinning wardrobe. Long maxi dresses, short knee-length dresses, and more can be chosen in complementary colours. We love how their mother-and-daughter matching looks are tastefully created so that you and your little one can both sport the same print, but in age-appropriate looks. She'll love twirling and whirling in a dress that looks like yours—or a skort set that's just a tad more practical for her age. 
And if you want to add monogramming, a popular option for family matching styles, you can create a wardrobe personalized to your family with your choice of initials. Ideal for pictures and reunions, this option is available for select styles.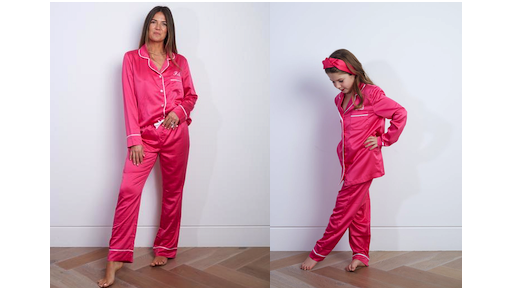 Created in 2015, HA Designs has rapidly become the go-to personalisation brand with plenty of customers from Singapore choosing to buy their quality apparel. Having been featuring on the red carpets of some of the hottest fashion and TV events and in the hands of some of the industry's highest-profile fashion and lifestyle figures, these bespoke pieces are great as special gifts or as a present to the family. 
The HA Sleep satin pyjamas are now available in adorable mini sizes and make for the perfect twinning style for mums and their little stylish princesses. Made in satin silk, they offer personalisation in two font styles and come wrapped in a complimentary gift box. 
Want to include the boys too? There's a whole matching with daddy section that allows for boys to twin as well as plenty of gender-neutral colours and prints for the whole family to dress up in.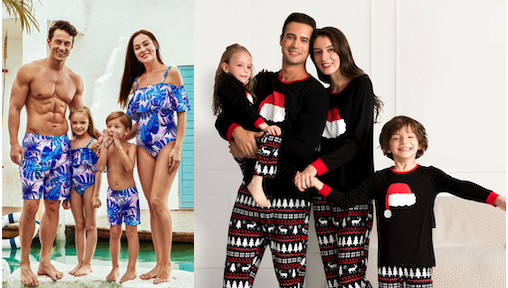 If you've ever looked for matching family outfits or Christmas pyjamas for the whole fam jam, we are pretty sure you've come across PatPat. PatPat makes clothing and slogan wear at really affordable prices. From swimwear and sweatshirts to dresses and skirts, PatPat has fashionable outfits that the whole family will love. Think graphic hoodies, funny slogan t-shirts and mommy and me outfits, family matching apparel as well as matching swimwear. Their Christmas pyjamas are also extremely popular and a great choice if you need something for a few wears only. Shipping can take some time, so we'd recommend you start your festive shopping now if you want to wake up in coordinated outfits on Christmas morning!