It's finally that time of the year to break the mundanities of everyday life, pack those Vilebrequin swimming trunks, hit the sun kissed pristine beaches and pound on those delicious concoctions of rum and coconut water, or alternatively, if you fancy a white Christmas, then it's time to bring out the Monclers and the parkas, get ready to layer up and enjoy some Gluhwein or hot glogg and usher in the holiday spirit.
I personally prefer to enjoy the festive season with a glass of cinnamon doused mulled wine, raclette and fondue! While a glass of wine will help with the merry mood setting a nice puffer jacket will keep you warm and cosy. Here are a few winter style tips for all you dandy men out there.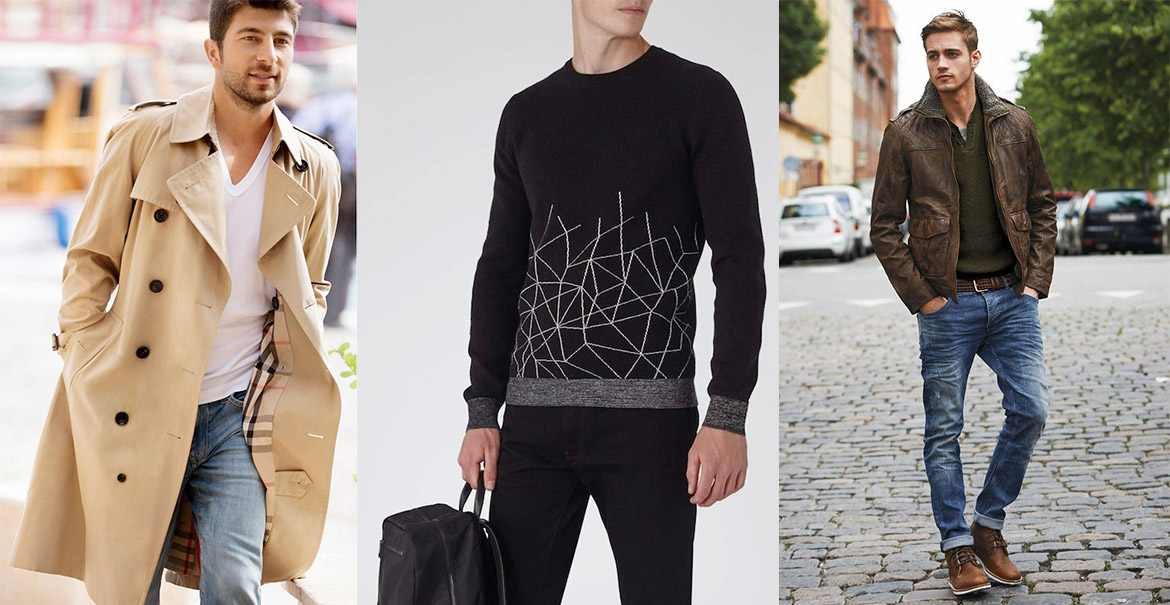 (Image Credit: Burberry, Pinterest, Pinterest)
Art of the trench - Be it beige or black, fitted, or loose, crumpled or not, over time the trench coat has been all the above and so much more, while remaining a staple. To me, it's the most versatile unisex fashion garment and a must have this holiday season. There's a lot to choose from, ranging from the quintessential Burberry trench, for those of you willing to shell the extra buck to get that classic look. If you do not wish to thrift as much, a Ralph Lauren will catapult you straight into the trendy and chic avatar. So go ahead, splurge or not, but have that trench packed in your bag.
Knitted jumpers for the middle layers - Classic rich cashmere sweaters, cool and hip crew necks,or old school polo neck jumpers are all there to stay and an essential to acquire that sexy prepster look. Try and ditch the head to toe all black look and add some festive cheer to your get up because lets face it, we live in dark tumultuous times and colours can help boost your mood while adding some swag to your look. Again, there's a good variety of options available for you to pick from. Reward yourself with a luxurious Ermenegildo Zegna classic red stretch cashmere sweater or go casual with a Zara wool and acrylic knitted jumper. Either ways, do up your middle layer to compliment the outer trench for an overall warm and sexy look. 
Boot up - Step out of your comfort zone this season and experiment with something new - boot up! Be brave and get your feet into some new designs out there. Shoes can speak volumes about your personality so don't be afraid to indulge into a brand new pair of leather boots or brogues. Boots don't have to be Doc Martens - bulky as long as you invest in good leather and thick boots you should be just fine. Another safe option for guys who do not wish to boot-up would be to brogue-up! Brogues are a winter must. They look amazing with everything and can be worn from autumn into spring. Again, there's a plethora of options available for you to pick from – Churchs, Tods, Kenzo, Moncler or the quintessential Doc Marten if those catch your fancy!
There you go a few easy tips to keep you warm and stylish this holiday season. These little hacks will ensure your winter style is anything but boring this year. So go ahead, dabble and drape, keep it real, keep it stylish!
Contributor: Bharat Bahl
Ship broker by profession. Epicurean enthusiast. Fashionista at heart. B believes this world needs a giant group hug. So spread love as thick as you would Nutella. Instagram him @ladolcevita_1283