Ruark Audio is a family-owned British company who have been creating fine audio products since 1986. Ruark Audio has brought its trademark luxury sound systems to Singapore for discerning music lovers who appreciate the charm of its warm, full-bodied sound systems – which sound as good as they look. Ruark Audio has won multiple awards from What Hi-Fi.com and its speakers are an audiophile's dream when it comes to sound quality.
The Ruark Audio range launched in Singapore includes the R7, R5, MR1 and the MRx which present a perfect synergy between audio and design. The Ruark R7, R5, MR1 and the MRx sound systems feature refined Ruark Audio sound drivers with Class A-B amplifiers, laid out in a sleek enclosure that is dampened and tuned to provide ideal conditions for them.
For people who don't know what difference the class of an amplifier can make to a sound system, here are some technicalities for your reference.
Class A design is the least efficient but has the highest sound fidelity.

Class B design is a little more efficient but full of distortion.

Class AB design offers power efficiency and good sound.

Class D design has the highest efficiency but isn't quite as high-fidelity.
The Ruark Audio R7, inspired by the radiogram, provides a wide variety of connectivity options, while also doubling up as a beautiful piece of modern furniture for the home. The Ruark Audio R7 is powered by two 2 × Ruark Audio 140mm dual concentric drive units and an integrated active subwoofer with 200mm long-throw driver along with a class A-B amplifier. The sound system provides adjustable treble and bass settings, enhanced 3D sound processing and comes with a loudness function that enhances sound at low volume levels.
The Ruark Audio R7 Mk3 audio system features/DAB+/FM and Internet tuners which allow it to receive radio stations nationally and worldwide. You can also sync and play music over Bluetooth, built with aptX HD standards, or Wi-Fi in addition to still having a CD player for all your CD-Audio, MP3, AAC and WMA music disks. Also, the sound system has one RIAA input for turntables, 2 stereo analogue inputs, 2 optical digital inputs, USB charge and playback port, an ethernet port for a direct connection to the network and a front-mounted stereo headphone output.
The Ruark Audio R7 Mk3  sits pretty in your living area with its clear glass front panel on a contemporary acoustic fabric sitting on a handcrafted wood cabinet and black ash spindle legs. The Ruark Audio R7 Mk3 can be easily operated with Ruark's trademark Rotodial remote, which does not need to be aimed at the system to control it. Also, the Rotodial is a replica of the control unit on the system.
You can check out the Ruark Audio R7 at Musica Boutique @ ION and iStudio for SGD 4,999.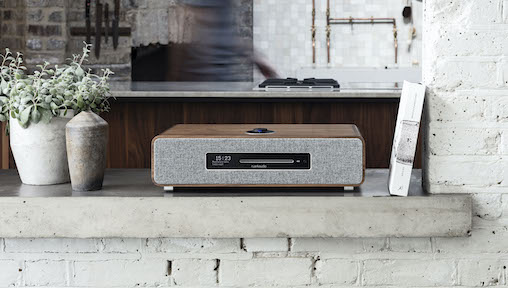 Ruark's passion for ergonomics means that the brand constantly strives to improve the form, function and tactility of its products and takes customer feedback seriously. With the Ruark Audio R5, a trimmed-down version of the R7 but only in terms of size and not the audio output; the company has been able to reduce the weight of a Ruark Audio R7 from 30kgs to just 9.5 kgs with the Ruark Audio R5 and fit the same audio quality in H142 x W520 x D300mm dimensions.
Not every one of us has the luxury of space in their living rooms to place a full-grown Ruark Audio R7 system, thus making the Ruark Audio R5 the perfect 'all-in-one' system for music and design enthusiasts alike.
Crafted from carefully selected materials, internally Ruark Audio R5's enclosure has been partitioned, damped and tuned to provide ideal conditions for the drive units and electronics including the class A-B amplifier. Finally, using the latest sound-processing technology Ruark Audio has been able to create a stereo soundstage with sonics more akin to a larger system with separate speakers. Close your eyes and you would never imagine that such quality of sound could come from a sound system so sleek.
The Ruark Audio R5, which also comes with the RotoDial controller, has a dedicated RIAA turntable input much like the R7, not compromising on anything.
You can get the Ruark Audio R5 at Musica Boutique @ ION and iStudio for SGD 2,299.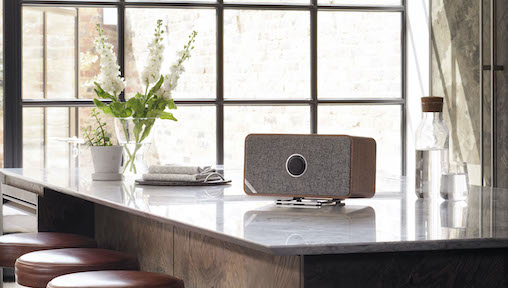 The beautiful Ruark Audio MRx weighs just about 3.4kg and with dimensions of H180 x W300 x D180mm (Landscape) it pretty much fits in anywhere in your house. The internal design of the sound system is based on the award-winning Ruark Audio MR1 with a new lightweight cone and coil assembly coupled with the powerful neodymium magnet system providing a full range driver with unrivalled performance for this small beast of a speaker.  Further, these drivers for the Ruark Audio MRx are mounted as a stereo pair into tuned bass reflex enclosures and powered by a high-fidelity two-channel Class A-B amplifier which is a signature of this series. 
The controller on the front grille allows easy control of volume and selecting the source for the input. Besides, further increasing flexibility and control, Ruark Link, an app, is in the making. Currently, it is available only for iOS devices. Ruark Link also allows users to create and manage groups when two or more Ruark Audio MRx units are being used together as part of a multi-room system. The Ruark Audio MRx is also cross-compatible and can be paired with Ruark Audio R2 Mk3 and R7 Mk3. 
In terms of connectivity, Ruark Audio MRx offers much more than any other speaker in this segment. Built with Bluetooth with aptX standards one can easily sync it to their mobile phones directly and also directly sync to their favourite internet radio stations via the internet. The Ruark Audio MRx is also compatible with music through on-line music services such as Spotify, Deezer and Tidal, with Amazon Music coming soon. A combined 3.5mm optical and analogue input allows auxiliary devices such as Google Chromecast Audio or Amazon Alexa to be easily connected and a multi-purpose USB socket plays music files from memory sticks and provides a connection point to charge/power your smart devices.
You can get all this in the Ruark Audio MRx at Musica Boutique @ ION and iStudio for SGD 699.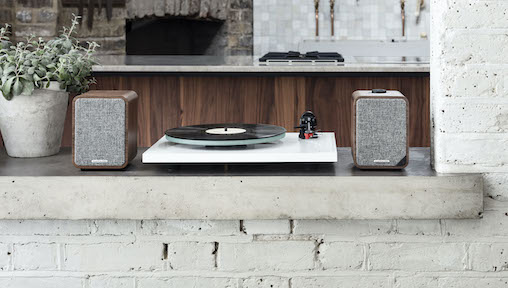 This award-winning speaker series is a class apart. Trust us when we say that do not let the small size of these speakers fool you. They are super strong with their sound output. The small set houses Ruark Audio 75mm neodymium woofers and Ruark 20mm neodymium tweeters and provides almost all the connectivity features of the Ruark Audio MRx range. 
What sets the Ruark Audio MR1 Mk2 apart is the flexibility with which they can be paired with a turntable making a super stylish compact analogue playback system or with a flat-screen TV adding that wow to your movie-watching experience. Additionally, if the stereo speaker is disconnected then the control unit automatically converts to mono operation making it ideal to be carried around. The Ruark Audio MR1 Mk2 can be freed from the mains power socket as well as it works well with the recently launched Ruark BackPack II power pack.
You can get your Ruark Audio MR1 at Musica Boutique @ ION and iStudio for SGD 699.