LeVeL33, the World's Highest Urban Craft-brewery in Singapore is now conducting beer tours every first Saturday of the month. During the tour, guests will learn more about the brewing process of craft beers before tasting 5 different types of freshly brewed craft beers.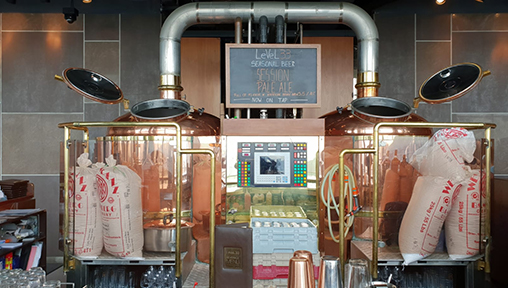 Guests will also be able to take photos with the half-a-million-dollar 8-tonne microbrewery system custom-made for LeVel33 by SALM & Co Gmbh.
Priced at $58++, the 30-minute tour includes half a litre beer paddle of LeVel33's regular and seasonal beers, and a beer tasting food platter to share.
The LeVel33's selection of craft beers that can be enjoyed at the end of the tour includes favourites such as:
Blond Lager
Inspired by the original 1841 Vienna Blonde Lager, this refreshing 33.1 brew has a slight hint of fruit. The lager takes 5 weeks to brew.
India Pale Ale
Brewed since the late 1700s, IPA contains a substantial amount of hops, which acted as a natural preservative during their long journey to the English troops in India.
Wheat Beer
Also known as Weissbier or Weizenber, the Wheat Beer has been brewed in Bavaria since the 16th century. Using malted wheat and special strains of top-fermenting yeast, the 33.9 Wheat Beer is rich in flavour.
Stout
A rediscovery of the original Irish stout crafted using authentic brewing principles from Ireland, the full-bodied 33.3 Stout has a roasted aftertaste.
Call +65 6834 3133 or visit LeVel33 for brewery tour booking details.