Kimono lovers rejoice! With more women swapping work blazers for silk robes and kimonos instead, the trend for comfortable and beautiful clothing is at an all-time high!
Whether you need one for lounging at home over a bralette, to attend meetings as your most fashion-forward self, or to bring on your next staycation and cruise, there's always a reason to make room for a kimono in your wardrobe. For those lovers of luxury, here is our edit of the top robes and kimonos in Singapore you can shop online today. These international designers combine high-end premium quality, with a deliciously sensual fit. See which designer brands made our cut for this season's new trend jacket: the kimono!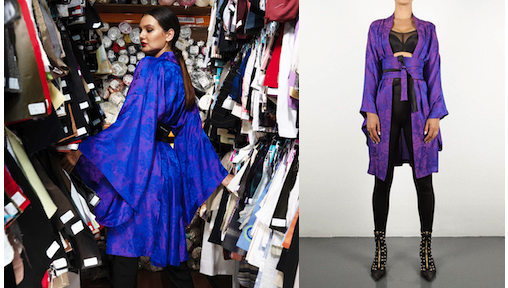 Founded in 2015 in Singapore by designer and creator Lisa Von Tang, there is already a seriously dedicated following for this luxe local brand that is known for its stunning jackets and luxurious kimonos in Singapore. We love how LVT's designs are unapologetically bold, sexy and unique, and yet make women feel super comfortable. Gone are the days when one must suffer for fashion! We also adore how the brand uses sustainable locally sourced fabric, like this shimmering violet silk jacquard.  
Lisa Von Tang makes many of her pieces reversible like this slouchy yet chic Unawatuna Robe. The reversibility enables you to wear one side to work, and then flip it to the party side for later that night – and get more mileage from just one piece in your wardrobe. From their embroidery detailing, rare woven brocades and luxurious lace and silk, Lisa Von Tang's robes make you look and feel like a goddess, whether it's a daytime look, or worn over lingerie!
On that note, we are totally lusting after Lisa Von Tang's bralettes, silk meditation pants, and mini lounge shorts! Somehow everything can be slept in or dressed up with a pair of booties for a glamorous night on the town. Shopping tip: if you love one of her pieces, grab it fast, as this brand sells on the top international luxury retailer, Farfetch.com, and their highly limited quantities sell out fast. For seekers of serious exclusivity, we've also noticed that the best offering of styles is always on the designer's own website lisavontang.com.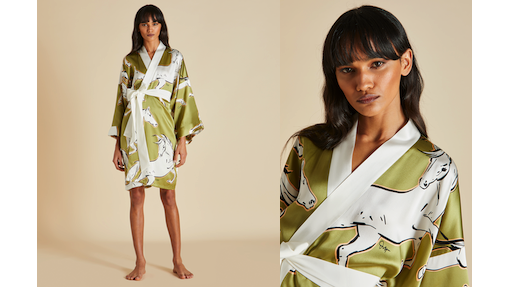 Driven by travel and uncompromising luxury, Olivia von Halle creates timeless pieces such as traditional silk pyjamas, tracksuits and stunningly versatile kimonos and robes. We love the range of unique travel-inspired prints that blur the line between nightwear and ready-to-wear at this luxe fashion house. Selling a range of luxurious kimonos and robes made with 100% 19 momme silk, you get to choose between full length or shorter cut kimonos – perfect for our tropical weather!
From unique horse, animal and bird prints, florals of all shades of beautiful, and classic solids, you'll find plenty to choose from their luxurious kimono and robe collection. For something quintessentially Japanese, take a look at the Queenie Arlequine, a full length floral printed silk robe, that embraces unbridled expression and nature in timeless style. And that Bella Olympian Blue, is a colour we can't stop raving about!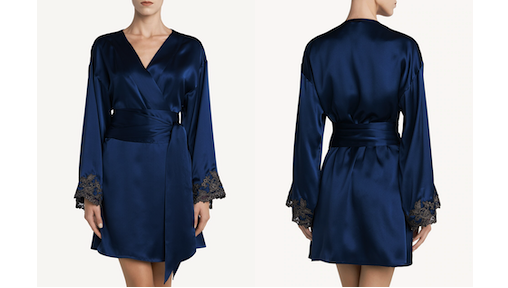 Luxury Italian lingerie, sleepwear and loungewear brand La Perla carry an exquisite range of kimonos and robes. As colourful cover-ups for your nightwear or fashionable add-on's to work or leisure-wear, the range is extensive and varies by length of robe, and sleeve type. You'll also find the cuts to include kaftan-style, robe or kimono fits. 
The classic silk satin kimono robes are in fact the most luxurious of pieces in the La Perla Maison collection. Celebrating 25 years, this luxurious collection comes with timeless appeal, Maison is as exquisite today as it has always been!
Featuring embroidered motifs on a tulle background in the same colour as the silk, and hand-finished with a double-frastaglio technique, the silk satin kimono-style robe makes for a modern yet elegant addition to your wardrobe.
Available in a range of colours, pastels to darker solids, as well as shorter and long length options, the lush and delicate details on these robes are sure to melt most fashion hearted!
Pssst...need the perfect bralette to wear under? Take a look at La Perla's collection of the most luxe modal silk and tulle lace bralettes!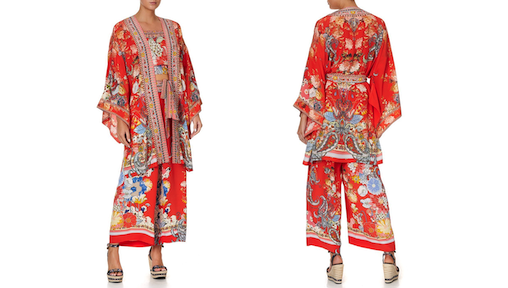 Founded in 2004 in Sydney's Bondi Beach by designer and artist Camilla Franks, Camilla is all about using the imagination of the world across their luxurious resort and loungewear.  Prints at this luxury designer brand are hand-drawn and painted by in-house artists, pieces cut and sewn by hand, and every crystal or embellishment is applied with precision.
Evoking the mystery and beauty of ancient Japan, the Camilla kimono is all things elegant! Styled in free-flowing silhouettes with soft drapes and wide sleeves, their luxurious kimono designs range from traditional to modern interpretations, reflecting the poetic romance of ancient Japan.
Lovingly crafted from pure silk, these beautiful kimonos come in a range of lengths and designs, with floor-grazing robes for the ultimate in elegant outerwear, and shorter ones perfect for more casual wear or even to be worn as a beach kimono!
Wondering how to style your Camila kimono? Longer kimono with waist ties can be worn alone, for a luxurious feeling of soft silk against your skin. You can also wear these luxurious kimonos open as a statement piece over casual clothes such as jeans or shorts. Or simply slip your beach kimono on over your swimsuit and flaunt it as the perfect resort wear! For those looking to match their bralettes to their robes, you'll find a whole host of bra and bralette options too.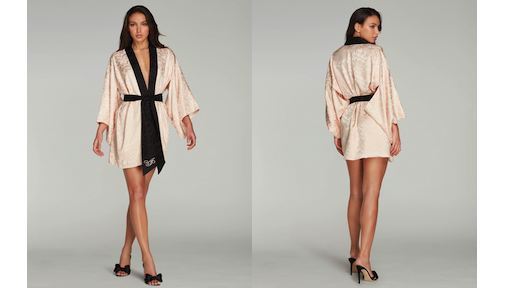 Do you refuse to choose between seduction and comfort? In 1994 Agent Provocateur threw open the doors of its very first boutique in London Soho to shake up the world of lingerie shopping for good. With new permission to celebrate and embrace sexuality, their lingerie and loungewear are all about empowering the wearer. As one of the world's most desirable, iconic British brands, the company continues to push the envelope with design so you can choose to wear Agent Provocateur through the day or night!
Drape yourself in the glamour of AP's decadent silk dressing gowns and lace kimonos. Rich satins and voluminous sleeves make for a dramatic impact. We absolutely love their new Kassidie Kimono - a luxury must-have for every wardrobe! This classic kimono gown is made with jacquard silk satin and comes with a contrasting sash belt with Agent Provocateur embroidery. The belt is versatile and detachable so you can choose how you style your kimono. The inside lining is also 100% satin silk so you know you are getting the very best from the inside out!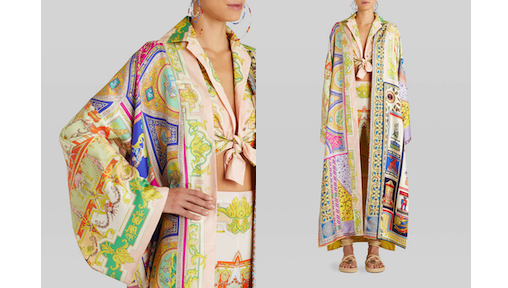 Innovation, research and magic are at the heart of Etro. This Italian fashion house is best known for its unique collections, unrivalled quality and attention to detail mixed with the iconic 'paisley design'. Etro blends tradition with contemporary style, to create iconic, sophisticated clothing and that is why you'll find long floral dresses, paisley prints and jacquard kimono-style jackets form a major part of their collection. In fact, they take this season's fashion trend so seriously, that all of their kimonos are designed to be worn as just that - a jacket! 
We are obsessed with the Etro Silk Light Kimono Coat with Ornamental Print! A silk kimono-style light coat from the Women's Spring-Summer 2021 Fashion Show collection, it comes embellished with a patchwork print of scarf patterns and ornamental compositions. Made in Italy, deliberately loose-fitting and with side slits, this 100% silk luxurious kimono is just the robe jacket to add to your collection!
And there you have it - a list of the most luxurious kimonos in Singapore!
All international brands mentioned offer shipping to Singapore.