Looking for a housewarming gift or birthday gift? With a surge in online shopping in Singapore, there's no longer a need to brave the crowds in a shopping mall in search of that perfect gift for someone. The simple solution presents itself to you in the form of an online gift shop in Singapore where you can find that perfect gift with just the click of a button.
Introducing LANOS, Sonal's online gift shop in Singapore with next day islandwide delivery. Sonal has done all the hard work for you and curated unique items from all over the world in her one-stop gift store. If you are overseas and want to send a gift to your family and friends in Singapore, this is your go-to place.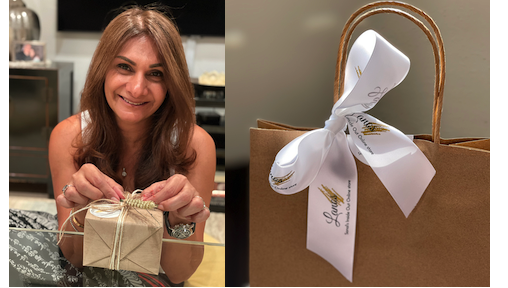 Started by first-time entrepreneur Sonal Khimji with support from her husband, LANOS was born out of her desire to work for herself and create something meaningful. The Covid-19 lockdown period proved to be a productive time for Sonal who worked hard to put together gift ideas for women, newborns, yoga enthusiasts, home decor, and more.
Sonal has personally curated a collection of luxurious yet affordable items that are elegant, exclusive, and extremely giftable. As Sonal likes to say, "everything on my online gift shop is stuff I like and would buy for myself or gift my friends and family."
If you haven't already figured it out, the name "LANOS" comes from Sonal spelt backwards, a suggestion made fondly by her son. It represents all that LANOS stands for - Sonal's personal touch from choosing the unique gifts to personally hand-wrapping each gift for every receiver. Even the logo, featuring a golden scribble, is indicative of Sonal's Midas touch.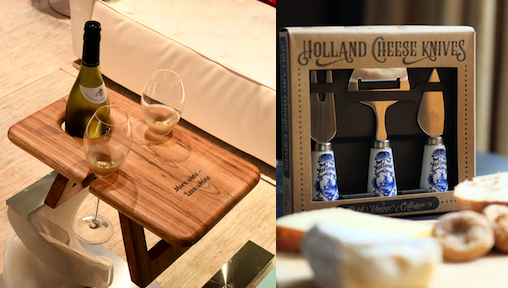 LANOS Offers Unique Gift Ideas from Artisans Around the World
Wanting to steer away from standard gifts such as flowers and chocolates, Sonal asks "Why always bring a bottle of wine to a house gathering or party?" Yes, it's an easy and convenient choice of gift but it will be gone by the end of the night. How about gifting something more thoughtful that will create a more lasting impression?
Since we can't travel to find unique gifts that are specially created by different communities and cultures from across the world, LANOS offers memorable gifts with interesting stories behind each one. The highly curated items in this online gift shop are sourced from Sonal's favourite suppliers across different parts of the world.
The creators include small and medium sized manufacturers, women entrepreneurs and low income workers who are skilled at creating beautiful giftable items. She meets each artisan individually (virtually, of course) to find out their backstory and how she can support their craftsmanship by bringing their items to the overseas market. Isn't it great to know that the gift you have bought is making a difference to the lives of its makers?
What are some of the items you can find on the online gift shop? A Copper Pod made by artists from Pune in India; crafty Ceramic Tile Coasters hand-painted by a loving couple who run Atelier Lālmitti, a clay studio in the heart of the Indian Himalayas; a Palm Wood Mortar & Pestle from Khanrathda, a charming crafts shop run by a single mother in Siam Reap, Cambodia; and so much more.
To the receiver's delight, they will know exactly why the gift you have chosen for them is so special. In addition to the beautiful wrapping, each gift comes with a note depicting the stories of the artisans who have made the gift. To maintain exclusivity, these items are supplied in limited quantities and because most of them are handmade, no two pieces are exactly the same.
On a budget? Gifts are reasonably priced to match a wide range of gift budgets including gifts under S$60.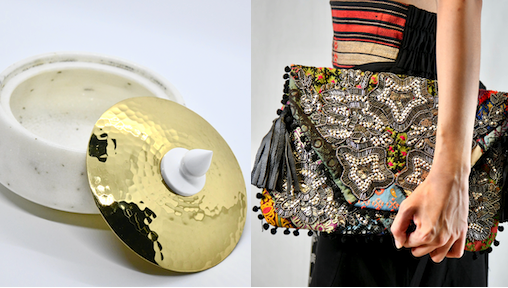 Don't Shy Away from Gifting Yourself with LANOS' Irresistible Gifts
How many times have we bought a gift and then kept it for ourselves because it was just too good to give away? No need to feel guilty, we've all done it. The LANOS online gift shop has beautiful home decor items to decorate your own place as well as fashionable clothes and accessories for you and your baby. There's something for everyone.
Do you entertain a lot at home? This funky Wine Bottle Serving Platter made from a recycled bottle is an interesting conversation starter and a great way to impress your guests.
Are you a new mama? This Crochet Teething Necklace can entertain your baby while you breastfeed.
Going on a staycation or the cruise to nowhere? The Beera Dress made from 100% handwoven cotton is just the kind of easy breezy kaftan to wear at the beach or layer over your swimsuit.
LANOS Offers Complimentary Gift Wrapping Service
Have you ever thought about why gifts are wrapped? To maintain the element of surprise!
Sonal pays extra attention to details on how well the gift is wrapped to ensure it is always a pleasure for the receiver to open the gift. As they say, "the greatest gifts are not wrapped in paper but in love". LANOS gifts are always very neatly and beautifully wrapped at no extra cost. Also, the wrapping materials are of good quality, sustainable and environment friendly.
There is a unique packing for each of LANOS gifts. Sonal packs each gift depending on the mood of the day, the season, the item that is being gifted, what occasion is the gift for and who is going to be opening that gift. The whole idea is for that gift to look stunning!
They can also add your personal gift message on a printed label and tie it with the gift. No hassle of wrapping gifts yourself!
What's more? Orders above S$100 come with free delivery in Singapore.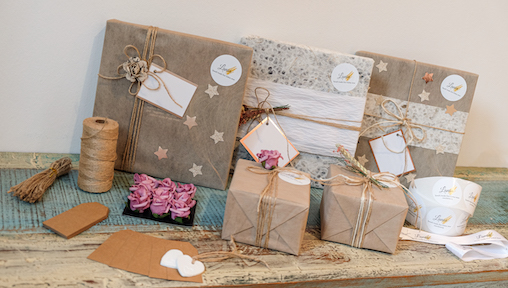 LANOS Putting Smiles on Faces
One just needs to glance at the customer reviews of this online gift shop to see how happy LANOS customers are with their gifting experience. Repeat and loyal customers are aplenty!
To keep her store promise of next day delivery, Sonal has even made personal deliveries at short notice to make sure the gift reaches the receiver on time.
Not sure what gift would be a good fit? Tell Sonal a bit more about the person - their age, interests, personality - and your budget, and she'll find a gifting solution for you.
Struggling to find a gift idea or last minute gift in Singapore? Put your trust in Sonal, try the LANOS gifting experience for yourself, and you won't be sorry!