Are hair loss and your thinning hair bringing you down? Take matters into your own hands with the PHS Hairscience FEM Fortify Daily Regime that helps to restore scalp health, strengthen hair roots to reduce hair fall and repairs damaged hair follicles.
When it comes to managing hair loss and hair fall at home, proper scalp and hair care routines along with healthy lifestyle choices go a long way in ensuring that the scalp is in good shape. PHS Hairscience gives you that ability to work with a consistent regime for your hair and scalp.
Here are 3 Steps to a healthy scalp and beautiful hair with the PHS Hairscience FEM Fortify: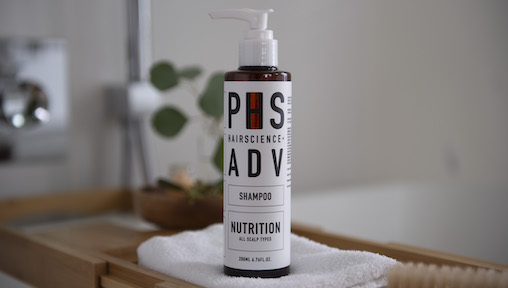 Step 1: Double Cleanse
A healthy and clean scalp is integral to optimal hair growth cycles and is the foundation for beautiful hair. Hence it is essential to keep the scalp clean by regularly eliminating dead skin cells, sweat, grime, sebum, product residue and harmful bacteria. 
Begin with the signature Double Cleanse, a two-step power cleansing methodology by PHS Hairscience that removes unhealthy impurities without stripping the scalp of protective natural oils. This prevents hair follicle blockage and improves the scalp's natural immunity.
Double Cleanse - ADV Nutrition Shampoo 200ml ($48) / 1000ml ($210)
For All Scalp Types, and the essential first step to the Double Cleanse, the ADV Nutrition Shampoo is a powerful sebum and dirt removing cleanser that unclogs hair follicles on a daily basis. It's anti-inflammatory and powerful antioxidants will restore the scalp's moisture and improve barrier functions.
Double Cleanse – FEM Fortify Shampoo 200ml ($48) / 1000ml ($210)
Specially formulated for women with mild hair loss and thinning concerns, and for those who want to prevent premature hair loss the FEM Fortify Shampoo is the second step to your double cleanse. This scalp cleanser energises and rehabilitates the scalp to reduce hair fall, and it provides hair follicles with essential nutrients to fight hair thinning.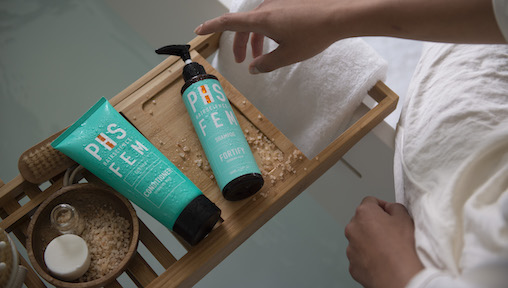 Step 2: Moisturise
FEM Fortify Conditioner 200ml ($48) / 1000ml ($210)
After cleaning your hair and scalp, this rich daily hydrator helps to reduce hair fall by strengthening hair fibres and preventing breakage. It smoothes hair cuticles for brilliant shine and lasting softness while restoring shine and vitality to your mane. Made of Tomato Stem Cells that replenish and retain moisture, you can expect lesser breakage and stronger hair.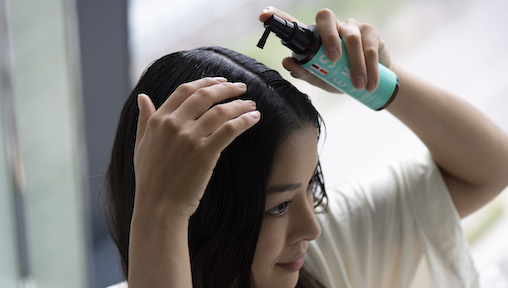 Step 3: Treat
FEM Fortify Tonic 100ml ($120)
The power horse in this regime, the PHS Hairscience FEM Fortify Tonic helps to prevent premature hair loss and delivers vital nutrients to nourish and strengthen your roots. This, in turn, reduces hair fall significant;y and leaves hair follicles reinvigorated to support healthy, natural hair growth.
The 3 step regime consists of an ADV Nutrition Shampoo 200ml, FEM Fortify Shampoo 200ml, FEM Fortify Conditioner 200ml and FEM Fortify Tonic 100ml and is priced at $264. It is available across stores in Singapore, on the PHS Hairscience website and on Lazada, Shopee and Zalora, as well as on Singapore Airlines' KrisShop.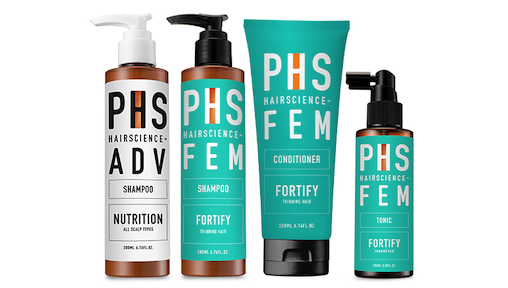 Giveaway closes on 22 September 2020.
Disclaimer:
    By providing the above details, you are subscribing to Vanilla Luxury's mailing list.
    We value your privacy. Your personal information will be kept confidential and will never be sold to third parties. The above information will only be used for Vanilla Luxury's services.