Get Juiced is a brand new bar and club in Clarke Quay that is launching a mobile application on 8th July 2017 to allow partygoers to choose, order and pay to collect a drink directly from their phone.
By automating the partying lifestyle, partygoers at Get Juiced enjoy S$5 nett drinks all night which range from draft beers, gin, vodka, rum, tequila, bourbon and whiskey.
The 8,000 square feet venue has 3 different concept rooms - a chill lounge, and two clubs to dance the night away. Whatever your definition of a fun night is, there is something for everyone.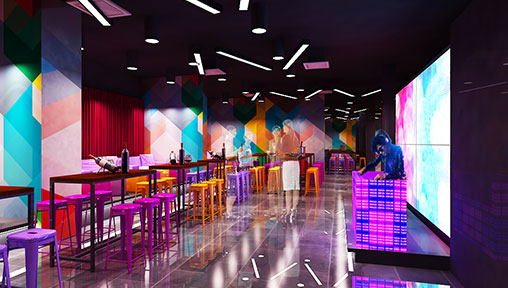 Here are 5 reasons why we are stoked about Get Juiced:
1. Have Fun Without Breaking the Bank
Singapore is known to be the most expensive city in the world. We are well aware of how expensive drinks in most clubs and bars are. At Get Juiced, you will not need to worry about when happy hour ends as drinks are priced at S$5 nett all night long!
2. No More Waiting at the Bar
Get Juiced has an application that alerts you when your drink or food is ready. We know how the level of service is like in bars and clubs when it gets busy. Even with a table, getting the attention of the staff can be quite the task. This mobile application saves you from having to wave at bartenders and shouting your lungs out, just to get your orders right.
3. Having a Conversation is now Easier
Talking to someone in the club usually means either shouting into each other's ears or leaving the club and having to queue for re-entry later. The chill lounge in Get Juiced saves you from all that hassle.
4. Various Entertainment Options
Shuffle between the club's dance floor and the live-band room that plays music from the 1990s and early 2000s. Get Juiced caters to different music preferences! If you want your favourite soundtrack played, you can send in your song requests through the mobile application.
5. Free Wifi
Get Juiced welcomes visitors from all over the world. The club provides wifi for those without data usage so you can still enjoy drinks at S$5 nett and stay connected with your friends.
Follow the Get Juiced Facebook page for more updates.
Stand a chance to be one of the lucky ones to be invited to the sneak peek of the venue! Simply follow the instructions below, for a chance to be eligible. Winners will be contacted on 21st June 2017.
Like Vanilla Luxury's Facebook Page 
Like and share this story on Facebook  
Leave us with your details below:
Disclaimer:
    By providing the above details, you are subscribing to Vanilla Luxury's mailing list.
    We value your privacy. Your personal information will be kept confidential and will never be sold to third parties. The above information will only be used for Vanilla Luxury's services.