lifestyle
Fun Things to Do in Singapore - Pop-Ups, New Stores, Events, Exhibitions and More
Published Date
: 13 Jul 2023 10:00

What to do in Singapore? From art jamming sessions to Insta-worthy pop-ups, there's so much happening on our sunny shores right now
Activities and fun things to do in Singapore! There's so much happening on our sunny island at the moment. From art pop-ups, shows, festive markets, new store openings and exhibitions, there's enough to fill up your diary, week after week. 
Fun Things to Do in Singapore This July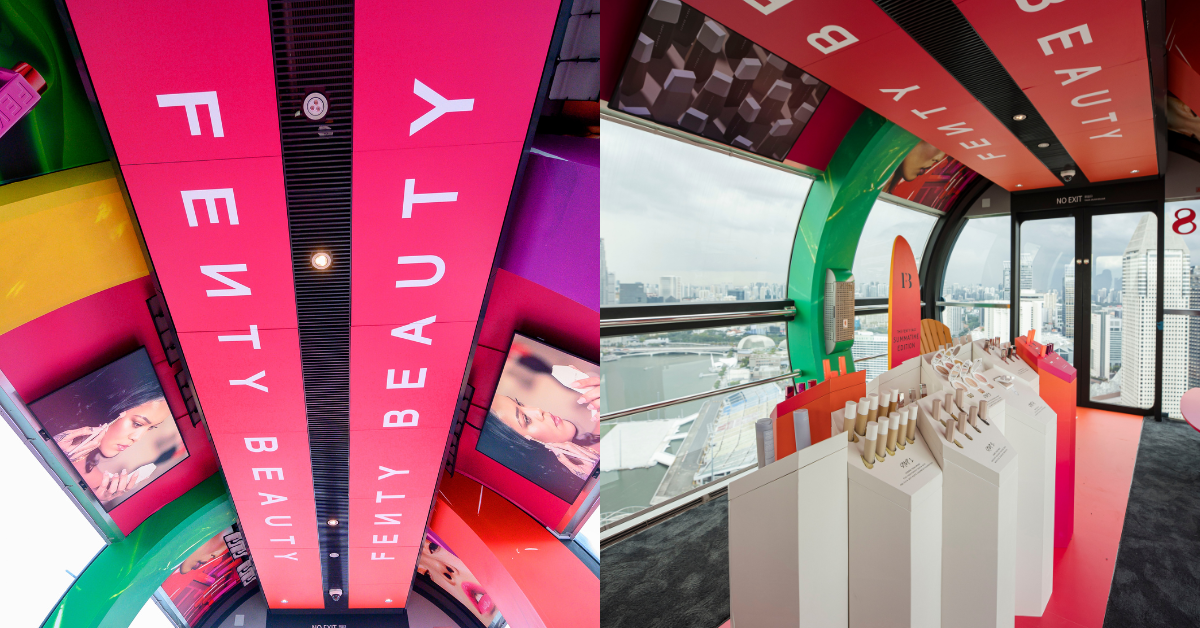 Calling all beauty lovers! This July, prepare for a truly unforgettable experience as Fenty Beauty takes over the Singapore Flyer. Get ready to indulge in the Fenty Beauty Singapore Flyer Premium Experience, where you'll be treated to the ultimate high-flying adventure. Immerse yourself in the stunning Singapore skyline while rocking your #FentyFace.
From now til 13 August 2023, premium ticket holders can step into two specially designed Fenty Beauty Experience Capsules. Sip on a glass of bubbly while enjoying a 30-minute ride that promises picture-perfect moments from every angle. The experience includes priority boarding, a rotation on the Singapore Flyer, a glass of champagne (or mocktail for guests below 18), an assortment of nuts, and complimentary admission to the Time Capsule after your flight.
Adult tickets are available for SGD 79, while children aged 12 and below can join in the fun for SGD 31. As an added bonus, Sephora Beauty Pass members can enjoy an exclusive 20% discount on adult tickets by using the promo code SFXFB20 during checkout.
So gather your beauty-obsessed buddies and get ready for an unforgettable and dazzling experience in the sky. The Fenty Beauty Singapore Flyer Premium Experience is ideal for anyone looking to up their beauty game while taking in spectacular views of the city.
Tickets available at www.singaporeflyer.com
 
Fun Things to Do in Singapore This June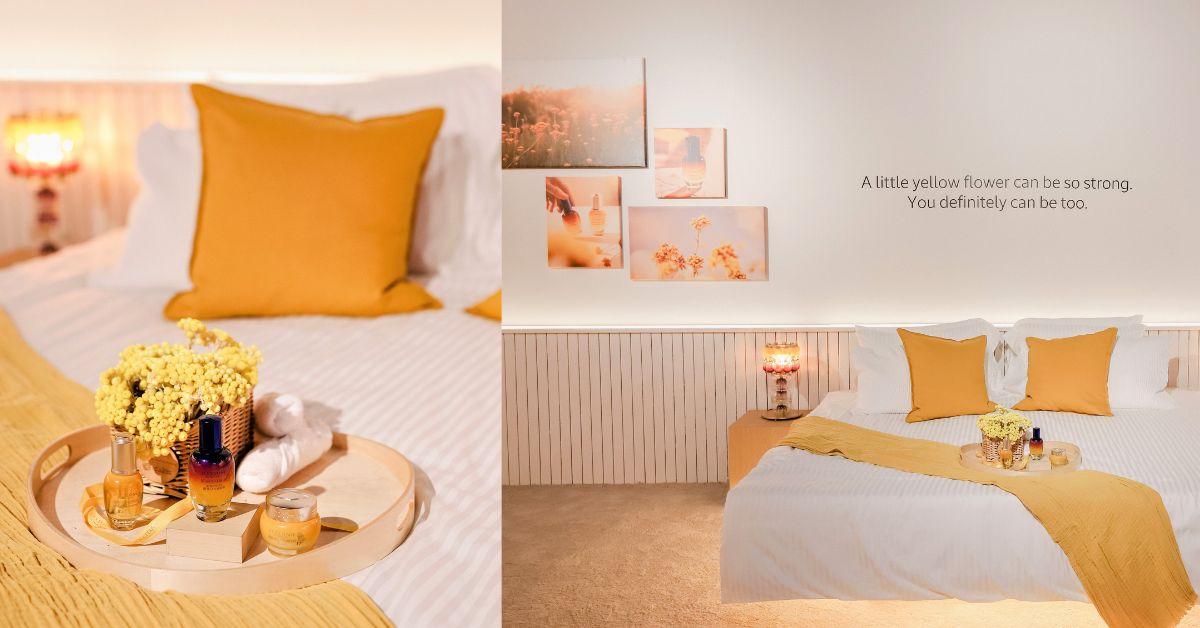 Don't miss the L'OCCITANE Hotel pop-up event in Singapore this June if you're looking for a captivating and immersive experience. This extraordinary event takes visitors on a sensory journey through the popular Almond, Immortelle, and Haircare categories of the brand. Step into the stunning projection rooms and be transported to magical locations such as Valensole's breathtaking Almond Forest and Corsica's boundless Immortelle Flower Field. The event is 7,265 square feet in size, making it L'occitane's biggest event in the Asia-Pacific area.
The opportunity to interact with nature, as well as L'occitane's commitment to sustainability, is the highlight of this pop-up event. Witness the magnificence of the Almond Forest and learn about L'occitane's commitment to tree reforestation. Explore the 5 Essential Oils Bar for tailored hair care treatments and appreciate the use of recycled plastic in their packaging. The Immortelle Field, where you can see the persistence of the Immortelle flower and explore L'occitane's skincare range inspired by its potent properties.
What makes this experience even more enticing is the fact that it's completely free to attend. You can immerse yourself in this one-of-a-kind event without spending a dime. Be sure to register a slot before heading down to ensure the best experience possible.
Located at Raffles City Singapore, 252 North Bridge Rd, #01-01, Singapore 179103
Registration can be made here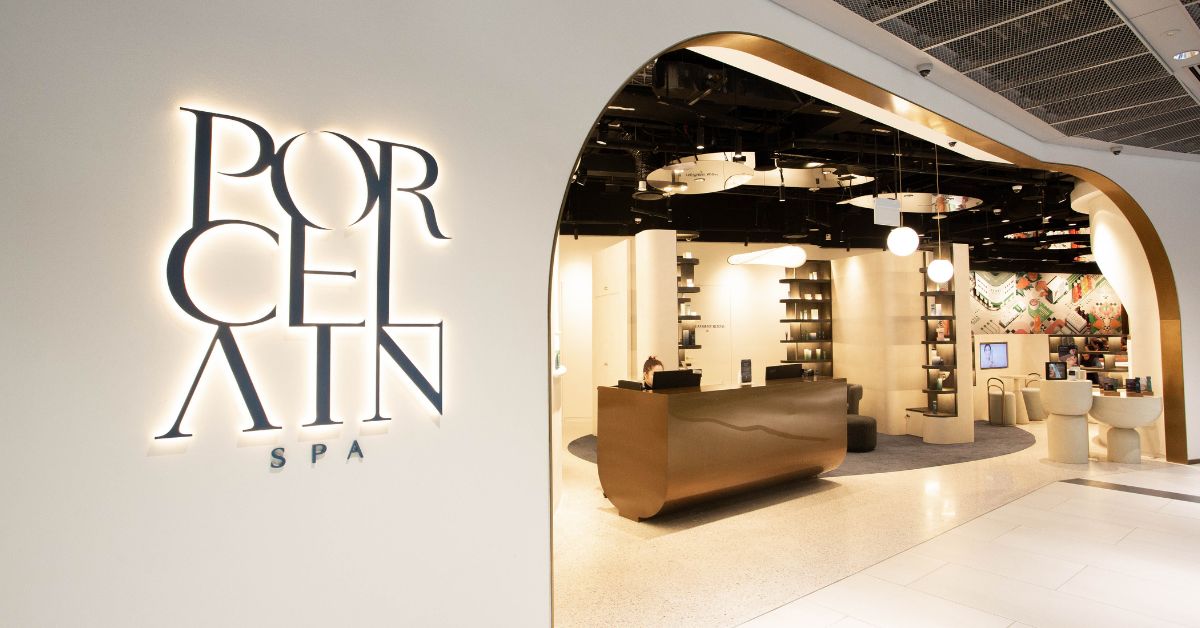 If you're in desperate need of a skin-rejig, turn to the newly opened Porcelain Spa at Funan Mall. This newly unveiled boutique offers a serene and elegant haven of wellness, renowned for its premium medical technology facials and in-house formulations.
The collaboration with the award-winning interior design firm LAANK has resulted in a fresh and inviting space, draped in a soft pink hue to captivate the younger crowd. Spanning 1900 square feet, Porcelain Spa features seven treatment rooms, a skin analysis room, consultation counters, a powder room, and a retail space offering the complete range of Porcelain Skincare and UKYO by Porcelain products.
Porcelain Spa has three experiential highlights that will enhance your spa experience. With luxurious chairs, gentle lighting, and calming music, the comfortable spa lounge offers a serene hideaway to rest and escape the cares of daily life. The combined skin discovery room and retail space allow for tailored solutions as well as exploration of Porcelain's whole skincare collection. You can obtain an in-depth analysis of your skin and customise your Porcelain journey with two consultation counters and a skin analysis room equipped with Porcelain's Skin Discovery Enhanced software. Finally, the treatment rooms provide a calm atmosphere with soft warm lighting and neutral-coloured walls, making them ideal for relaxation and regeneration. 
Porcelain Spa Funan is also having an exclusive opening promotion, the Funan Launch Package for $988 which includes one classic facial treatment worth $318, one signature facial treatment worth $368, and one premium facial treatment worth $598.
Porcelain Spa Funan is located at 107 North Bridge Rd #04-19/20/21 S179105, but other outlet locations can be found here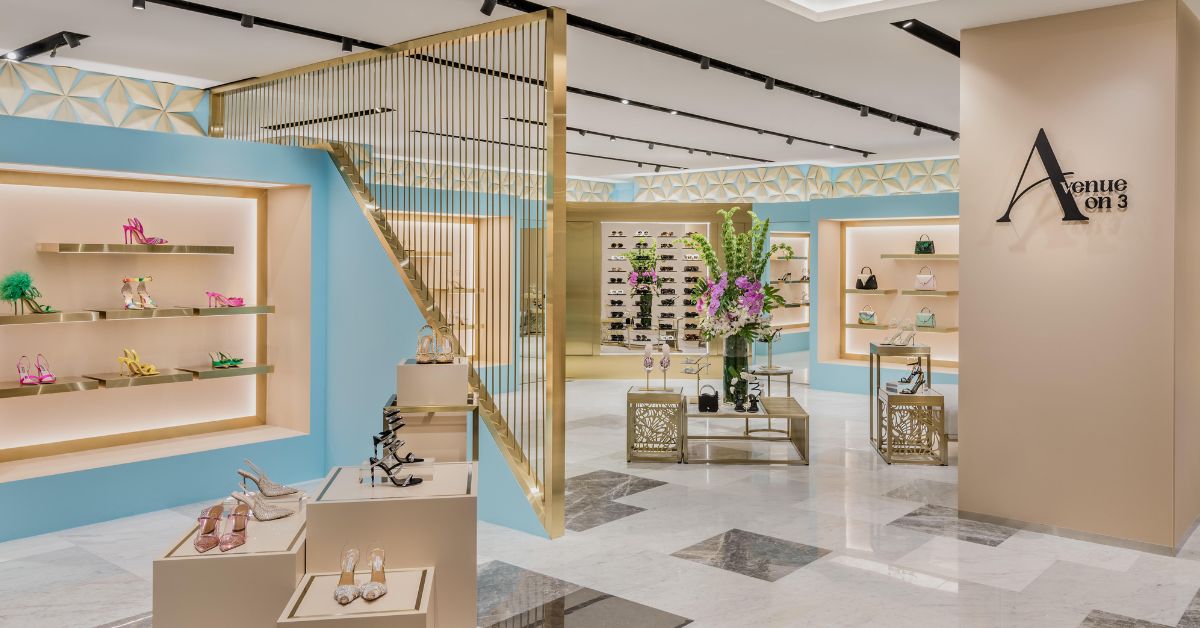 If you're a fan of shopping in luxurious boutiques, and are looking for a unique and indulgent experience in Singapore, Avenue on 3 by F J Benjamin is the place to visit. F J Benjamin Holdings has launched a new retail concept that caters to the everchanging shopper habits post-pandemic.
Located on the third floor of Paragon Shopping Centre in Singapore, this sophisticated(and whopping) 8,000 square feet luxury shoe and lifestyle concept store offers a multi-label selection of trendy footwear and fashion accessories from renowned brands like Aquazzura, Gianvito Rossi, Tom Ford and more.
But Avenue on 3 isn't just about shopping, it provides a one-of-a-kind retail experience that goes beyond the ordinary. Whilst on your shopping spree you can enjoy artisanal food and drinks at the café and bar, indulge in decadent chocolates from the Lebanese chocolatier Patchi, and pamper yourself with beauty treatments in their luxurious suites that feature only the best skincare from brands like Dr. Barbara Sturm and MZ Skin.
Avenue on 3 promises a fun and memorable adventure for fashion enthusiasts, beauty aficionados, and anybody looking for a wonderful time in June with its combination of luxury items, new retail experiences, and a trendy environment.
Located at 290 Orchard Rd, #03-46 The Paragon, Singapore 238859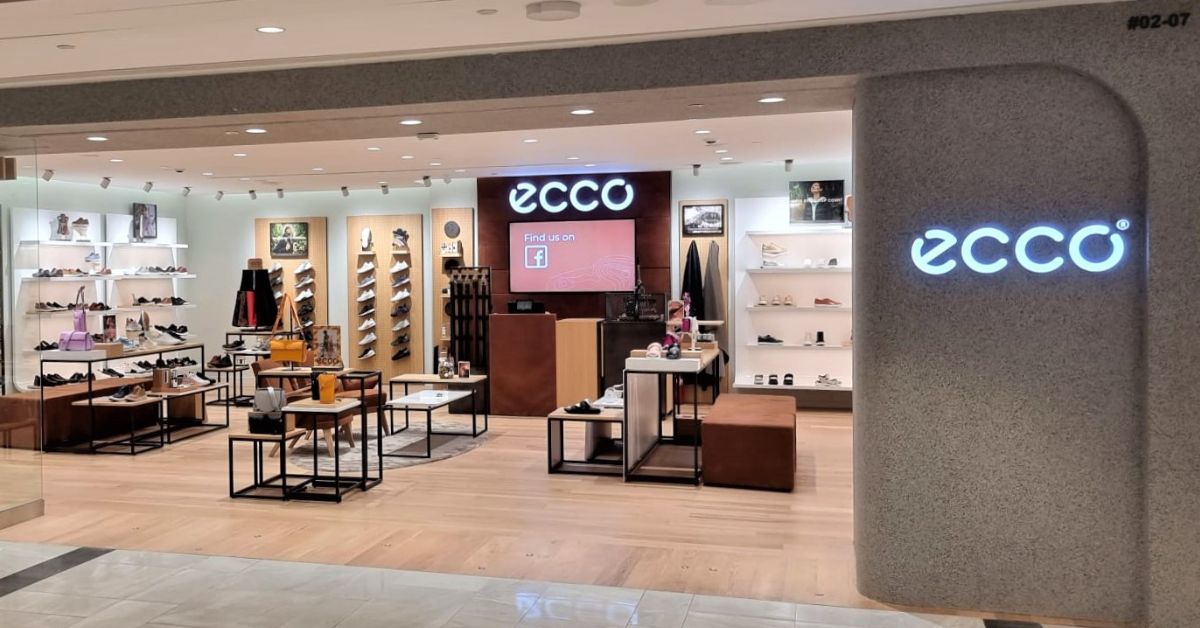 In Town and wondering what to do? Look no further than ECCO Raffles City! ECCO's newly opened prime concept store offers an upscale and immersive shopping experience that combines Danish heritage with contemporary design. As you explore the store's sleek and minimalist Scandinavian aesthetics, you can relax in the cozy lounge area, try on their latest footwear collection, and even enjoy a cup of coffee.
The most special thing about this new outlet is that you can even personalise your leather goods with their embossing service, available for the first time in Singapore. ECCO's commitment to comfort, craftsmanship, innovation, and sustainability is evident in their wide range of footwear and lifestyle products for both men and women. Whether you're a fan of their Upcycled Collection or their 60th Anniversary collection, ECCO Raffles City is the perfect destination for a memorable shopping experience. Head down to ECCO Raffles City this weekend and indulge in quality, style, and personalized service.
If trying to incorporate more sustainable pieces into your collection is on your agenda, head down to Ecco Raffles City! Located at Raffles City #02-07.
Fun Things to Do in Singapore This May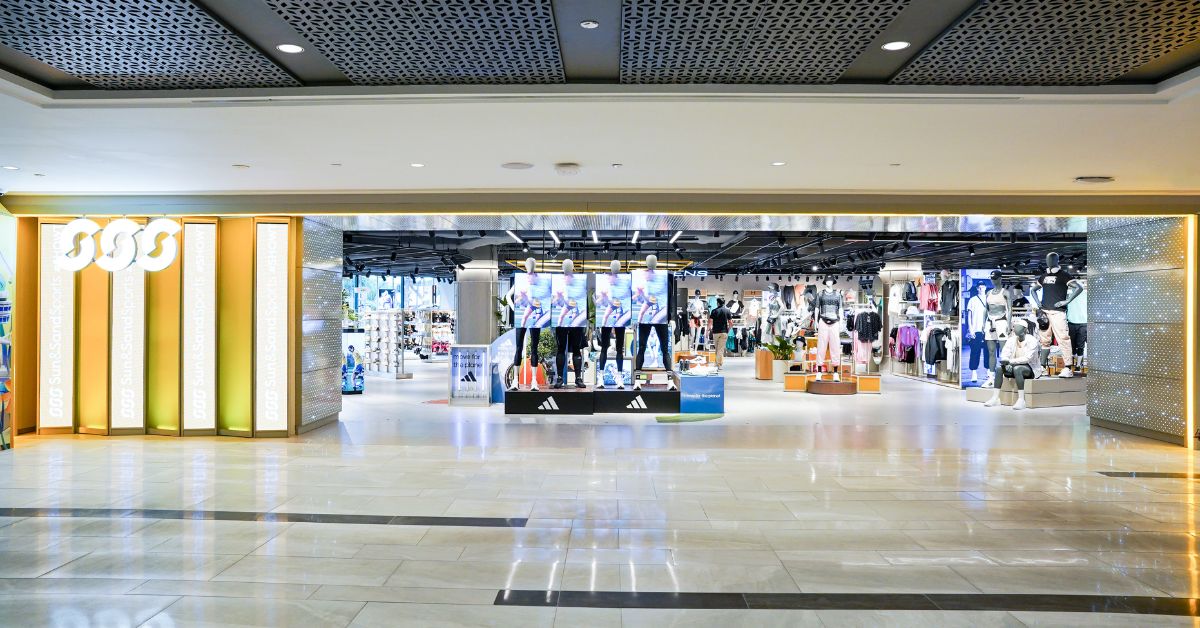 Calling all sports fans, have you heard? Sun & Sand Sports (SSS) has come to Singapore! At the recently launched Sun & Sand Sports store in Raffles City, get ready to improve your sporting experience and splurge on a world of fitness and lifestyle products. At its first international shop, SSS promises a fun-filled trip that goes beyond ordinary retail thanks to its immersive sporting concept, state-of-the-art technology, and a wide selection of well-known brands.  
SSS offers a wide range of fitness and leisure goods from more than 21 unique brands. SSS offers everything you need, whether you're looking for high-quality athletic wearables from Nike, Adidas, New Balance, Puma, or Under Armour or specialized equipment for yoga, weightlifting, or at-home workouts. Everything you need to improve your active lifestyle, from fashionable clothes to high-performance equipment, can be at this one-stop shop.
Situated near City Hall MRT Station, SSS offers a convenient location for Singaporeans to explore and enjoy. Located at #02-03/04 of Raffles City, 252 North Bridge Road, Singapore 179103, opened daily from 10am to 10pm.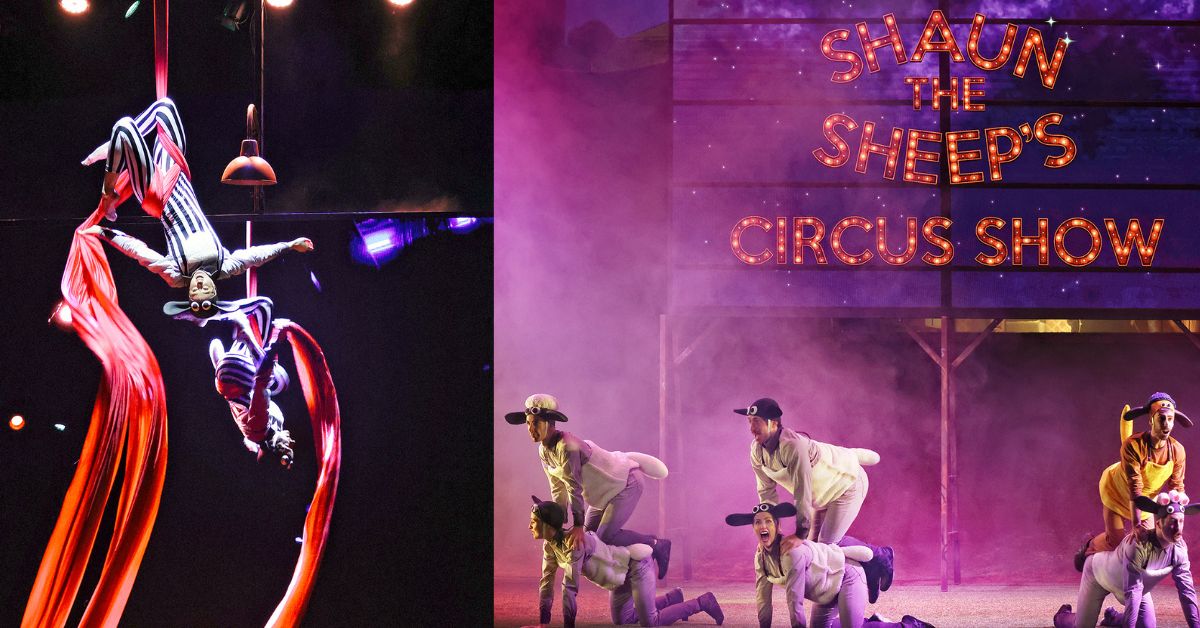 Following the success of Carnival of the Animals back in March 2022, presenter Base Entertainment Asia and producer Circa Contemporary Circus are back with the highly entertaining and beloved circus-theatre production, Shaun the Sheep's Circus Show.
Many of us might be familiar with the well-loved and widely popular TV series, Shaun the Sheep. The on-screen series was introduced in 2017 and has gained worldwide recognition for its unique appearance, comical elements, and quirky characters, making it a firm favourite among families. But even for those unfamiliar with the comical classic, Shaun the Sheep's Circus Show is an exciting blend of on-screen animation and live-action acrobatics, making it a captivating performance for everyone in the family. 
On the large lawn green stage, the characters of Shaun the Sheep's Circus Show will be brought to life through a delightful storyline that is sure to please fans and theatregoers alike.
Get ready for a visual spectacle, packed full of wit and outright hilarity, as the Circa ensemble entertains with movement, dance, theatre and circus. We're talking daredevil acrobatics and vibrant circus skills!
Running at Sands Theatre from 10 to 21 May 2023. Get your tickets here.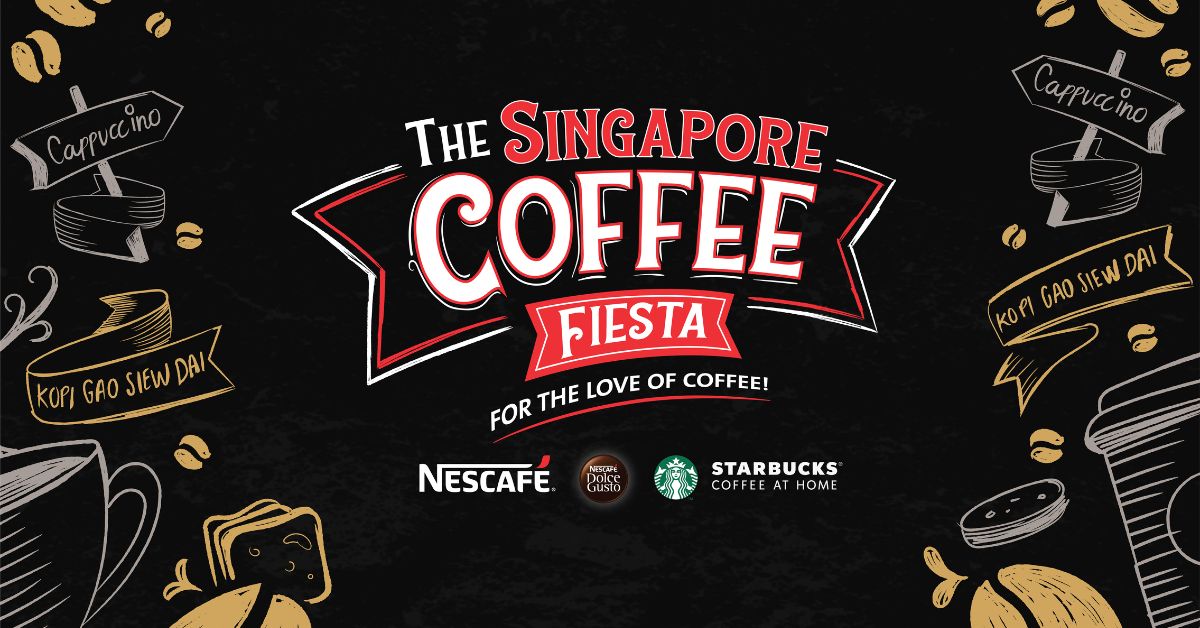 Calling all coffee connoisseurs! The Singapore Coffee Fiesta is back again for the second year with lots of newness, excitement and all things coffee. With coffee being such an integral part of many of our daily routines, the fiesta is aimed at commemorating the love for coffee that many Singaporeans share. Sample different flavours and find your favourite coffee blend with the over 60 coffee blends featured, from prevalent Nestlé coffee brands such as NESCAFÉ, NESCAFÉ Dolce Gusto, and Starbucks At Home. 
Whether you prefer the strong taste of traditional coffee or the milky aroma of a latte, these brands have something catered for every coffee enthusiast. 
Three exclusive coffee blends will be unveiled during the Singapore Coffee Fiesta, and they will be available in stores from mid-May. These new blends include NESCAFÉ GOLD 3-in-1 in Original and Intense flavours as well as Starbucks by Nespresso's Sunny Day Blend Blonde Roast Capsule Coffee. If you love the rich and full-bodied taste of traditional Singapore coffee, reach for NESCAFÉ GOLD 3-in-1. Brewed with golden-roasted Arabica beans, enjoy a rich creamy cup of coffee with a strong flavour. 
If you prefer something lighter, try out the Starbucks Sunny Day Blend by Nespresso® Blonde Roast Capsule Coffee. The lightly roasted beans come from Latin America and make for a sweet and fruity flavour complimented with notes of vanilla and dried berries.
Singapore Coffee Fiesta will be happening now till 4 June at major supermarkets like Fairprice, Sheng Siong, Giant and Cold Storage and selected e-commerce platforms (FairPrice Online, RedMart, Lazada, Shopee). Head down for a fun coffee adventure and check out the schedule for their roadshows here.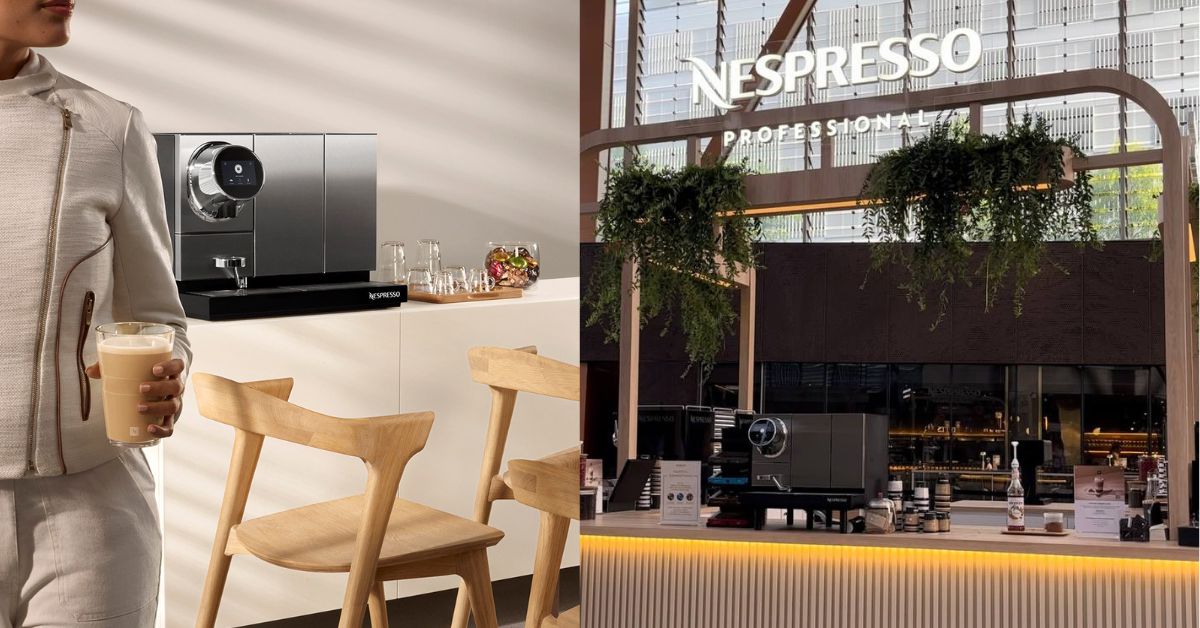 There's more good coffee news to be shared! Happening for just three days, Nespresso Professional: Tasteful Connections is taking place at Guoco Tower Urban Park. This pop-up event introduces the Nespresso Momento coffee machine to create enjoyable coffee moments that encourage meaningful interactions in the workplace. Visitors can expect to brew coffee, participate in entertaining activities, and connect with others over complimentary coffee. 
So, what are you waiting for? Head down to their unique outdoor lounge and savour a delicious cup of coffee while making meaningful connections with your colleagues today! 

Nespresso Momento Pop-Up is happening from 9 to 11 May 2023, 8:30am to 8pm at Guoco Tower Urban Park. Click here to discover the Nespresso Momento Machine range.
Fun Things to Do in Singapore This April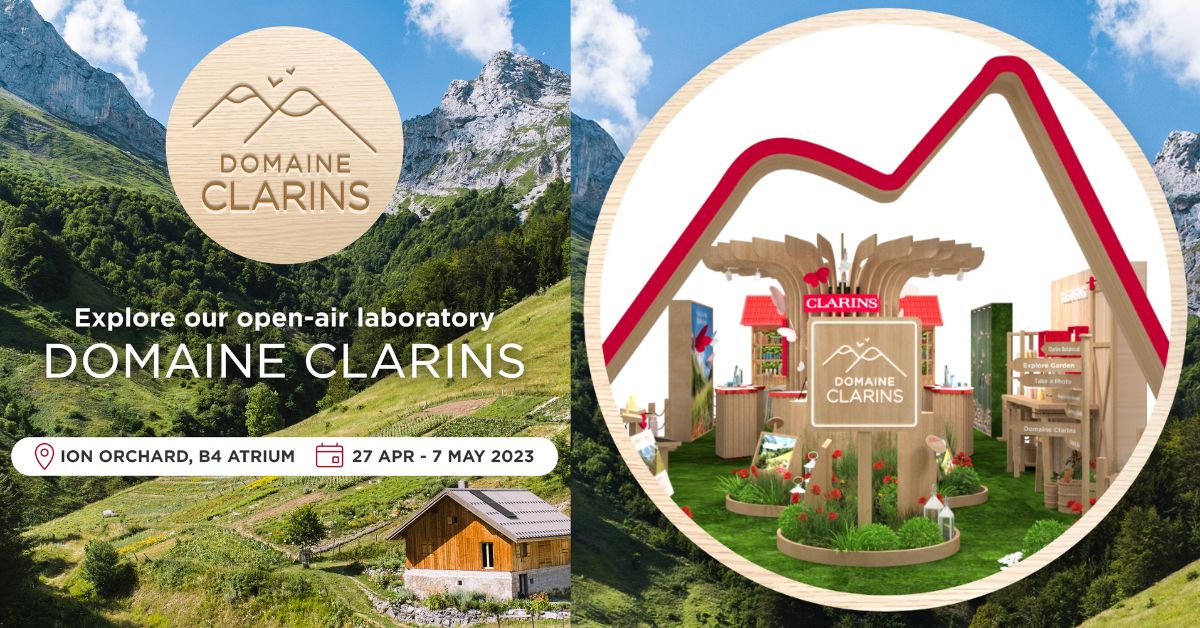 Join CLARINS and discover their core foundations of sustainability through 7 curated experiential stations via the pop-up CLARINS DOMAINE at Ion Orchard.  

Nestled at an altitude of 1,400 metres, Domaine Clarins is a state-of-the-art production facility and open-air laboratory for CLARINS in the French Alps. This research facility is used to study new plant actives and to source ingredients used by the brand in their ground-breaking treatments.  

Reflecting CLARINS love and appreciation for nature, this pop-up too uncovers how CLARINS honours and protects the environment through promoting responsible and sustainable beauty and undertaking extensive CSR efforts. A recreation of CLARINS Domaine, the pop-up is a verdant exploration into the world of nature where Clarins showcases its newest and popular products with 7 fun stations for all to enjoy.  
Discover CLARINS' iconic skincare, experience their cleansers first-hand, be a part of their sustainability efforts, explore and take a quiz or take photos and tag the brand to win prizes. You can also get a complimentary skin analysis and walk away with free samples.  

The Pop-Up is open from 27 April – 7 May, where visitors can register to have a complementary beauty consultation to tailor every skin need and be able to redeem FREE Clarins samples and OATSIDE Oat Milk upon completion of the consultation.
Open to public from 27 April – 7 May, 10am to 10pm daily
Location: ION Orchard, 2 Orchard Turn, B4 Atrium, S238801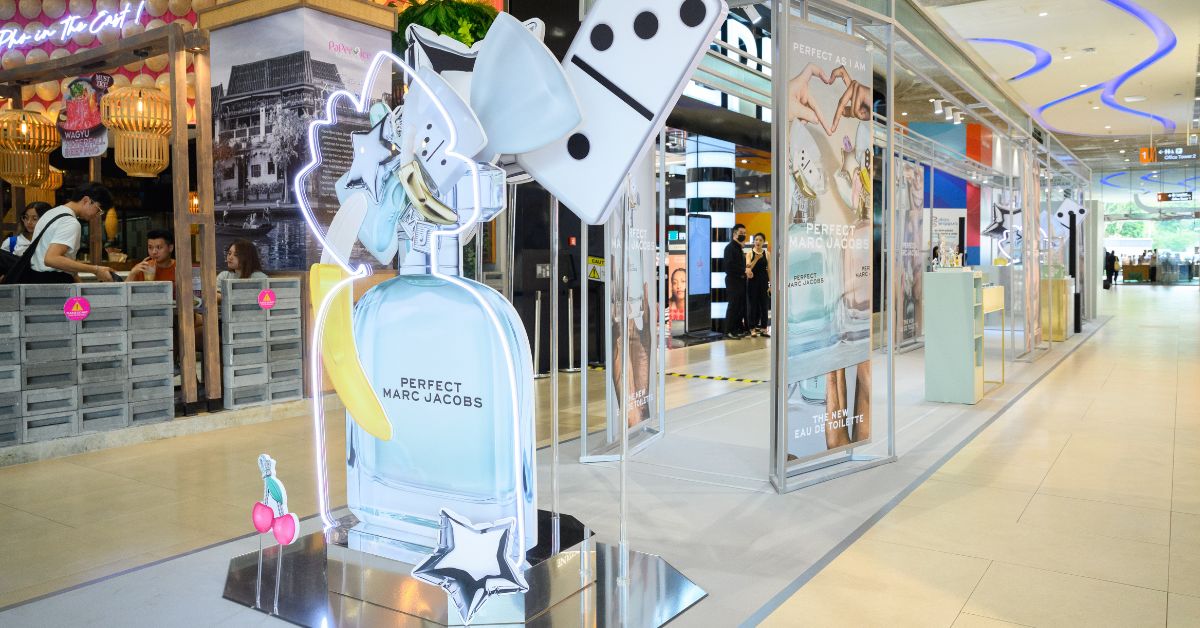 To celebrate the launch of its fresh new Perfect Eau De Toilette, Marc Jacobs will be having a two-week-long pop-up at Plaza Singapura right in front of Sephora. 
A fresh and bright interpretation of the original comforting floral scent, this new luminous, joyful, clean, and comforting floral with a woody base fragrance is crafted in collaboration with Marc Jacobs himself and features an elegant blend of unexpected elements. The weighted glass base is inspired by the femininity and grace of a classic perfume, but is also adorned with an eclectic assortment of mismatched charms. The shade of the bottle is a dazzling combination of cool green and blue hues that play with transparency and texture, combined with metallic silver and pale gold accents. Inside, the juice is presented in a soft green shade, reflecting the fresh, clean, and uplifting new fragrance offering. 
Join in on the launch fun at this fun and exciting pop-up where all who come are encouraged to embrace our perfect imperfection. Like the original fragrance that launched globally in July 2020, Perfect Eau De Toilette is inspired by Marc Jacobs' personal mantra: "I am perfect as I am," which is symbolized by a tattoo of the word "perfect" on his wrist. 
The two-week-long pop-up at Plaza Singapura allows you to experience the luminous floral scent of Perfect EDT first-hand. You can win special goodies, such as vials and mini fragrances and also decorate your own body with custom temporary tattoos. Most importantly: have fun!
Date: 21 April - 3 May 2023  
Venue: Plaza Singapura (In front of Sephora, Atrium@Plaza Singapura #01-56/57)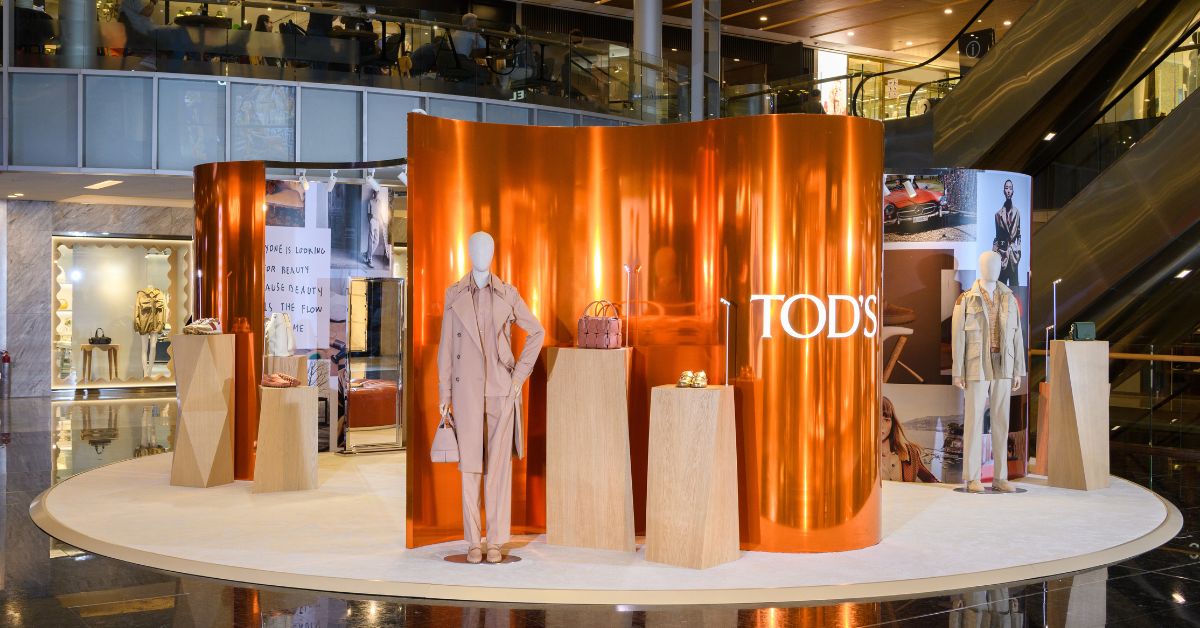 Tod's Italian Flair Pop-Up 2023
Prestigious Italian brand Tod's is re-introducing their ready-to-wear line in Singapore and launching their Spring-Summer 2023 collection at a pop-up boutique in the atrium of Paragon Shopping Centre.
The pop-up celebrates Tod's refined luxury, impeccable taste, and enviable quality which have earned the brand a devoted following across the world. Fans can now enjoy the authentic Tod's experience with a space built to represent the brand's distinctively Italian essence, featuring warm and inviting neutral tones and metal elements conveying luxury. The pop-up boutique also showcases Tod's newest and most popular products, including the latest and iconic pieces like the Gommino and Di Bag.
Tod's Italian Flair Pop-Up is happening at Paragon Shopping Centre's Atrium Level 1, from 30 March to 14 April 2023.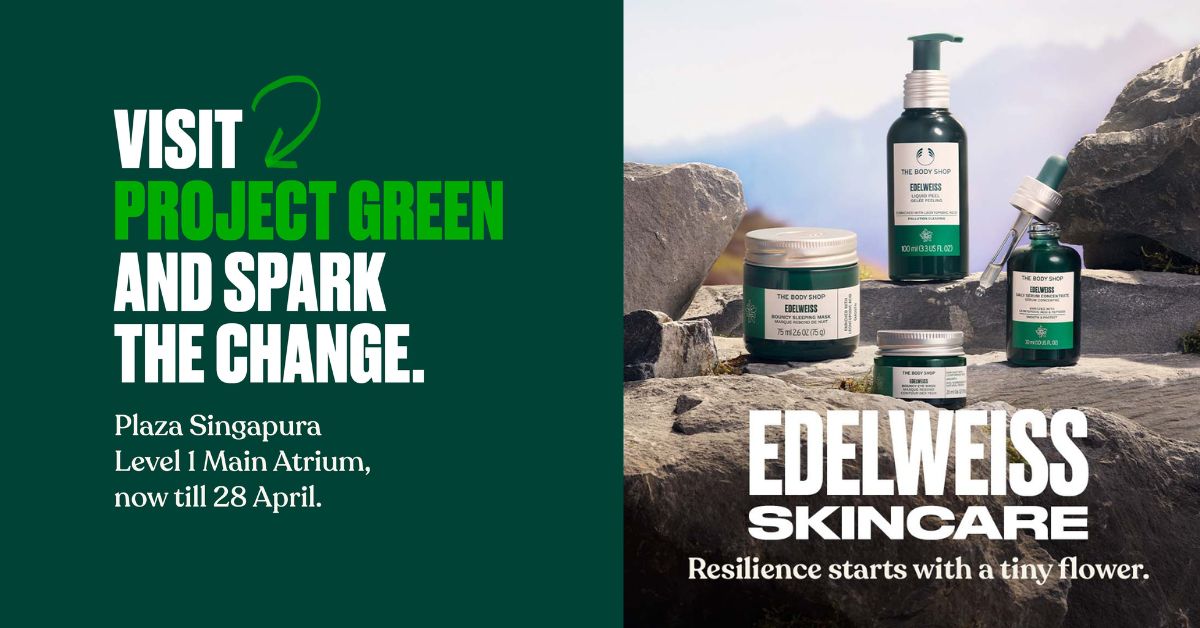 The Body Shop at Project Green Plaza Singapura
Project Green, a sustainability showcase by Capitaland Malls, will be happening at Plaza Singapura from 24 March 2023 to 7 May 2023. The Body Shop is among the showcase's featuring brands and will share about their sustainability efforts. Visitors can discover more about their bestselling Edelweiss skincare range and participate in exciting activities. 
Visitors who sign up as The Body Shop's Love Your Body™ Club member can redeem a Resilient Skin sample kit in-store. Furthermore, with a minimum purchase of $100 at The Body Shop's Plaza Singapura store, customers can walk away with a full-sized product at their sure-win lucky spin, from 10 to 16 April only. What's more, you can register for a floral arrangement workshop and experience the brand's bestselling Edelweiss skincare range. The workshop is happening on 15 April with @floralaelf_official and visitors can sign up via Instagram DM. 
The Body Shop will be at Project Green Plaza Singapura till 28 April 2023.
Fun Things to Do in Singapore This March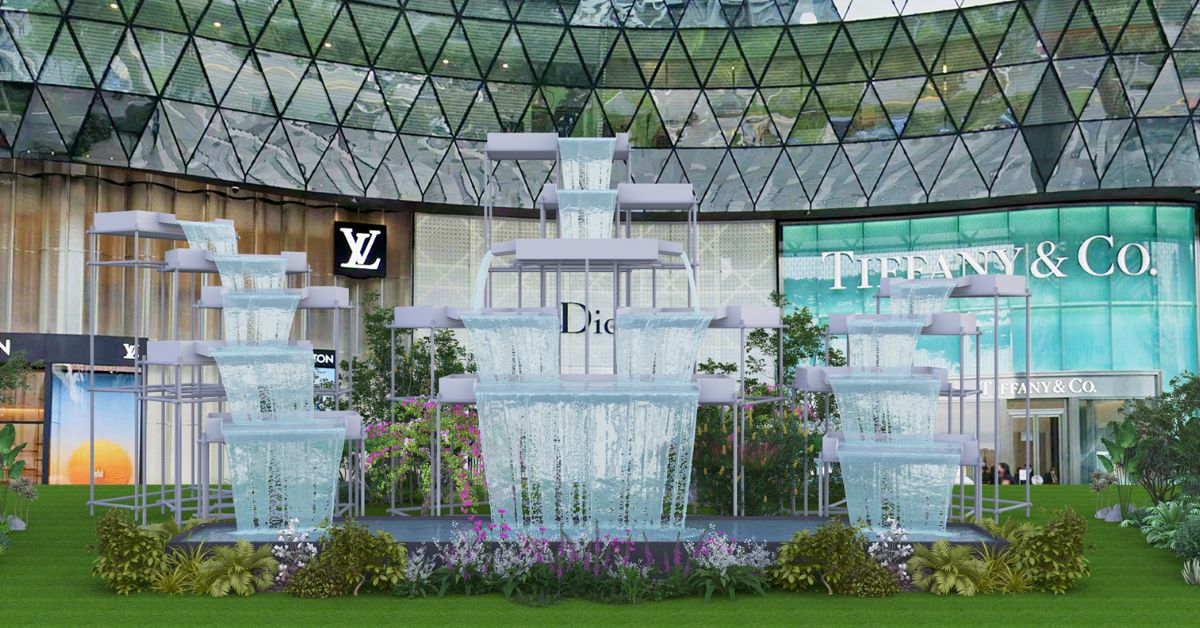 This season, shoppers can look forward to mesmerising pop-up installations with light shows, exclusive beauty and fashion deals, and more at ION Orchard's multisensory shopping experience. From 17 March to 28 May 2023, ION Orchard welcomes the Beauty and Spring-Summer 2023 season with an array of exclusive deals at the mall and a six-metre-tall waterfall installation at ION2 (Level 1 Outdoor) amongst other attractions. Set to amaze visitors with its magical transformation into a wonderland of music, lights, and colours, this season at ION Orchard is all about exclusive member rewards, new brands and the ultimate destination for innovative experiences.  

Get ready to step into a world of enchantment at ION Orchard's Spring Garden at ION2 from 7 April to 7 May! This breathtaking outdoor spring garden is the perfect backdrop for photos, with a giant waterfall that cascades over two storeys. This larger-than-life installation is not only a feast for the eyes but also a sensory experience that will leave shoppers mesmerised as they catch a spectacular light show over five weekends — every Friday, Saturday, and Sunday between 7:00 pm and 9:30 pm, with a 30-minute interval between each show. As the spectacular 8-minute visual spectacle unfolds, shoppers will be swept away by a symphony of beautiful and familiar soundtracks, mist effects, and vibrant projections, providing the perfect reason for photos and a fun-filled time for family and friends.  

ION Orchard continues to bring the best global brands to its shoppers, with the latest additions including Christian Louboutin, D&A Jewellery and The Onitsuka, each offering its unique style and exclusive collections to shoppers. The newly revamped Gentle Monster and HUGO stores have also reopened with innovative concepts, and you also have access to new culinary hotspots Surrey Hills Grocer and Smile Murtabak, which offers a variety of authentic Indonesian street food such as the mouth-watering murtabak. And that's not all! From 1 April to 28 May 2023, shoppers can enjoy exclusive deals from a diverse range of ION Orchard retailers, spanning fashion, lifestyle as well as food and beverage.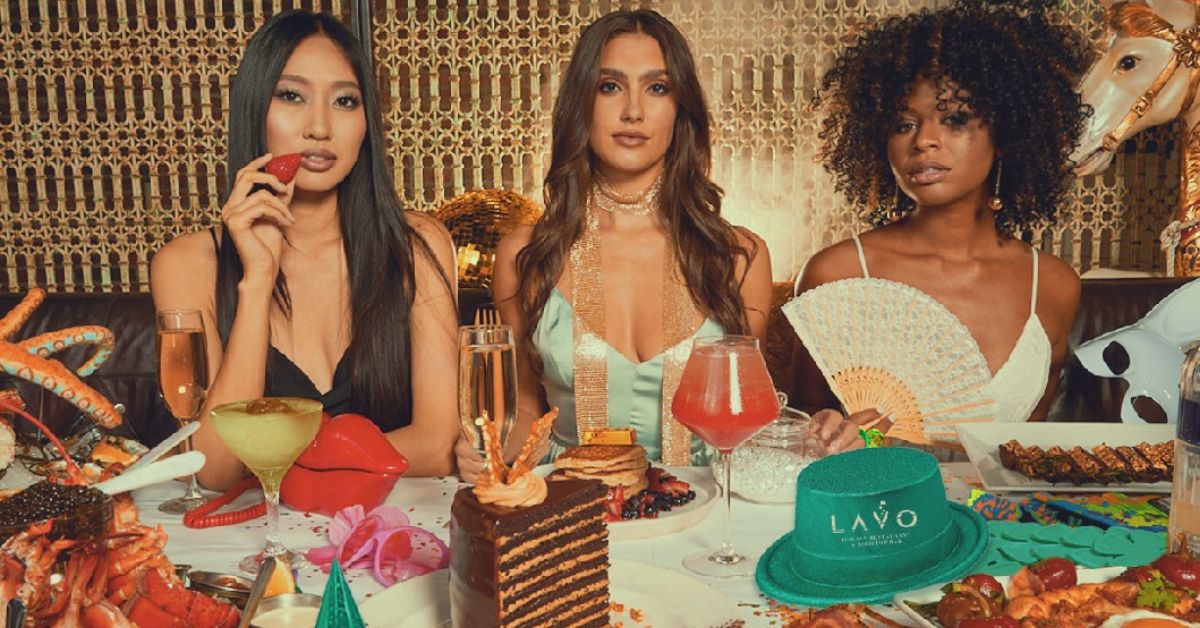 Welcome the return of LAVO Party Brunch, Singapore's most spectacular daytime party held on the 57th level at the iconic Marina Bay Sands. Happening on 18th March 2023, Saturday, and themed 'St Patrick's Edition: Keep Calm and Shamrock On', indulge in a boozy brunch with a menu of indulgent LAVO classics and daytime favourites. 
Expect decadent dishes, dancing on tables, bottle-popping service and tunes from the hottest local DJs - all the ingredients for a hedonistic daytime party. LAVO Party Brunch sets the standard for the wild daytime affair, riding on the success of its groundbreaking launch at LAVO New York in 2010. Their themed party brunch series has gained a loyal international following for its signature day club concept. 
Toast to a boozy Saturday afternoon with an expansive brunch spread of all-time Italian American favourites, before partying with high energy performances and live DJ sets by legendary-local resident DJ Aldrin.
Priced at $168++ per person, tickets are available here. Call +65 6688 8591 for table reservations.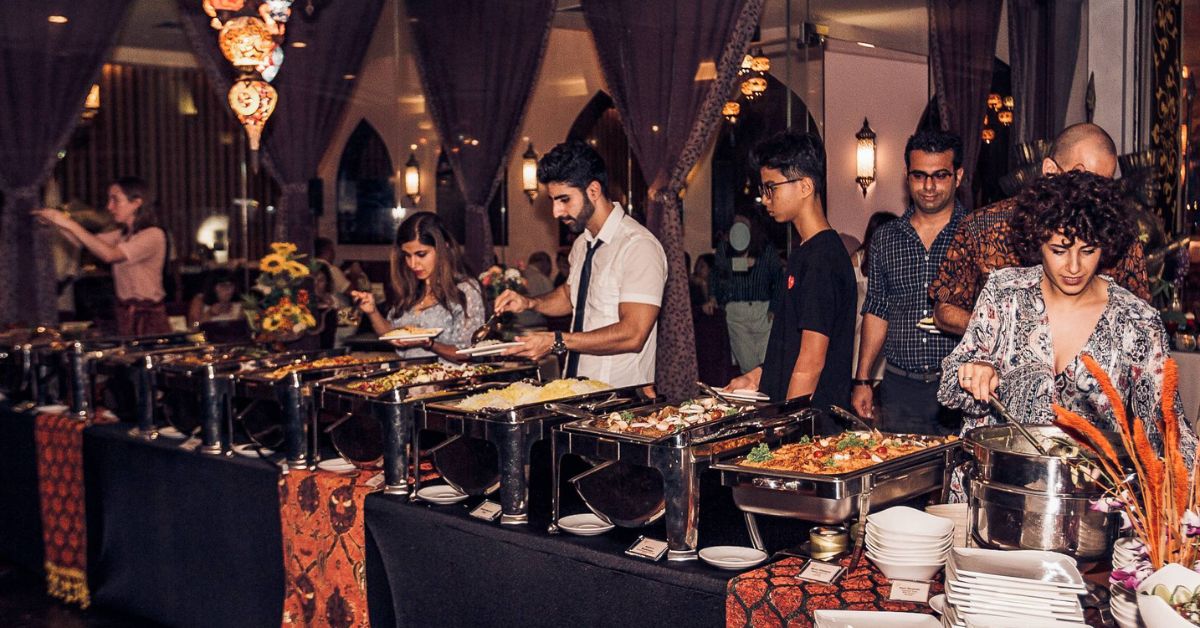 Welcome the Persian New Year and celebrate the first day of Spring at Shabestan Singapore. Happening on 21 March 2023 from 6.30 pm to 9.30 pm, you can look forward to an extraordinary evening of food, music, and dancing to DJ tunes at the restaurant. 
Shabestan Singapore brings you a lavish buffet with a delightful array of your favourite Persian and Middle Eastern delicacies and dishes available from 7 pm until 9.30 pm. The buffet menu comes with a wide selection of popular dips, soups, appetisers, salads, roasted seasonal vegetables and meats, as well as mouth-watering desserts. The cost of the Nowruz buffet menu is $108++ per person, while children between 6 to 11 years can join for $68++. 
What's more, you can opt for the takeaway menu for $108++ if you prefer to enjoy the Nowruz feast in the comfort of your own home. The takeaway menu includes one soup, dip, salad, stew, kebab, rice, bread, and dessert, available from 7 pm to 9 pm.
Here's an early bird deal for you! Early bird diners who purchase their tickets by 10 March will receive a $20 return voucher. You will also stand a chance to win prizes in the lucky draw, including a relaxing home spa experience worth $179. Two best-dressed winners will also be selected for the evening.
Join the night of revelry and celebration at Shabestan Singapore. The buffet starts at 7 pm with over 31 dishes of Nowruz's exclusive menu, followed by belly dancing performances, DJ tunes and lucky draw afterwards. 
Book your tickets here. 
Celebrate Nowruz 2023 at Shabestan, 80 Mohamed Sultan Road #01-13 Singapore, Robertson Quay 239013. Happening on Tuesday, 21 March 2023, from 6.30 pm to 9.30 pm.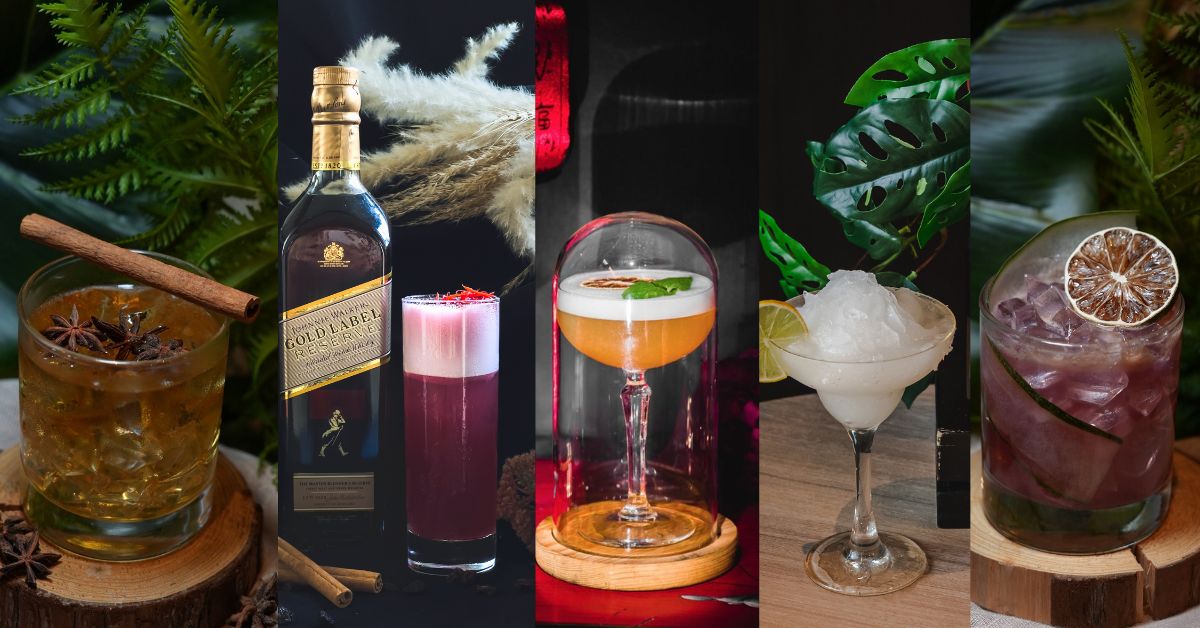 The month-long Sip & Savour campaign by 1-Group celebrates the culture of cocktails and is happening from 24 February to 26 March 2023. The event features 8 iconic destinations spotlighted through bar collaborations, drink-and-dine programmes, guest shifts and other events for a varied showcase of community and creativity within the cocktail industry. 
Savour with drink and dine activations from themed brunch affairs, bottomless brunches to pairing dinners, and more. the Inks & Clinks Boozy Brunch at Botanico is happening on 11 March, which includes a 5-course brunch menu and a Hendricks Gin-based "Let's Get Tropical" cocktail with the option to get a temporary Jagua-based ink tattoo. 
Not forgetting to mention, guest shifts and special parties to top off the campaign. Guest Shift x Budi Bar Melaka at The Alkaff Mansion is happening on 25 March 2023. A one-night-only guest shift serving Melaka-inspired cocktails within heritage surroundings. The campaign concludes with the Sip & Savour Closing Grill-out Party at The Summerhouse on March 26, featuring char-grilled meats and seafood with pairing options for 8 exclusive cocktails and a surprise rotation of guest bartenders. 
Visit their website for more information.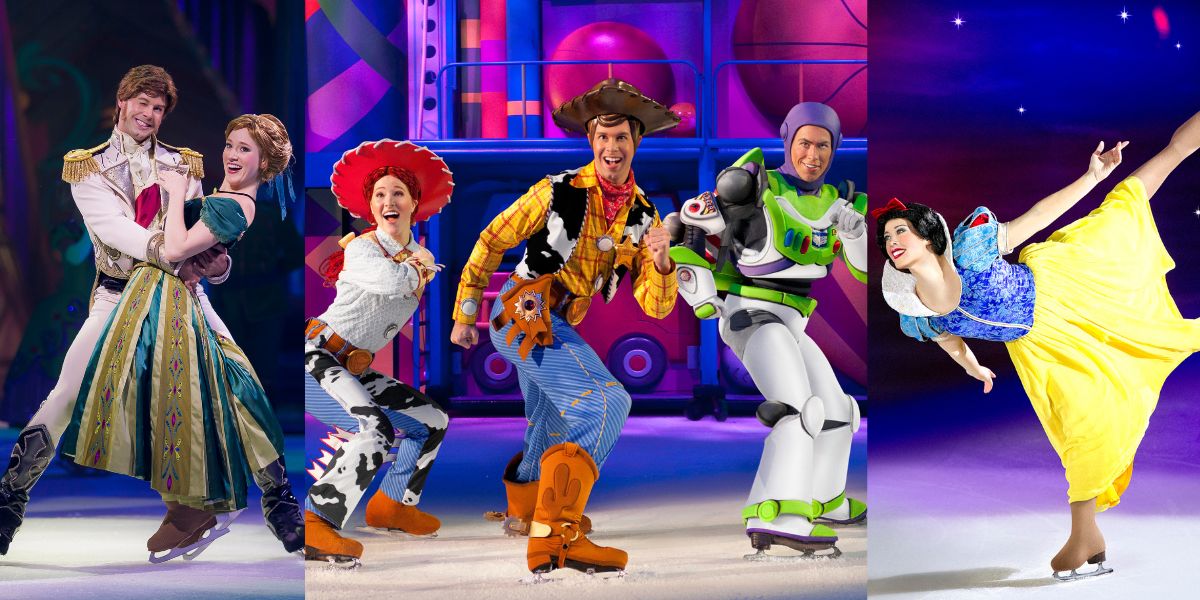 There's every reason to get excited! Disney On Ice is back in Singapore after four long years. Whether you are a Disney fan or looking to make your kids squeal with delight, get ready for a worldwide party as Disney On Ice presents Mickey and Friends skates into Singapore from 11 to 19 March 2023 at the Singapore Indoor Stadium. Produced by Feld Entertainment Inc., this production is worth bringing your cameras in for - it will certainly inspire families to make memories they will treasure forever.
Look forward to Mickey Mouse and his entourage of Minnie Mouse, Donald Duck and Goofy. Using Mickey's "Mouse Pad," show hosts encourage fans to be part of the action and help the gang venture through Disney stories, sharing memorable moments from treasured tales. Along the way, you will get to sail away with Moana and enjoy her high-seas adventure with the demigod, Maui. Not to forget a visit to the wintry world of Arendelle as royal sisters Anna and Elsa discover true love is the most powerful magic of all. "Live Your Story" alongside Disney Princesses as they use perseverance, determination and hard work to inspire Mickey and children around the world to share their favourite Disney memories.
Tickets start from $25 at Ticketmaster.sg. Hurry and snag yours today!  
For more info about Disney On Ice, follow Disney On Ice social media channels: Facebook, and Instagram. Subscribe to the Disney On Ice YouTube Channel at www.youtube.com/DisneyOnIce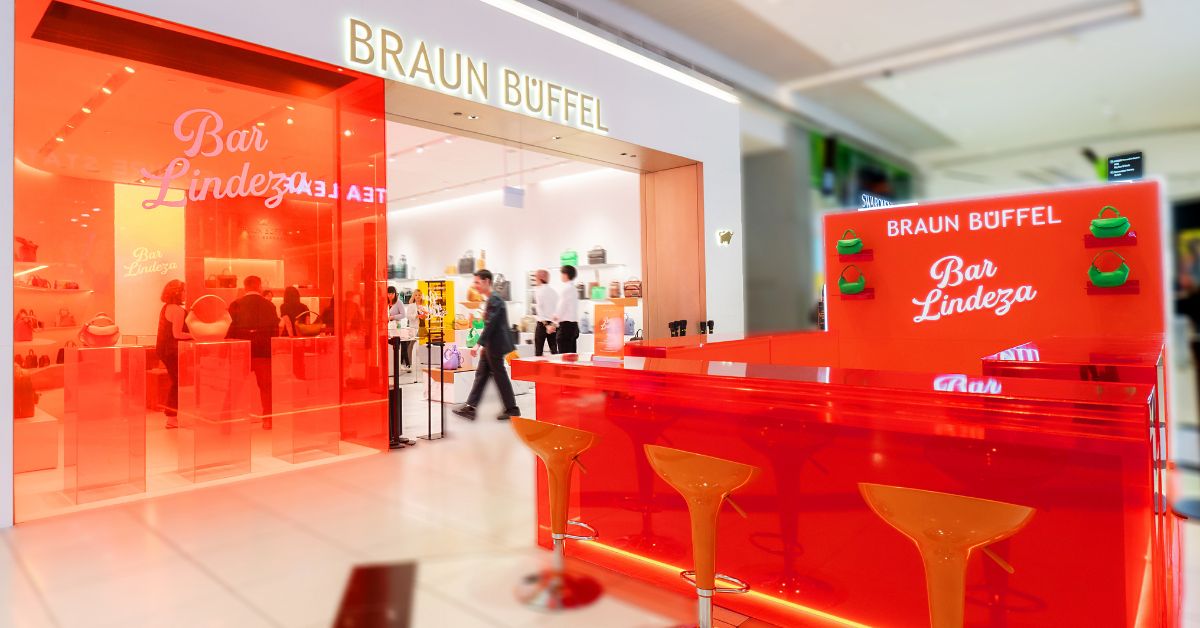 BAR LINDEZA Pop-Up by Braun Buffel
Braun Buffel invites you to the BAR LINDEZA Pop-Up at Suntec City to celebrate their newly launched Spring/Summer 2023 collection. LINDEZA, which means "beauty" in Portuguese, is a collection set in conjunction with International Women's Day. It pays tribute to the numerous strong women who have fought for their achievements and overcame obstacles and barriers to achieve their dreams.
From 2 to 5 March, visitors can enjoy a complimentary cocktail at Bar Lindeza and a photo strip at the photo booth by signing up for Braun Buffel's membership. Stand a chance to win a $500 dining voucher at Jigger & Pony when you follow, post and share about the pop-up on Instagram with the hashtag #BarLindeza and tag @braunbuffel. 
Bar Lindeza is located outside Braun Buffel, 01-344/345 Suntec City Mall, 3 Temasek Boulevard. Happening from 2 to 5 March 2023, from 12 pm to 8.30 pm.    
The Spring/Summer 2023 Collections are available now at Braun Büffel boutiques in ION Orchard, VivoCity, Suntec City Mall, and Westgate, as well as retail counters in leading department stores and online at https://BraunBüffel.com/sg/.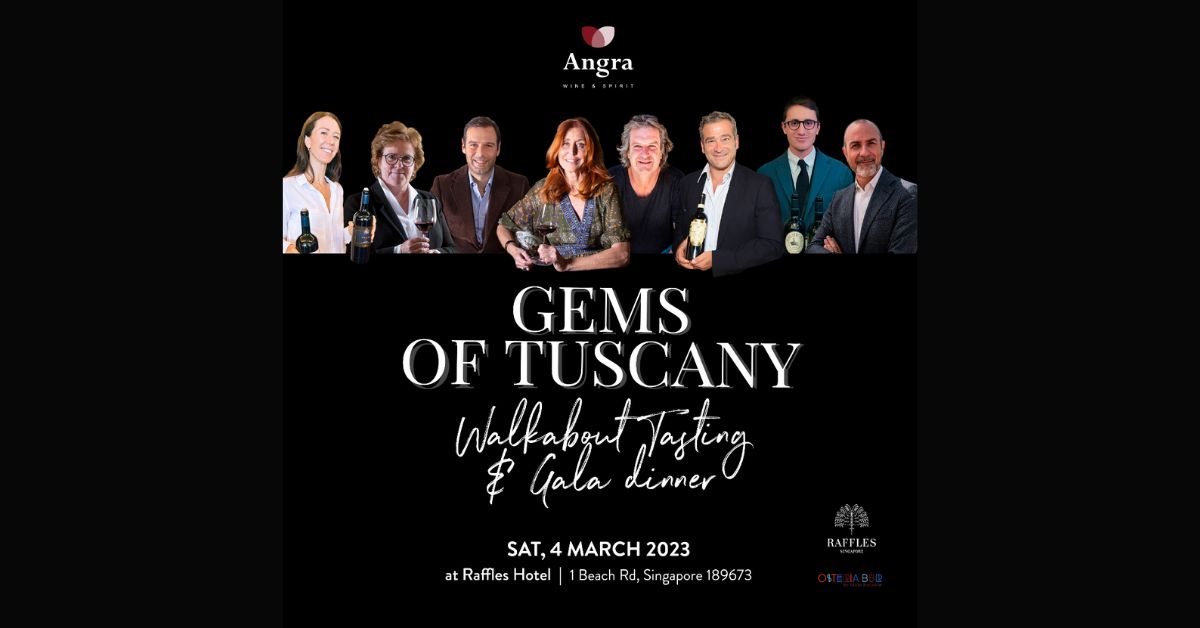 Discover the best of Tuscany for the first time ever at the Gems of Tuscany, a one-day event that includes a walkabout wine tasting at the iconic Raffles Hotel and a gala dinner at OSTERIA BBR by Alain Ducasse. Notable winemakers and owners from Tuscan wineries will arrive in Singapore to personally showcase their wines and share their stories. Get ready to taste over 24 wines from 12 different wine houses. Some of these wines are not even on the market yet which means you will be one of the first few to taste them. 
This event is planned by Angra Wine & Spirit which is one of the major wine wholesalers in Singapore. Angra was established in 2005 with the goal of importing and distributing authentic, premium wines and beers from the world's top wineries. The company's portfolio includes over a hundred well-known wineries across the world.
The walkabout tasting is $98++ per person. Happening on 4 March 2023 from 2 pm to 4 pm at Raffles Hotel Singapore. 
To learn more, visit Angra.com.sg.
Fun Things to Do in Singapore This February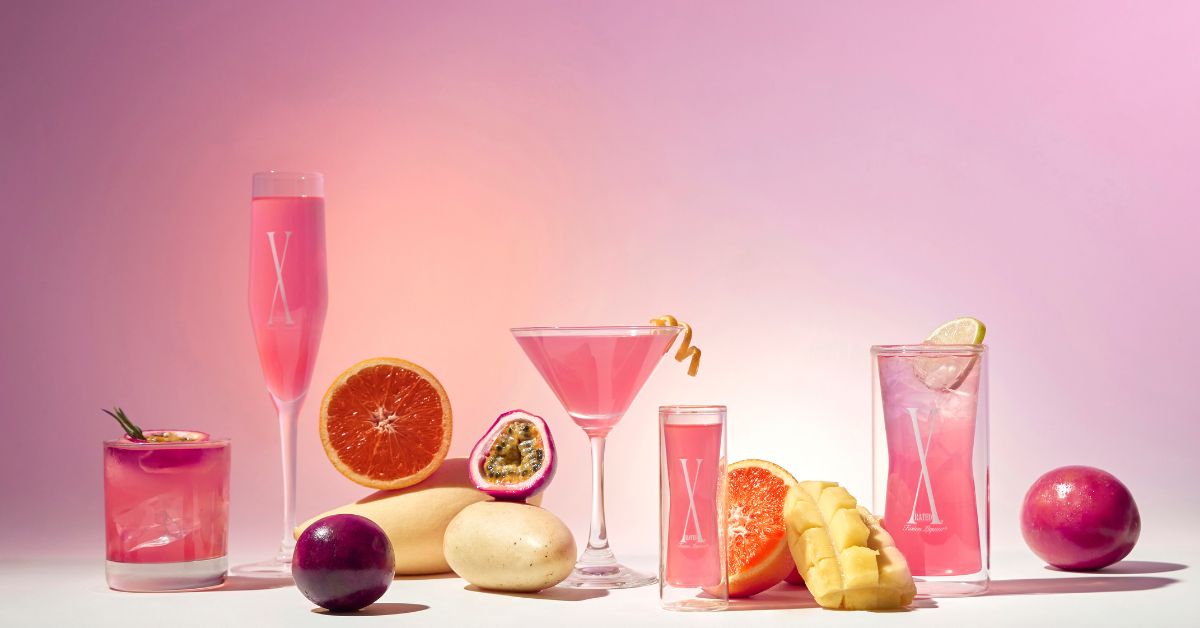 Look forward to exciting events in February, brought to you by Campari Group Asia. X-Rated Kiss & Tell is part of the series of Valentine's Day pop-up parties hosted by the popular pink liqueur, X-Rated, at Set of Six and Chupitos. These parties are catered to appeal to a female audience and showcase a fun and festive atmosphere with loads of pink and feminine energy.
Sip away with their special menu of six X-Rated Drink, pink-tinged sparkling shots. Kickstart the evening with tarot card readings, and dance the night away with a live set by Set of Six's resident DJ afterwards. What's more, the top three best-dressed attendees get to walk away with bottles of X-Rated and Cinzano Prosecco!
X-Rated Kiss & Tell is located at Set of Six, 20 Craig Road, #01-01. From 13 to 20 February 2023.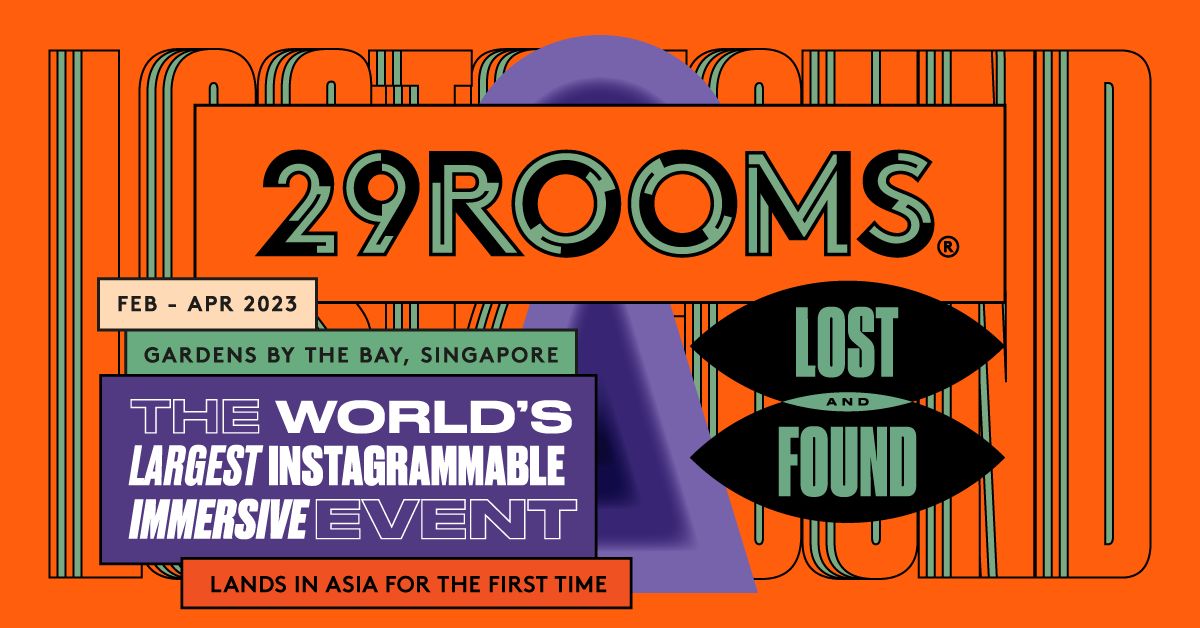 29Rooms makes its international debut and first ever venture to Asia with its opening in Singapore. Launched by the creative individuals of leading entertainment and media establishment Refinery29, 29Rooms is created in collaboration with artists, creators and the community. Immerse yourself in this interactive space with exciting and insta-worthy installations. Just like its name, explore the iconic 29 Questions as you make your way through the world of whimsy and wonder.
Furthermore, Samsung has partnered with 29Rooms to showcase a new era of Galaxy innovation through its series of interactive experiences. Check out Samsung's Galaxy Experience Space which is located right beside 29Rooms.  
Tickets for 29Rooms start from $20 per entry on weekdays, with bundle prices available as well. For Galaxy users, get to enjoy 23% discount on 29Rooms tickets for all days.
29Rooms is located at Gardens By The Bay, West Lawn, from 10 February to 16 April 2023.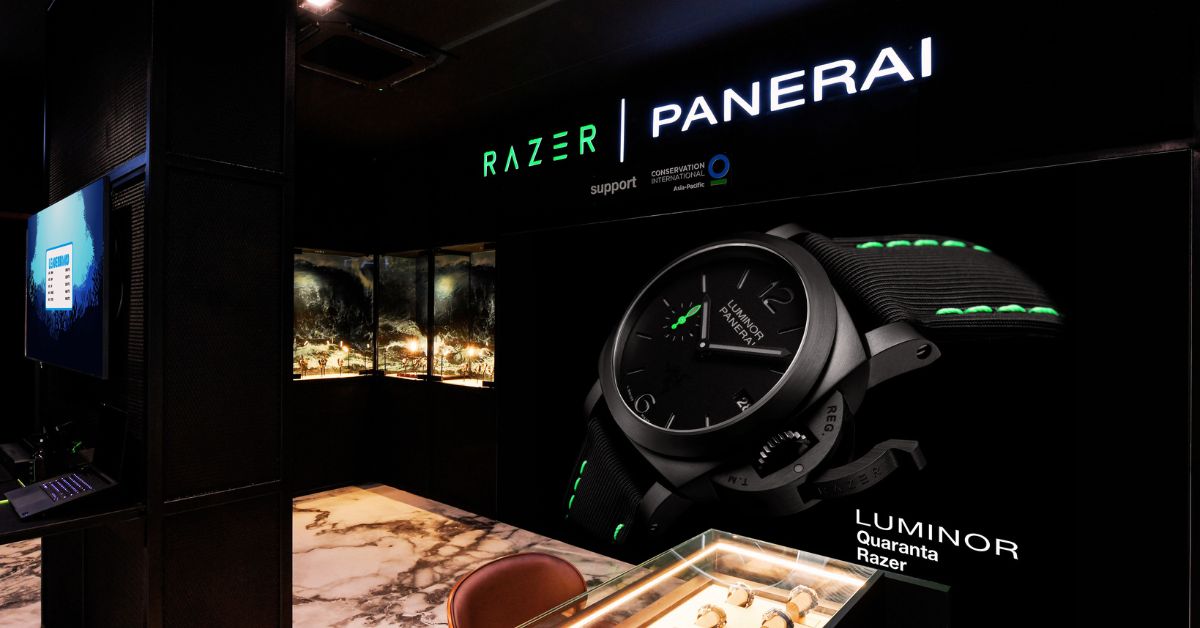 Panerai x Razer "Make Time For Our Ocean" Interactive Pop-Up
Italian watchmaker Panerai and prominent gaming lifestyle brand Razer have teamed up to launch an international campaign to study and protect manta rays in the ocean. 
The interactive pop-up "Make Time for Our Ocean" is intended to appeal to both watch aficionados and gamers, with the purpose of raising awareness about the critical need for ocean conservation. The pop-up event will be positioned outside of ION Orchard with a massive digital display exhibited on the mall's outer façade to promote the event. Ultimately, the event aims to educate people on the importance of preserving the ocean and its various ecosystems. 
What's more, the Luminor Quaranta Razer Special Edition watch is retailing at SGD12,100, available exclusively at the Panerai ION boutique in Singapore.
The Panerai x Razer "Make Time For Our Ocean" Pop-Up is located at ION2 (Level 1 Outdoor, ION Orchard), from 8 to 28 February 2023.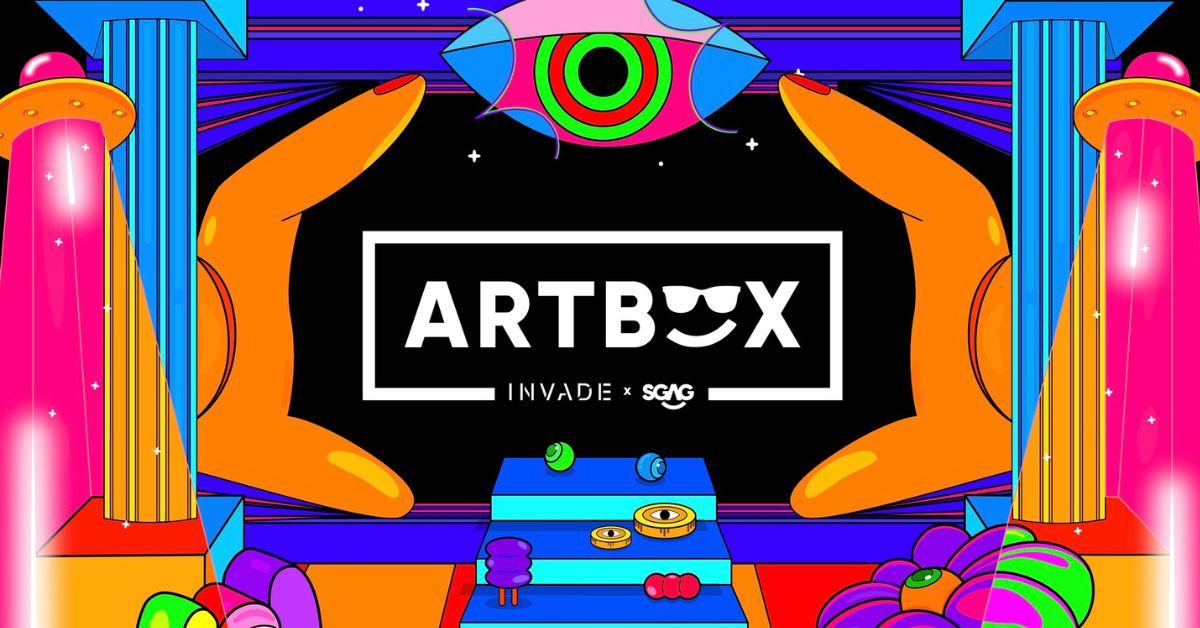 Looking for exciting things to do in Singapore over the weekend? Artbox is finally back in Singapore after three years, returning with an even bigger and better event. Infused with a touch of playfulness, Artbox is more entertaining and exciting than ever before. Co-organised by creative and witty individuals from INVADE and SGAG, you can definitely look forward to a wide variety of fun experiences here. 
With an endless array of food stalls, art installations, exciting activities and booths, fashion and lifestyle retailers, and even live music from local talents. There's so much to do here and is definitely worth making a trip down for. Tickets start from just $6 per person. 
Artbox is located at Singapore Expo Hall 6, from 24 to 26 February 2023 and 3 to 5 March 2023.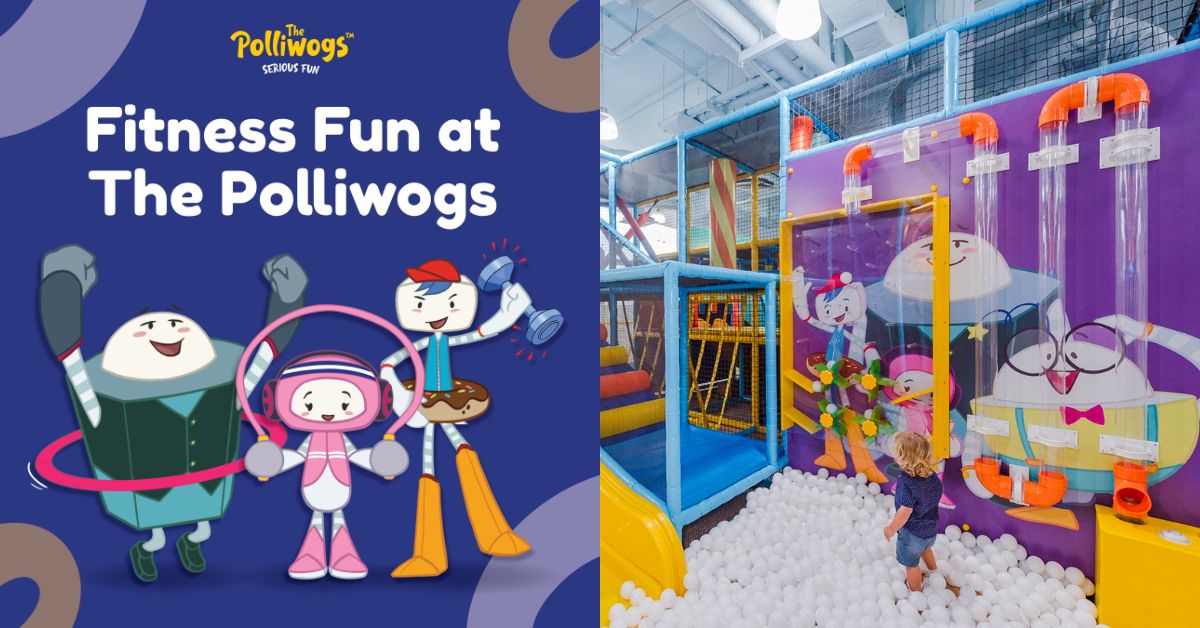 If you're still wondering where to bring the little ones this February, check out Fitness February by The Polliwogs! The Polliwogs is Singapore's leading family indoor playground, recreation and leisure complex. They will be hosting Fitness Fun Games and Kickcercise programs, as well as a Jumping Kids Free trial across various outlets. With a focus on fun, The Polliwogs strives to make every activity, including exercise, more enjoyable.
Suitable for kids aged 5 years old and above, the Seriously Fun Fitness Games Session is wonderful for kids of all skill levels. With workout games led by a certified instructor, this is a one-of-a-kind activity that creatively blends exercise and games.
Alternatively, the Seriously Fun Kickcercise Session is recommended for kids aged 6 years old and above. With a combination of elements from Pilates, kickboxing and dance. Led by a qualified Dancer and Fitness Coach, kids can look forward to high-intensity upbeat tunes while having a fun and engaging exercise.
Furthermore, the Jumping Kids Free Trial comprises a fun and intense Trampoline workout for kids between 5 to 8 years old. The trial is scheduled for various dates and times at two different outlets, and tickets can be obtained through The Polliwogs' website.
Fitness Fun February at The Polliwogs is happening at Vivo City (Jumping Kids Free Trial only) and Clarke Quay Central. Event dates are on 18, 19, 25 and 26 February 2023. Check out the schedule for exact dates and timings.
Best things to do in Singapore this January
Looking for places to visit in Singapore to enjoy the city's bustling night views? The Light To Night Festival is back again! Its 2023 theme "Here and Now" draws inspiration from how artists produce works in reaction to one's time and place. 
Featuring freshly commissioned works by local and international artists as well as a number of multidisciplinary programs - over 60 programmes with large-scale installations and a festive market with over 50 booths. 
To top it off, enjoy gallery gigs and live performances by our local singers housed in the National Gallery. As one of the most fun things to do in Singapore, you wouldn't want to miss this! Light To Night Festival is located in the Civic District of Singapore, from 6th to 26th January 2023.   
Check National Gallery's website for individual exhibitions' timings.
Seeking fun things to do while escaping from Singapore's scorching heat? Get to experience a snowy wonderland at Ice Magic: The Great Fantasy on Ice! Due to its huge popularity, its run date has been extended! Explore their 2,400 sqm winter playground - the biggest pop-up winter-themed attraction to ever exist in Singapore. The closest you can ever get to experiencing winter in Singapore! 
At a steep height of 11.5m, the indoor tentage is split into the Snow and Ice sections - housing a 70m snow slope, 260 sqm ice cycling rink, and more! Top it off with a snowy dining experience at their pop-up cafe and Ice Bar, where you can enjoy ice-cold beers and ice-themed cocktails. 
Ice Magic: The Great Fantasy on Ice is located at Bayfront Event Space, from 1st December 2022 to 29th January 2023. 
If you're looking for places to visit in Singapore during the Lunar New Year period, celebrate the Lunar New Year with ION Orchard! With abundant rewards and fun activities to do from now till 5 February 2023. Take insta-worthy photos of the bonsai, a symbol of harmony, balance, patience and luck - the main act of the mall's Lunar New Year decor this year. 
Look forward to meeting the wandering God of Fortune, spectacular lion dance and drum performances, and festive promotions at the World of Rewards pop-up which is among the highlights of the celebrations. Chinese New Year exclusives are available from brands such as 1-Atico, Elemis, Pinko, Shiseido, and TWG Tea. Furthermore, ION+ Rewards Members can receive a special set of exquisite red packets and a mandarin orange carrier when they shop at ION Orchard. Visit ION Orchard's website for more information. 
Did you know that Singapore Art Museum (SAM) has plenty of exhibitions at its Tanjong Pagar Distripark space? Enjoy free admission to Singapore Biennale 2022, a new multisensory work by Joo Choon Lin, and special programmes such as performances at the Wayang Spaceship, art tours, workshops and more! 
SAM has also launched other new exhibitions such as the Joo Choon Lin: Dance in The Destruction Dance which you can enjoy all the way till 16 April. With the best exhibitions in Singapore - what are you waiting for? Head over to SAM Tanjong Pagar Distripark today!  
View SAM's website for more information. 
Want to enjoy fun things to do with your kids? Have a fun-filled adventure tu-gether at Lego's Prosperity Burrows event! Launched at Suntec City (12th January to 5th February), they have prepared an abundance of surprises and treasures in store - exclusive promotions included! Get together with your loved ones and let your creativity flow - you get to decorate a life-sized Lunar New Year greeting in legos, clean the 'burrows' with a specially curated LEGO Cleaning Machine to remove 'spoilt carrots', and many more! Redeem a LEGO polybag when you complete their themed challenges. Don't miss out on the special appearances by their LEGO mascots too! 
The fun doesn't end there - LEGO fans in the West can visit the pop-up at B1 JEM Market (16th January to 29th January) to revel in the festive spirit. Visitors can look forward to a festive wonderland of play with photo opportunities and activities
Did you know the Children's Museum of Singapore (CMSG) has been revamped recently? Formerly Singapore's Philatelic Museum, CMSG is the first ever museum catered to children aged 12 years and below. Encourages young visitors and their families to explore the power of play for learning in a safe environment. 
Their best exhibitions (which are permanent!) include A Voyage in Time - go on a time-travelling voyage to explore olden Singapore, with an immersive theatre show. Be on a lookout for their special exhibitions - some of the ones currently running include Imagine A Garden and Play Pod. Did I mention? Admission is free till 31 Mar 2023! Look no further if you're seeking fun things to do in Singapore with your kids. Children's Museum of Singapore is located at Coleman St, 23-B, Singapore 179807.  
Children's Museum of Singapore is located at Coleman St, 23-B, Singapore 179807. 
​Chinatown CNY Bazaar
One of the most fun things to do and popular places to visit in Singapore during the Lunar New Year period - the iconic Chinese New Year (CNY) Bazaar at Chinatown has finally returned after two long years of hiatus. As many as 280 stalls are set up along Smith Street, Pagoda Street, Trengganu Street and Temple Street carrying festive items and snacks. 
Get into the festive mood again as the place is filled with CNY decorations, light installations and tunes to celebrate the upcoming CNY - be sure to expect a buzzing crowd! The Chinatown CNY Bazaar runs from 1st to 21st Jan 2023. 
Huat's up this New Year! Wondering where to go in Singapore to enjoy great food while soaking into the celebratory mood? Head down to Singapore Sports Hub this Chinese New Year for their first Stadium Waterfront Carnival - featuring auspicious live events and fun-filled activities! 
Check out their first ever Asian Food Street (28-29 Jan, 4-5 Feb) with local delights from acclaimed chefs and delicious goodies for all ages. Look forward to live festive performances (28-29 Jan) such as LED dragon and lion dance performances, and many more! 
If you want to burn your calories from all the CNY goodies, the annual #HUATRUN (22 Jan - 5 Feb) is back at the 100PLUS Promenade with its 888-metre "prosperity" run track. 
View Singapore Sports Hub's Event Calendar here for more information.