If you are crushing on Middle Eastern food like us, head to one of these restaurants for a delectable culinary experience.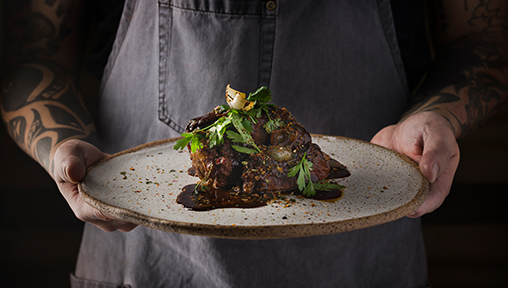 1. Modern Middle Eastern: Fat Prince
Fat Prince restaurant and "koktail" bar on Peck Seah Street has a creative and modern take on Middle Eastern cuisine with a vibrant venue to complement it. Contemporary kebabs are at the menu's heart, alongside mezze and larger sharing dishes from the kitchen's custom-made earth oven. The signature Slow Cooked Lamb Shoulder is slow-roasted overnight resulting in meat that just falls off the bone and melts in your mouth - not to be missed! There are plenty of non-meat options on the menu as well such as Charred Shishito Peppers and Mushroom Flatbread. Don't leave without trying a "koktail" inspired spices and exotic flavours of the region. Our favourite was Oasis made with wild turkey rye, pineapple, and sesame.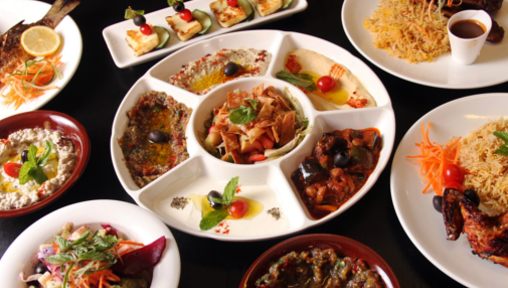 An authentic Lebanese restaurant located at 14 Bussorah Street, Chef Mohamad Salim has over 15 years experience in the food and beverage industry including Burj Al Arab, the only seven star hotel in Dubai. Byblos Grill is all about fresh ingredients and cooking which is why it is recommended to start with the mezza platter complemented with freshly made pita bread while waiting for your mains to be ready. The dishes take 15 - 20 minutes as they are freshly made on order. The Lamb Chops are also a must-try!
Shiraz Restaurant, in the vibrant heart of Clarke Quay, has been offering a healthy mix of delicious Persian fare, fine wines and lively entertainment every night without exception since 2007. The name honors the ancient city if Shiraz, the capital of the powerful Achaemenid Empire, and is known as the city of poets, literature, wine and flowers. Signature dishes include the Salad Shirazi and Shandiz (Mashhad-style succulent marinated lamb chops skewered and charbroiled).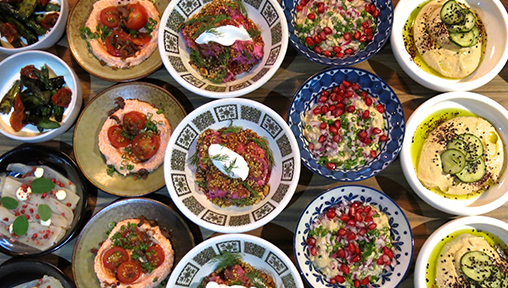 Artichoke is a Middle Eastern-inspired restaurant in the heart of Singapore's Arts and Heritage district. At the helm is chef-owner Bjorn Shen, whose slapstick personality and favourite movie, You don't mess with the Zohan, have inspired the concept of Artichoke. The food is fun and creative, drawing inspiration from Middle Eastern flavours and ingredients; as opposed to being traditional. Imagine funky stuff like doner kebab fried rice, shawarma spiced octopus, honey za'atar fried chicken and baklava soft serve ice cream.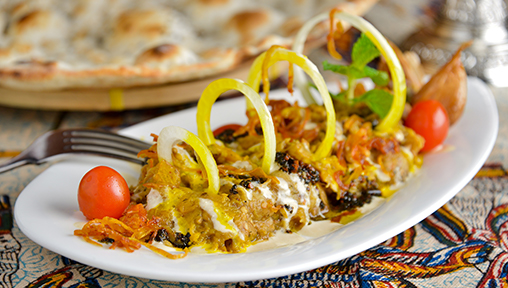 Located at Robertson Quay, Shabestan takes influences from all around the Middle East region. It's Persian cuisine uses traditional recipes and the blend of traditional Middle Eastern spices for a unique culinary experience. Shabestan imports Persian flavouring such as Saffron, which is also referred to as the golden spices because it is pricier than real gold, is generously used to spice up the taste with other authentic herbs. Other ingredients such as olive oil, pomegranates, prunes, raisins and nuts are found in their dishes.
Located on the second floor of Shaw Tower, this quaint Turkish restaurant offers authentic Turkish delights in mega portions. The Chef's Plate consisting of Doner Kebab, Izgara Kofte and a skewer of Shish Kebab is by far the most popular dish. You are spoilt for choice with fish, chicken, beef and lamb options. As for vegetarians, there are many choices too including the Eggplant Kebab and Pide (Turkish Pizza).