Designed with a vision of timeless elegance, the first Four Seasons waterfront residences in Asia, Four Seasons Private Residences Bangkok at Chao Phraya River, is by Thailand-based international real estate developer, Country Group Development PCL. Vanilla Luxury speaks to the Director and CEO of Country Group Development PCL Mr Ben Taechaubol in Bangkok.
Vanilla Luxury: How did this all begin?
Ben Taechaubol:  It all began at the site, a waterfront property in this location of this size is extremely unique, and I could truly say it was a one-off deal for us to get this piece of land. The last development in that area was the Shangri-La Hotel 30 years ago, and I think it's the perfect time and opportunity for the birth of another luxury hotel along the Chao Phraya River.  
Vanilla Luxury: Why has no developer thought of this before?
Ben Taechaubol: Land was never available. The land along the Chao Phraya River is the oldest in Bangkok and belonged to The Crown Property Bureau. Back then, locals were residing along the banks of the river. As the area developed, people slowly relocated away from the river and closer inland. The development of the Mandarin Oriental Hotel dates back 150 years ago, and as mentioned earlier, the most recent development was the Shangri La was (approximately 30 years ago) - this clearly reflects how rare it is for a property to be developed along the Chao Phraya River.  
Vanilla Luxury: What was the hardest part of this 32 billion Baht development?
Ben Taechaubol: It was the relocation of residents which took our company 4 years to help assist in the relocation 300 different groups of residents.
Vanilla Luxury: What is your take on Thailand's property market?
Ben Taechaubol: I usually answer this question in two segments. The mass market is developed and largely driven by domestic consumption that is becoming more saturated as it relies on banks and the government. The luxury market has very little supply and clients often compare it with properties in Singapore and Hong Kong. It is much more stable because of the lack of supply, high in demand and prices that are on par with Kuala Lumpur, Malaysia.
Vanilla Luxury: Understanding that 55% of the units have been sold, what would you say to potential foreign investors?
Ben Taechaubol: Our international clients are attracted to Bangkok because they have an affinity with the unique culture and its people, and because prices are a fraction of that comparable in Hong Kong, Singapore or Shanghai. To these clients, the Four Seasons Private Residences Bangkok at Chao Phraya River represents a world-class trophy asset, but yet is truly one-of-a-kind; in that it combines the global leader in hospitality with world renowned Thai hospitality for service-rich living that is difficult to replicate elsewhere.
What Vanilla Luxury Loves about the Four Season Private Residences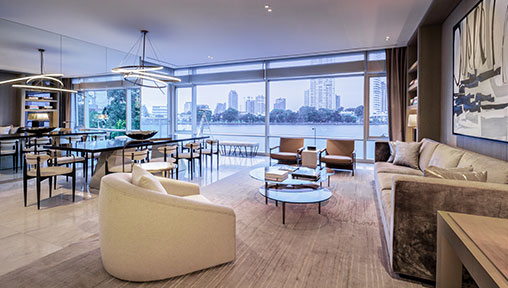 Designed by BAMO, the apartment is designed in an open concept that makes it feel extraordinarily spacious.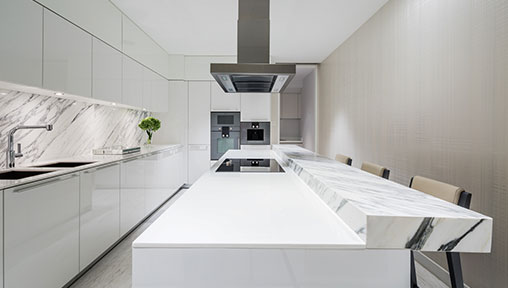 Understanding that Asian cooking do at times have a stronger scent, a smaller kitchen with a door is created for Asian food to be prepared without the scent engulfing the entire apartment.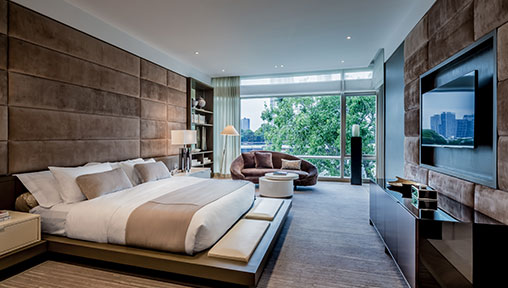 Taking into consideration the various lifestyles of a couple, there are two entrances and exists in the master bedroom to ensure one partner who needs to leave earlier to work or come home later, does not disturb the other.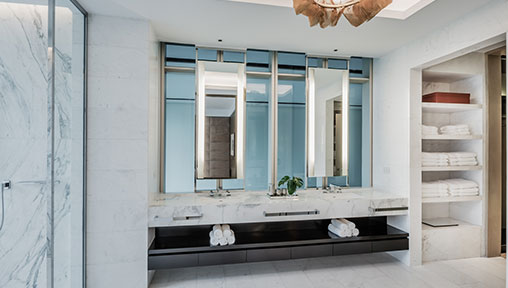 The master bathroom is absolutely spacious with a rain shower and hand shower, a huge bath tub by Apaiser and a power room that has ample space for a couple with kids to get ready simultaneously.