More often than not, we make our purchase decisions by looking at things. A product that cannot be bought that simply in this present day and age is a camera. While price point is an important criteria in choosing your camera, we have also taken into consideration the different photography needs required by an individual. 
Here's our breakdown of Canon's mirrorless cameras according to your photography needs.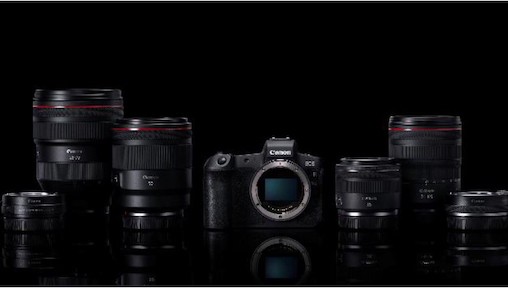 Canon expanded its EOS system with Canon EOS R mirrorless camera and range of lenses towards the end of 2018. The Canon EOS R is also Canon's first 35mm full-frame CMOS sensor mirrorless interchangeable-lens digital camera that features a 3.69-million-dot OLED electronic viewfinder (EVF). The EOS R Canon camera is driven by the DIGIC 8 imaging processor that delivers crisp details and vivid colours at 30.3 megapixels through the 35mm full-frame CMOS sensor. The Canon EOS R has an ISO sensitivity range of 100-40,000 to make shooting in low-light scenes achievable. This Canon camera, the EOS R also boasts of an unmatched focusing speed of 0.05 seconds.
For cinematography capabilities the Canon EOS R paired with RF lenses can make 1/8  stops aperture adjustments during video recording in Ultra High Definition 4K at 30p/25p (3840 x 2160 pixels), allowing precise control over exposure to match lighting conditions.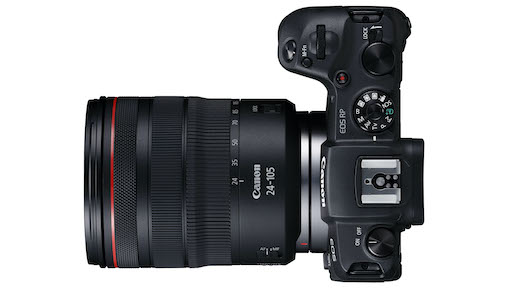 This line of Canon EOS R cameras got the latest addition in early 2019 with the Canon EOS RP. The Canon EOS RP is a compact and a lightweight Canon camera with 26.2 megapixels dual pixel CMOS sensor. The Canon EOS RP is powered by Canon's EOS R System and is equipped with the RF lens mount introduced in the EOS R. The RF mount sports a short flange focal distance of 20mm and was designed with the intention to allow more possibilities in lens design and innovation. Its native ISO range of 100-40,000, which can be expanded to ISO range of 50-102,400, produces low-noise images with rich details, even in low-light conditions.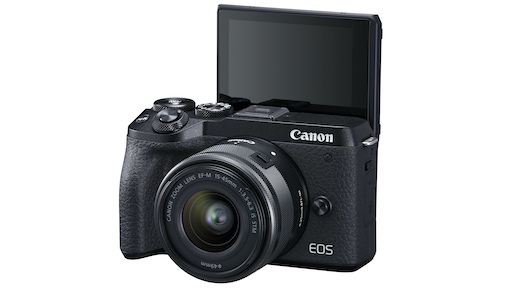 The Canon EOS M6 Mark II is a stylish, lightweight and compact Canon camera. Weighing half of a mid-range DSLR camera and also measuring half its size the Canon EOS M6 Mark II is so portable that it can easily fit into a shirt pocket or go into the slip pocket of a bag. With its 32.5 megapixels APS-C CMOS sensor this mirrorless camera, Canon EOS M6 Mark II, is able to capture vibrant images and shoot movies in 4K.
Since this mirrorless camera is meant to be used on the go, where strong light conditions can cause a glare or reflection on the LCD screen, the Canon EOS M6 Mark II supports the use of the optional Electronic Viewfinder EVF-DC2, which allows you to check on image framing and or adjust picture settings while keeping the camera close for steady shooting. 
The Canon EOS M6 Mark II is enabled with Bluetooth Low Energy technology allowing users to connect to their other devices and the built-in Wi-Fi permits users to upload directly to social media platforms without the need for a laptop. Imagine carrying one less device while on the move? 4K videos are automatically compressed to Full HD when being uploaded from this Canon camera as well.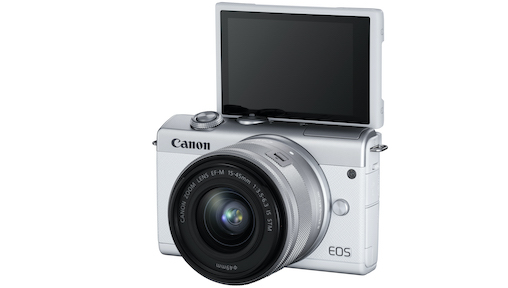 For People Looking to Get Into Photography - Canon EOS M200
The Canon EOS M200 is a mirrorless camera for those who are looking to get acquainted with the art of photography and perhaps desire better results than their usual mobile phone cameras. The Canon EOS M200 is a 24.1-megapixel camera with a maximum ISO speed of ISO 25600 (expandable to ISO 51200) for still images. The Eye Detection AF of the Canon EOS M200 is to ensure that portrait and selfies are captured perfectly.
Being an interchangeable lens mirrorless camera, users have the flexibility of selecting different EF-M lenses for various purposes with the Canon EOS M200, be it for macro, portrait, wide-angle or telephoto shots, allowing more creative expression for various content.
The Canon EOS M200 is both Bluetooth and Wi-Fi enabled and has a Creative Assist function which makes it perfect for people who are looking to get started with photography and have little or no knowledge of shutter speed, aperture or white balance etc. So if you are confused with all these photography terms but yet determined to start with photography and want to pick a camera, go for the Canon EOS M200.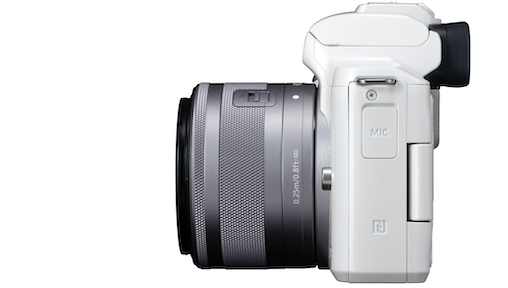 The Canon EOS M50 with its improved dual pixel CMOS AF  and compatible lens covers a larger AF area. This Canon camera, the Canon EOS M50, with up to 143 AF points (covering 88% horizontal by 100% vertical area) offers high-speed AF and impeccable precision over a wider area for landscape captures. Adding a boost to the capability of the Canon EOS M50 is the Touch & Drag AF feature, which allows users to easily switch the subject of their focus by dragging the AF frame directly on the LCD panel even while composing a shot through the camera's EVF.
With a 24.1 megapixel APS-C CMOS sensor the Canon EOS M50 provides a continuous shooting speed of approximately 10fps in one shot AF and 7.4 fps in Servo AF allowing for constantly moving subjects to be captured with precision. So if you like to capture when you are in a moving vehicle or take the railways, Canon EOS M50 is the camera for you.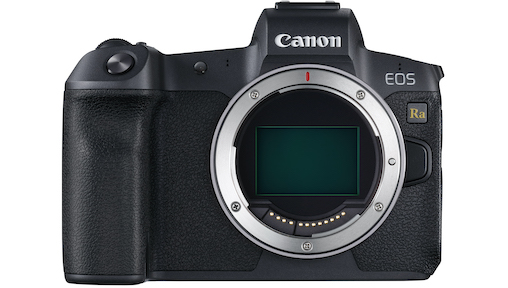 For Astronomy and Astrology Lovers - Canon EOS Ra
Astrophotography is the photography of astronomical objects, celestial events and areas of the night sky and the Canon EOS Ra mirrorless camera is dedicated to this genre of photography making it, perhaps, the best mirrorless camera for this segment.
The Canon EOS Ra mirrorless camera is equipped with 30.3 megapixels full-frame CMOS sensor and offers sensitivity settings from ISO 100 to ISO 40,000 for stills and up to ISO 25,600 when shooting movies making it extremely efficient in low lighting conditions. The Canon EOS Ra mirrorless camera also features a unique infrared cutoff filter in front of the CMOS sensor. This helps to maximise optical performance in the wavelengths that are most important for astrophotography.