The Feather Blade officially launches at Zui Hong Lou in Singapore on 2nd March 2019 and will be giving away complimentary steaks for all on their opening night. There will be no reservations and each guest will be given one portion per person.
Inspired by renowned London steakhouse Flat Iron, where founder Sheen Jet Leong honed his skills, The Feather Blade is a pop-up concept happening from Fridays to Sundays, from 2 March to 28 April 2019, 5.30pm to 12 am.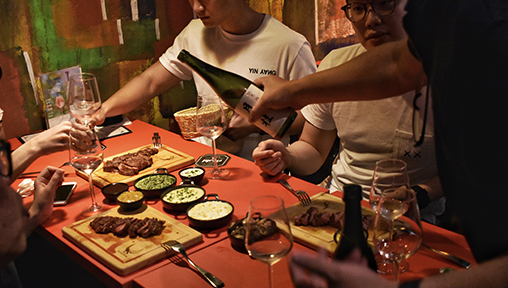 Instead of a fancy dining experience, The Feather Blade offers one cosy experience with the star of the hour being "The Feather Blade / Flat Iron Cut".  Carved from the cattle's shoulder and known for its hearty flavour and tenderness, The Feather Blade cut is glazed with browned butter and sprinkled with smoked salt for just SGD$21.
The Feather Blade's char-grilled steak is served alongside an array of classic and Asian-inspired sides and sauces. We highly recommend trying all four flavours of sauces which include the Sichuan Peppercorn, Bearnaise, Horseradish Cream and Red Wine as it is just SGD$2 per sauce.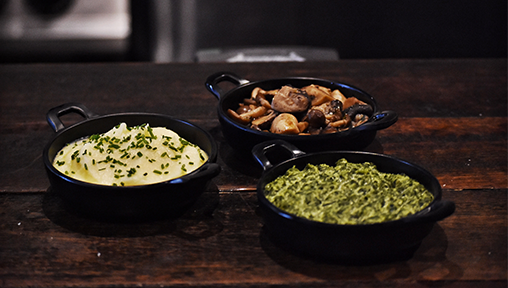 The Feather Blade's side dishes which include a hearty serving of creamy mashed potato made with butter and cream; spinach cooked in parmigiano-reggiano, cream and nutmeg; a mix of shimeji, shiitake and button Mushrooms; and corn cooked in truffle salt and cream. The Feather Blade has priced each side dish at SGD$7 and we would highly recommend sharing the side dishes.
Cocktails at The Feather Blade include the Mysterious Death on Weekends, which is prosecco with a splash of green fairy, and the Blood Orange Old Fashioned, a play on the classic tipple, and our favourite was the Kyoho Sangria which was delicious.
Address: 90 Club Street, Singapore 069458