Are you looking for breathable kaftans, cotton dresses and the best resort wear in Singapore? We too have struggled to find tropical-weather friendly, quality clothing in Singapore, which is why this feature is extra special! A list of both local and international brands, the round-up includes cotton dresses, swimsuit cover-ups, resort wear and other fashion clothing for women, that will make summer in Singapore as breezy and comfortable as it can get.
Read on to find out more!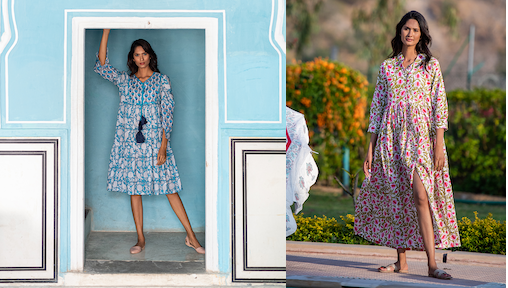 Looking for a perfect cotton dress in Singapore that can take you from brunch, to pool to cocktails? Jaypore Weaves makes beautiful handcrafted artisan textiles for Women and Home, supporting traditional techniques whilst respecting and preserving sustainable living. 
Their Womenswear collection includes dresses and kaftans with signature styles and handcrafted details. Designed for comfort, these dresses come in fresh and pretty prints and are made with care using soft, light organic cotton. You'll also find Kaftans in lightweight fabrics embellished with luxe beading and embroidery details; exquisitely handmade in strong colours and block print. 
The quintessential summer dress, Maahira, is made with love and care by master tailors using 100% Indian cotton voile. Not only does that make the fabric light and breathable, but it is also incredibly comfortable to wear. Relaxed in fit, just choose your size based on your bust measurements and you'll enjoy a piece of breezy summer like none other!
If you're after fabulous pool vibes, consider the Amorgos Kaftan, hand-embroidered in blue and white using traditional Rajasthani techniques or the Chios Kaftan in black, which comes with exquisite hand beading.
There's also a whole range of kimonos and robes, cover-ups, Ikat tops, and sleepwear to choose from. Whether you choose to buy their fashion for women or stunning homeware, know that you'll be supporting traditional textile artisans and promoting sustainable living with this treasure trove of authentic small-batch products. You will also own a piece of heritage forever!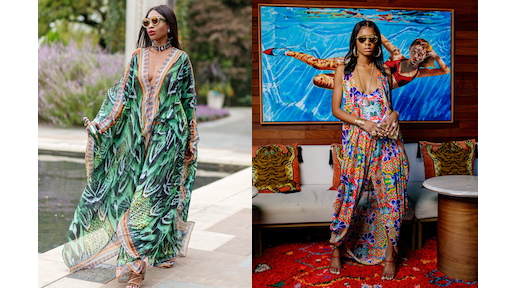 Sai Sankoh, a game-changing fashion brand blended with vintage style and modern fashion was created by renowned entrepreneur and luxury fashion consultant Sai Sankoh. Her kaftans have been seen on Hollywood celebrities as many turn to her bold, billowy styles.
Want clothing that fits larger than Asian sizes? Sai, a native from Sierra Leone in West Africa and is deeply inspired by the glamour of the Old Hollywood Era. She loves to accentuate the curves of a woman and makes her pieces unique and wearable across a spectrum of sizes.
Deeply influenced by Mediterranean culture, Sundress embodies femininity and vacation style with perfection. Striking a balance between simplicity and opulence, our collections are imagined in France and created by our artisans in India and in Italy.
The Sai line of Kaftans are bold statements in themselves. One look at the Brazil Goddess Kaftan and you'll know it was made for sunny Singapore. Roomy, free-size for all and perfect for pool or brunch time, the colours are resplendent with life and a passion for travel. 
You can also find a range of other fashion for women including pool cover-ups, jumpsuits and dresses that will suit any occasion in tropical Asia. The best part? They ship to Singapore!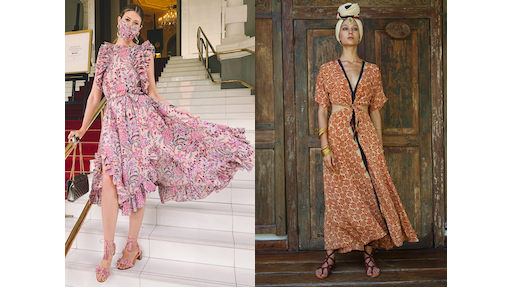 Mo Maya's mantra is all about sustainability, love for the planet and working with local individual artisans in developing economies.
Every sarong, scarf and fabric in their conscious collection is made with 100% natural fabrics and 100% natural dyes. Their silk kaftans, dresses, organic cotton sarongs and cotton silk scarves are handmade by skilled artisans in a village an hour from Jaipur, Rajasthan in India. This village of about 200 people has individual artisans and families block printing for over 100 years, passing these unique skills from one generation to another. 
When you buy a dress in Singapore from Mo Maya, you know that each piece is unique and tells its own story! The Bird is a popular dress that's all the rage right now. Beautiful frill detail accompanies a removable belt to tighten the waist. This best-seller comes in 6 colours so you can own many of the same staple outfit in your wardrobe. Made in 100% cotton, it is handmade and hand block-printed and also comes with a matching mask. Another worthy mention, the Art Deco Cut-out Dress is the true definition of slow fashion. Each dress is individually mud printed by hand and then dried for a day. Once dried it is dipped in 100% vegetable dye and then cut and hand-embroidered to perfection.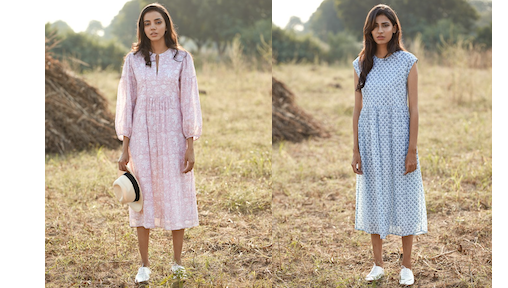 Known for their kids' pyjama sets and home linen, Feroza Designs now bring the magic and beauty of centuries-old hand block printing techniques to dresses in Singapore. 
Feroza grew up with a love of Indian hand-block printed textiles. Today, this socially responsible lifestyle brand works closely with local artisans in Rajasthan to keep alive the dying art. Variations in colour and print are inherent to the printing process making every single piece in this collection unique and special.
The Leher dress is Feroza's idea of the perfect summer dress. Light and airy hand-printed cotton dresses, fully lined and with pockets - this is a cotton dress that transitions easily from a day dress to an evening out. Made in the softest, lightest Indian 100% cotton voile, hand block printed the dress can be paired with sneakers or heels. Available in 4 prints and a solid white. If you prefer something with sleeves, consider the Dhaara dress. With a loose and relaxed fit, the Dhara dress comes with bell sleeves that narrow at the cuff and boast an empire waist. Regardless of the outfit you choose, know that the fabric will last and is made for wearing in our tropical, hot climate!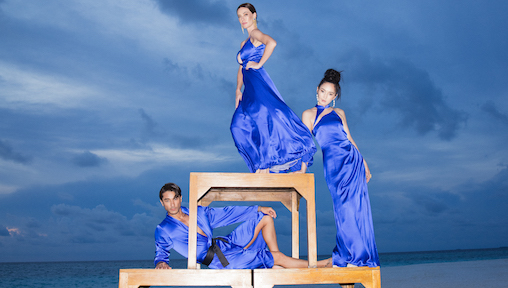 We've spoken about Lisa Von Tang and her unapologetically bold designs before on Vanilla Luxury. Founded in 2015 in Singapore by designer and creator Lisa Von Tang, the brand commands a dedicated following for its unique fashion wear for women.
Lisa Von Tang's latest resort wear collection 'Here Comes The Sun" celebrates joie de vivre where they hope to invite everyone to travel, at least energetically, into a stunningly fresh, bold and whimsical side of themselves. While designing her new Resort Collection, "Here Comes The Sun", Lisa was under virtual lockdown in Singapore's pristine state. The new collection is one of love and hope, after all, we have been through, and the challenges that continue to haunt us with this pandemic. 
Expect silk pyjama suit sets, fluffy powder pink robes made of rose petals, and dreamy maxi gowns that could transport you away to a beautiful place. Lisa Von Tang is the first fashion brand to create designs purely in 100% Rose Petal Fibers, the collection also uses Banana Fibers and Natural Hemp.
The brand also continues to locally source textiles from 'leftover production' and create highly unique tailor-made pieces. This is the first collection by Lisa Von Tang that is over 90% produced by one tailor per piece, with their signature "On-demand Production" process. Slow Fashion requires that consumers be patient with delivery, as some of these pieces are only produced when there is an order and have a waitlist time of around 35 days. However, On-Demand pieces will never go on sale at lisavontang.com, and they are capped at fifty units per design–at which point, they will never be made again. We bet you want a piece of that!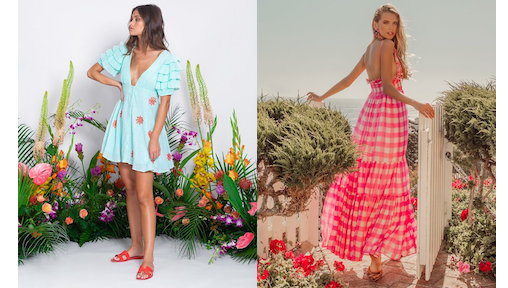 What Women Want is a "one-stop-shop" where women are able to pull together an effortless outfit from head to toe. Their range of styles and the store stocks the hottest trends, everything from delicate lace styles, to organic cotton inner-wear to the bold one-of-a-kind accessories.
What Women Want also pride itself as the leading curator for up and coming designers in Asia and around the globe. 
Each collection by Sundress is full of inspiration, new fabrics and shimmering details. Every unique collection requires 100 mock-ups, 200 pattern modifications, 100 meters of canvas fabric, 800 hours of sewing, 2 journeys to India, countless fitting days, endless litres of coffee, absolutely NO outside investment and a lot of love and passion! You'll see that in the Catalina Long a gingham dress with a fantasy hand-smocked top in a lingerie-style made by our embroiderers. It has thin adjustable straps and a smocked integrated belt. A little flounce runs along the top and the waist. Slit on the middle, the bottom is made up of three gathered parts that offer a sublime fall.
Another option for resort wear is the Cora Short Dress that comes entirely embellished by flower cuts highlighted by a neon coral topstitching. A short dress with a plunging V neckline, it has baby-doll sleeves adorned by little flounces and a buttonhole sublimed the flared bottom of this piece.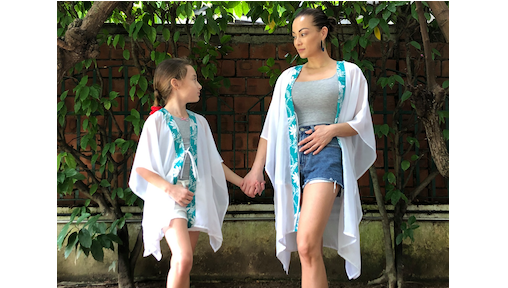 Miss shopping in Bali? Now you can buy resort wear from Bali in Singapore AND help the community thrive! A not-for-profit, supporting 30 families in Bali, Vin + Min make resort wear for women and kids. After the devastation that Covid-19 brought to communities all over the world that heavily rely on tourism, such as Bali, Vin + Min decided to make a difference. The brand helps the Benoa community along with the Antioch Centre for the Nations Bali, a local church and community outreach organization, to provide bi-weekly food bags for 30 local families. This is just the first of many endeavours in Bali that they as a brand aspire to participate in.
This Singapore-based resort and beachwear label features beautiful kaftans and swimsuit coverups. Vin + Min proudly hand-select their luxurious fabrics, embellished trims, and tastefully pair these to bring you exclusive pieces that are glamorous by design. You can also buy matching outfits for your mini-me! You'll find a substantial collection of kaftans for kids that match the adult versions and make for the cutest photos to post on Instagram or otherwise.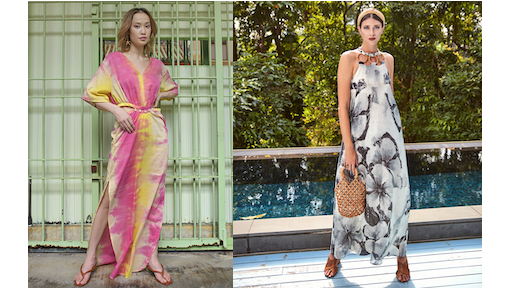 Inspired by the beaches of Goa, life in the Mediterranean, the natural beauty of Australia and the atolls of the Indian Ocean, AKOSÉE threads are hand-crafted with love from the finest fabrics.
Their unique pieces are designed to take you from the beach to bar in comfort and style via luxe fabrics and simple, elegant designs. The brand's style ethos is focused on delivering high-quality pieces that you'll want to wear again and again.
What's more, you can wear these versatile designs seamlessly from a day at the beach to relaxed daywear and long into the night. With quality hand-sourced fabrics and expert workmanship, you'll find these elegant and stylish pieces easy to wear as resort wear or coverups. 
Take the Iris Halterneck Maxi Dress in Floral Print for instance. Lightness, grace and femininity define the Iris Halterneck Maxi Floral Dress. This dress has a relaxed A-line silhouette and is made from a floral print silk-linen. A braided tie holds together three large bamboo rings at the neckline, and ties at the back give it all those tropical vibes you're after.
After a kaftan that can double up as a pool cover-up? The Alix Kaftan is made from lightweight, tie-dyed cotton and is a maxi length kaftan with cut-out details at the waist. This kaftan has front buttons and side splits. Complement this vibrant hue with neutral accessories and chunky gold jewellery or wear it by the pool-side for some serious flaunting.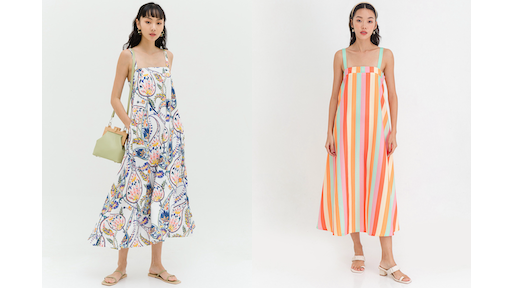 Enjoy bold prints in breezy designs? You'll find a load full of summer dresses to buy at Modparade, a womenswear brand for the modern woman of today.
Born in 2007, based in Singapore, we started off as a small online retailer with a unique point of view; using design to connect with our customers and build a community out of it.
Modparade wants to make effortless and inspiring styling accessible and affordable, without compromising on quality.
Throughout these years, the brand has grown magnificently and the online store has been shipping worldwide ever since.
The Fily Dress is a thick strap tent dress with a side concealed zipper and pockets - perfect for Singapore weather! It also comes in 5 different prints so you can always get more of what you love! 
Another piece to take you from pool resort wear style to modern-day dressing is the Sigrid Dress. A printed tent dress comes with a back concealed zipper and side pockets. We especially love the Kanagawa print that takes us back to ours travels in Japan!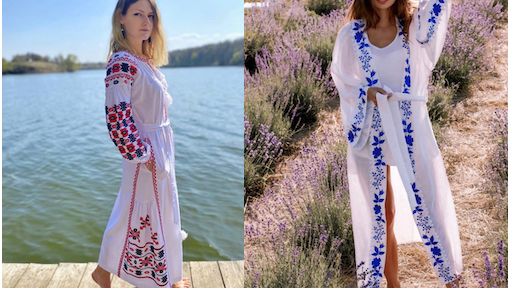 Nadia Bremner, the founder of Bravo Collection, recognised a need for quality linen clothing perfect for the Singapore climate. She left her corporate career to launch a sustainable linen clothing line that supported Ukrainian women whose only way to make a living is through embroidery.
Bravo Collection is a handmade linen clothing brand in Singapore for women seeking fashion-forward summer dresses and outfits. The brand works with talented young designers and artisans in Ukraine to produce exclusive linen dresses, shirts and trousers which feature contemporary embroidered elements.
Each flattering design is crafted at the atelier in Kyiv, Ukraine and pays homage to Ukrainian traditional methods and craftsmanship. The linen collection is made using the highest quality natural, environmentally friendly and sustainable linen grown in Ukraine, Belarus and Baltic countries. It is then embroidered by artisans across the country.
The Vyshyvanka is a Ukrainian linen maxi dress with geometric embroidery and tassels. Using 100% flax linen and traditional cross-stitch embroidery, it is as breezy and summery as dresses get! 
We also love the Iris' White Linen Embroidered Kaftan, a light long linen beach kaftan with blue embroidery and decorative pom poms. Wear yours as a chic cover-up for drinks by the pool or dressed up in the evening.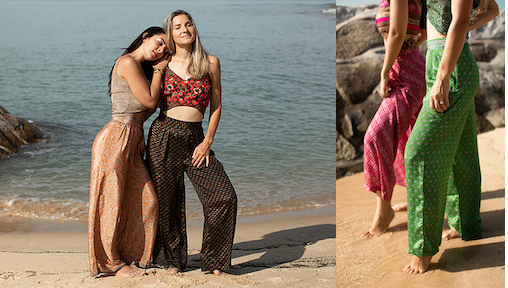 LOUVE [luv] in French means she-wolf. Louve the resort wear label believes in allowing women to discover the art of confidence through colours and prints with a simple silhouette. Colours that brings out the best in everyone, the brand aims to create luxurious designs that are most importantly affordable. 
The way they challenge the status quo is by making products beautifully designed, simple and wearable to any occasion. Developed in Singapore, the collection began with a series of vibrant colours and bold prints to take the wearer to the furthest escapes, whilst the monochrome separates gives the wearer a choice to pair with bold prints or as co-ord sets, therefore, allowing them to be dressed from head to toe in Louve.
Each collection features the finest craftsmanship and materials and is an adaptation to our Founder; Nilufer's own personal style, to the needs and desires of the International women who loves the brands distinctive, luxurious garments.
As perfect additions to your resort wear the Sets by Louve are one of a kind pieces that come as a set of two consisting of a crop top and high waisted pants complete with a side zip and hook closure. The Tara Two Piece Pants Set consists of Satin Silk pants and crop top, and give you just the right amount of dress-up vibes to take you from poolside chic to dinner with the girls.