Masaba Gupta is one of the top names in India's fashion scene today. The daughter of West Indies Cricketer Viv Richards has been winning fans globally with her colourful eclectic designs all thanks to her Indian-Caribbean background.
Vanilla Luxury: How do you feel about exhibiting in Singapore?
Masaba Gupta: This September will be our second exhibition in Singapore, and we are beyond excited! We had a great response the last time we were here and we can't wait to showcase our latest collection, which is a new direction for the House of Masaba!
Vanilla Luxury: You're just 30 and have been acclaimed as one of India's top 10 designers, what has been your style inspiration?
Masaba Gupta: Anything and everything! From everyday objects to abstract concepts that have been cast aside and forgotten, and then reinvented in our prints. My inspiration comes from all walks of life. The ever-evolving style vocabulary of the brand always retains a mix of tradition, with a quirky twist to achieve designs that are bold and non-conformist.
Vanilla Luxury: We read your blog on the passing of Kate Spade, what are the challenges faced by you as a designer in India?
Masaba Gupta: I think one of the biggest challenges Indian designers face is brand expansion. Also, competition from international brands, especially in the fast fashion sector, hampers the growth of Indian designers.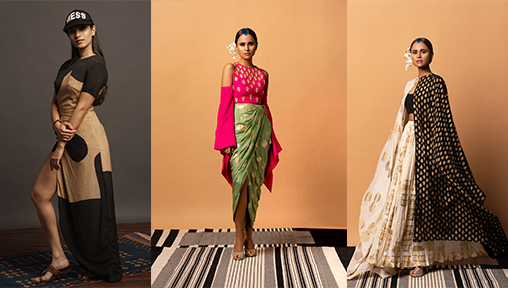 Vanilla Luxury: As a role model to upcoming designers, any advice?
Masaba Gupta: Hard work has no substitute! You hear everyone say it because it works! You have to hustle every day to make sure your voice is heard. You have to stand out and bring something new to the table in this world of over saturation due to social media platforms. So, my advice is to keep creating and be true to your aesthetic!
Vanilla Luxury: From Sarees to Lenghas and even quirky T-shirts, which collection of yours will you be bringing to Singapore?
Masaba Gupta: We will be bringing our latest collections to Singapore, ranging from casual wear to festive outfits and bridal wear. We are particularly excited to showcase our bridal wear collection, which is a new foray for us!
Vanilla Luxury: Masaba in 3 words?
Masaba Gupta: Emotional, Spontaneous and Witty.
Masaba Gupta will be in Singapore on 22nd September 2018, Saturday at Yantra Tanglin Mall from 10am to 5pm. Click here for the Facebook Event page and Website.