Exotic snakeskin accessories, such as handbags, belts, clutches and shoes, are classic fashion pieces that add an edgy, designer feel to any outfit. Python, Anaconda, Whipsnake, Wart Snake and various Vipers offer a range beautifully textured skins that effortlessly make a statement, and correct care of these pieces is essential.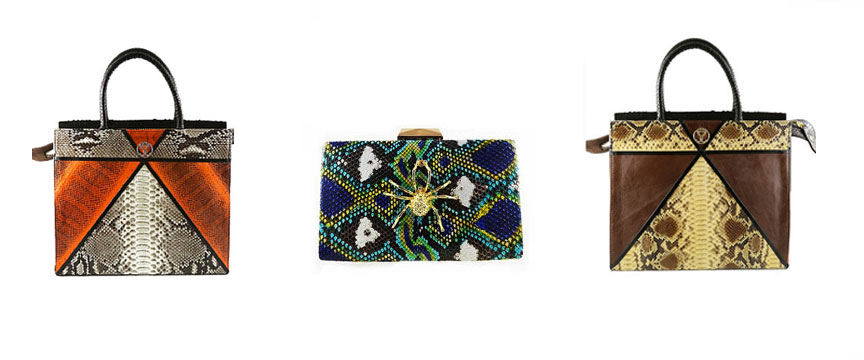 A fragile leather, snakeskin requires special care in order to last. With attention to the preservation and maintenance of your accessories, snakeskin can last for decades. On occasion you can find vintage python bags that are between 40 and 50 years old, so a little care goes a long way in extending the lifespan and beauty of your scaly accessories.
Here are the four main aspects of care when it comes to exotic snakeskin fashion pieces.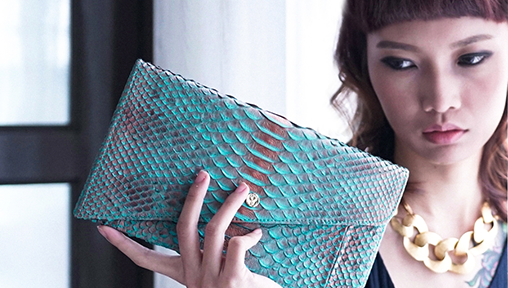 Protection and Storage
Exotic snakeskins are delicate and sensitive to harsh light so it's important to avoid UV and direct sunlight. Overexposure to the elements, hot and cold, will cause the skin to dry out and the scales to lift and turn yellow. At this stage, it's almost impossible to restore your accessories to their original state. It's also essential to avoid spilling lotions, oils or alcohol on snakeskin as they can permanently affect the scales. A cleaner master in exotic leathers should be consulted if there are stains you can't manage to lift yourself.
Keep your skins smooth and avoid damage to the scales by storing in a temperature controlled environment that allows them to breathe. Anything that prevents air from getting to the skin, such as plastic, will cause dryness and subsequent damage. A great tip is to wrap your snakeskin handbag, belt or boots in acid-free tissue and store in a cardboard container to preserve that sleek, luxurious appearance.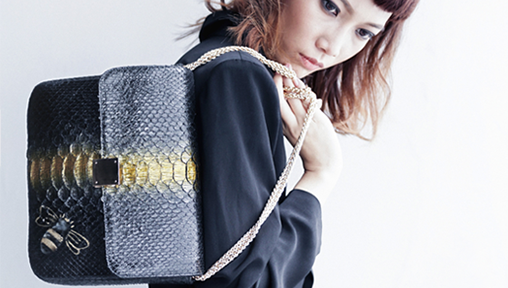 Cleaning
When it comes to caring for your exotic snakeskin accessories, cleaning is paramount. After each use, pick up a soft, slightly damp, cotton cloth to gently remove dust and dirt. Particularly with handbags and clutches, oils from your hands can leave a residue, so clean in the direction of the scales (never against) and use a soft, dry brush to remove dirt from under the scales without lifting them.
Snakeskin is water resistant so soap products and excess water will cause drying out and the scales to curl. Always use plain water and only slightly damp cloth to keep your accessories healthy and protected.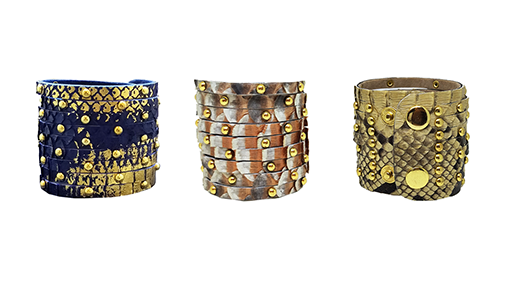 Hydration
Conditioning is essential for gorgeous looking snakeskin accessories. A good quality leather conditioner specifically for snakeskin/reptiles ensures the skin does not dry out and keeps them striking and fresh. These conditioners contain lighter ingredients and are thinner than typical leather conditioners and using the wrong product can cause residue to build up, leaving scales cracked and prone to falling off.
Regular conditioning once a month means you can wear your snakeskin pieces at their best. Conditioner should be applied gently against the grain. Often, snakeskin boots contain an inner layer of cow leather which dries over time. Keep the cow skin hydrated by using a quality leather conditioner on the inside of the boot and leave it for a few days, which in turn will benefit the outer layer of snakeskin.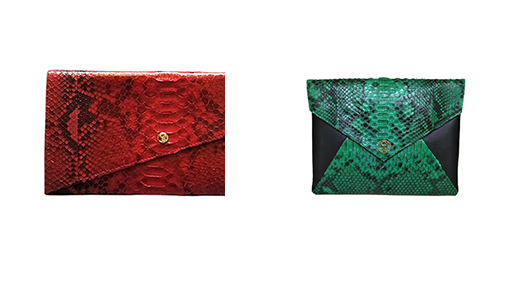 Waxing and Polishing
To bring life and lustre back into your snakeskin fashion accessories, use a specially formulated leather polish or cream wax. Available in exotic leather boot shops and online specialist suppliers, the polish should be carefully buffed in the growing direction of the scales.
Only one coat of cream wax (not hard) is needed to rejuvenate snakeskin scales, using neutral cream polish on natural colours to avoid discolouration. A leather care specialist can provide care instructions if you continue to apply a lacquer finish to snakeskin such as python. White snakeskin, which is bleached, will eventually return to a natural golden colour so avoid re-bleaching as this will reduce its lifespan.
By following these four basic care components and providing your exotic snakeskin accessories with a little extra tender loving care, you can guarantee their place in your wardrobe for years to come!
This article originally appeared in the House of Sheens blog. Minor edits have been made by the Vanilla Luxury Editorial team.