Crossroads Maldives is a brand new development for a new generation of 21st century explorers. This $650 million leisure destination will be Maldives' first one-stop and non-stop lifestyle destination which features iconic oceanfront resorts, upscale lifestyle outlets and entertainment offerings, as well as the stunning natural, cultural and nautical attractions. Despite building big, Crossroads Maldives is vested to protect every small detail and ensure the balance of nature.
Location
If you've ever been to the Maldives, you would know that the mode of transportation from Velana International Airport to many resorts would range from either a direct seaplane ride or having to take a domestic flight and then a yacht to many resorts.
Crossroads Maldives being a man-made paradise simplifies the problem as it is a 15 minutes speedboat ride away from Maldives' International Airport.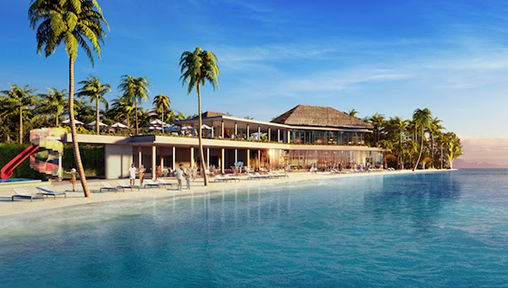 Accommodation
Crossroads Maldives draws its inspiration from the cultures of both East and the West during the crossing of Maritime Silk Road. Crossroads Maldives offers luxury accommodation for couples who would prefer undisturbed experience meanwhile also be able to enjoy the facilities at the Township and Duty Free.
Saii Lagoon Maldives, Curio Collection by Hilton caters to couples, families, and friends in search for a playful destination getaway with 198 guest rooms and stunning variety of villas. The resort will have generous interiors and alfresco spaces with personalised comforts. The signature journey begins on arrival when guests select their own amenity set using natural ingredients from an aroma lab.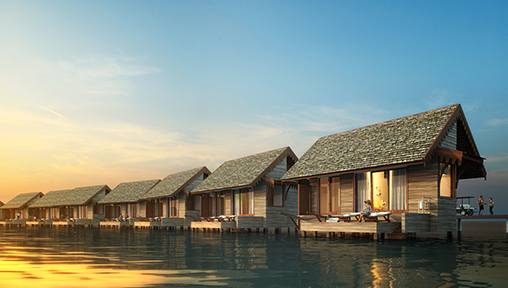 World-renowned and American classic Hard Rock Hotel brand will offer 178-key family suites, beach villas and one and two-bedroom overwater villas complete with stunning views, infinity pools and amenities. Inspired by local culture, tropical architecture will be infused with contemporary design features, alongside regionally-inspired authentic music memorabilia.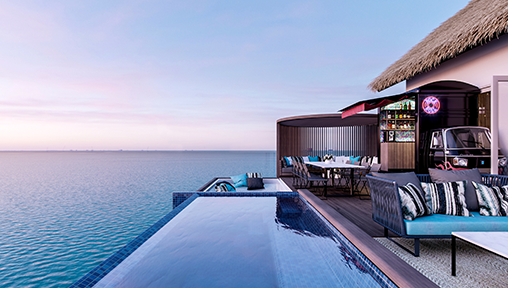 Crossroads Maldives comes with its own Marina which is an 800 meter lifestyle beach walk in the Maldives. From sunrise to sunset, guests can enjoy a remarkable experience unlike any other beach in the Maldives. This is the first yacht marina with 30 berths, providing luxury yacht concierge services including jetty and pier management services.
Food and Entertainment
The sun might dive in the sea and take its due rest but the island continues to resonate the live sound of Hard Rock Cafe and the laid back beats of the world-renowned beach club from Ibiza, Cafe del Mar Maldives.
Hard Rock Hotel's food and beverage options include a pool bar, all-day dining to a Latin and Mexican restaurant, in-villa dining experiences, or enjoy authentic American cuisine at Hard Rock Cafe Maldives.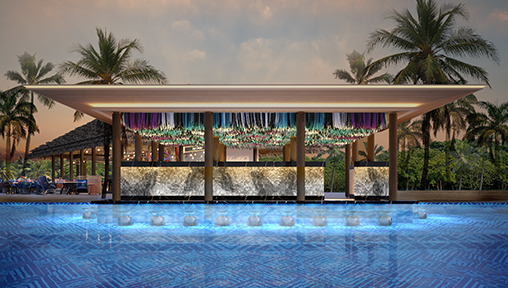 Located at the breezy boardwalk is two restaurants by culinary chef and restaurateur Dharshan Munidasa. Guests can dine at two of Asia's top 50 restaurants, Ministry of Crab, a haven for Sri Lankan crab fans and Nihonbashi, a Japanese restaurant with 23 years of excellence.
Top chain restaurants such as Coffee Bean and Tea Leaf, Cafe'ier, Saint Trop by Crepes & Co, Albahr by Seahouse Maldives, Kenny Rogers Roasters and luxury retail stores such as Xerjoff Perfume, Divine Jewelry,  Souvenir shop and Puma have also found themselves a seat in this tropical home.
The Koimala & Maalimi's Junior Beach Club & Camp
The Koimala & Maalimi's junior beach club and camp is an innovative engaging edutainment concept developed by resort childcare experts and is for children aged 4 to 12 years old. Attractions include a dynamic, zero-depth SPLASHPAD® Aquatic play area, a WIBIT®  Inflatable water park, Glitzcamp Glamping tents that extend the shaded play zones and an onsite education center to make sustainability and environmental awareness an integral part of the experience.
Discovery Centers
The Maldives Discovery Center is a unique and natural attraction. Interactive displays combined with an immersive marine conservation experience and coral reef walk-through with insights into the Maldives origins and the destination's heritage as well as a vibrant cultural crossroads.
The Marine Discovery Center will host a Marine Biologist laboratory with the intention of recruiting, rehabilitating and releasing marine life. Underwater activities such as scuba diving, snorkelling, coral propagation and clownfish releasing programs.