A line of glistening beer taps on the bar in the middle of arguably the most glamorous crowd on this hemisphere this past weekend. This is F1 weekend in Singapore and everybody is sipping … a margarita.
A dozen taps serving up Jose Cuervo margaritas flowed throughout the F1 concert area serving quick, delicious and satisfying (not forgetting the generous pours of Jose Cuervo tequila) cocktails. Available for the first time at F1, the boys behind this clever little cocktail dispenser are the people who bring us all our favourite drinks, Pacific Beverages. The official distributor for Jose Cuervo in Singapore they explained their masterplan in sharing the podium with all the other usual suspects.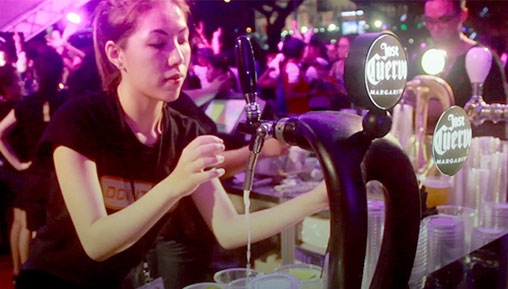 "We want to deliver to our customer a fun alternative to beer and champagne – especially on a festive weekend like F1, you want to have something tasty, easy and enjoyable," explains brand manager Vincent Leong. His personal favourite? Lime. 
And the crowd agreed. 23-year-old Vishesh Banvari is one such convert. "Margarita flowing from the taps!" he asks standing in the middle of the crowd jockeying for their dose, "doesn't that sound like paradise?" 
Particularly for an exciting evening of live music, dancing and general merry-making – a dozen taps serving Jose Cuervo margarita does sound like paradise.