Craving a good burger? Forget fast-food joints like Burger King. Vanilla Luxury brings you a list of the best burgers in Singapore including Impossible burgers. Meaty delights between super soft buns and options of vegan and vegetarian burgers too, we promise these burgers will make it to your top lists this year!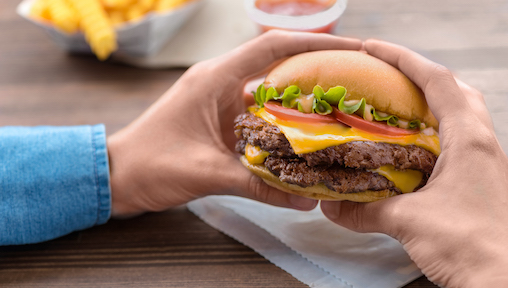 Shake Shack - Best Burgers in Singapore from NYC
Who can forget the snaking queues at Jewel Changi Airport last year when Shake Shack first opened its burger joint in Singapore? You can now flock to 89 Neil Road where Shake Shack has opened its new outlet in town. Known for their all-natural Angus beef burgers, Shake Shack brings its signature burgers from New York City to Singapore, while also offering The Chick'n Shack and Shroom Burger for vegetarians. Don't forget to check out their locally-inspired desserts including Open Sesame vanilla brownies and Pandan Shakes.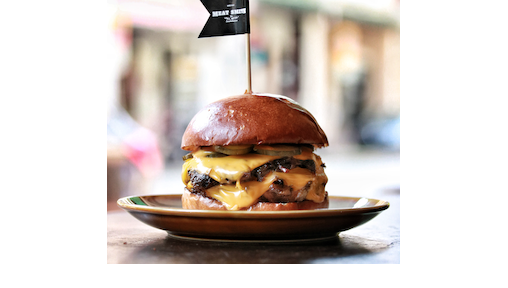 Meatsmith - Best Burgers in Singapore for Barbecued Meats
Think barbecue, think Meatsmith. Expect high-quality meats cooked expertly using smoke, char and the grill at this American smokehouse. We highly recommend the Meatsmith Cheeseburger available at Meatsmith Telok Ayer. A Beef Marmalade Cheeseburger that is a combination of both burgers from Meatsmith and Burnt Ends. The succulent beef simply melts in your mouth with the sweet and salty flavours from Burnt Ends famous Beef Marmalade and Pickles. 
Vanilla Luxury's Pro Tip: Don't miss out on their all-day S$10 cheeseburgers at Meatsmith Telok Ayer only on Tuesdays!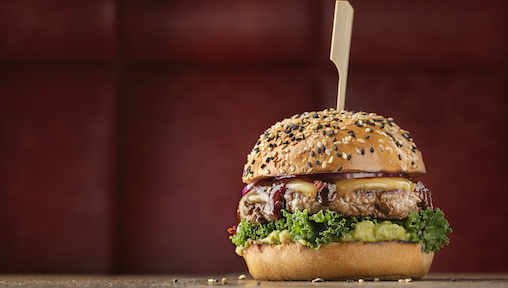 Burger & Lobster - Best Burgers in Singapore from London
Another burger joint that first opened its doors at Jewel Changi Airport least year, Burger and Lobster now has another outlet at the newly revamped iconic Raffles Hotel Singapore. Exclusive to Raffles Hotel, try the Mayfair Burger which features a Nebraskan beef patty and Burger and Lobster's secret burger sauce. Another highlight is the Spicy Miso Burger topped with provolone cheese, lightly spiced guacamole, kale, red chilli flakes and onions. For vegetarians, you have the option of Burger and Lobster's version of the Impossible Burger.
Vanilla Luxury's Pro Tip: Head to MF Bar by Burger & Lobster to have a taste of their exquisite cocktails before or after dinner while enjoying live music.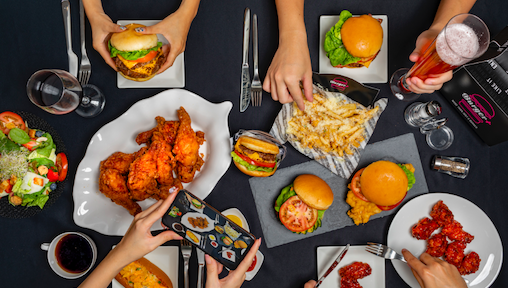 Burger+ - Best Korean Burgers in Singapore
Partying with friends till late night in Clarke Quay? Burger+ serves Korean gourmet burgers and drinks until 3am on Friday and Saturday! This Korean burger joint in Singapore also offers breakfast toasts all day from as early as 8am. A Korean cocktail in one hand and Burger+'s irresistible signature burger in another – it's the perfect spot for a slow brunch or a cool late-night hangout with friends. Enjoy in-house signature cocktails like the cute gummy bear cocktail as well as authentic Yangnyeom Korean fried chicken while K-pop music pumps up the atmosphere at Burger+.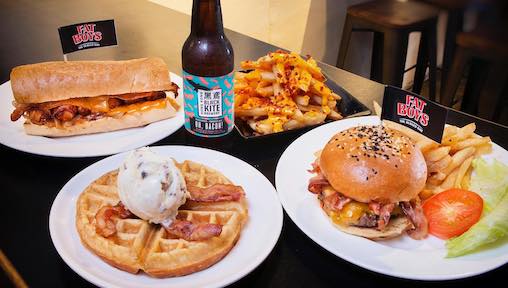 Fatboy's - Best Burgers in Singapore to Build-Your-Own
With locations spread across Singapore, Fatboy's burger bar gives you the chance to build your own burger. Choose from over twenty-five toppings and fourteen homemade sauces including a curry remoulade, salted egg, and Nutella. Alternatively, choose a burger off their current menu such as the "Mahalo", a bacon stuffed pork patty with grilled pineapple and melted Monterey Jack. End off on a sweet note with Fatboy's thick malt shakes or churros fries.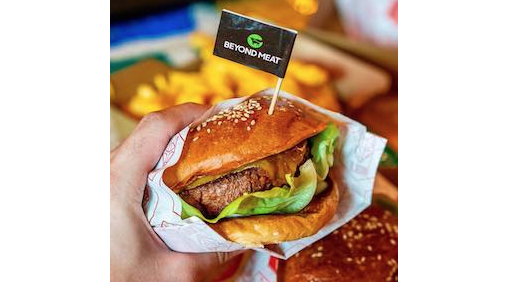 Wolf Burgers - Best Burgers in Singapore with Local Flavours
Located at PasarBella @ Suntec, Funan IT Mall and Changi City Point, this burger joint makes amazing gourmet burgers at affordable prices. Their signature "Wolf" Burger, a grilled smoky beef patty with sharp cheddar and caramelised onions is particularly worthy of a try. For a special local twist, order the Hainanese Chicken or Rojak Beef Sliders. Vegetarians can go for the Truffled Impossible Burger or Miso Tofu Veggie Burger. Pair your burger with a side of their kimchi or candied sweet potato fries. Mouth melting from start to finish.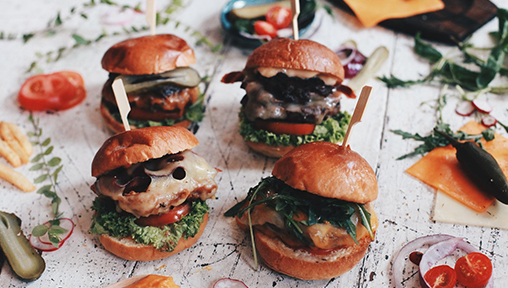 Working Title - Best Burgers in Singapore which are Halal-Certified
Located along North Bridge Road, this small burger bar offers a gourmet menu of hand-pressed patties featuring thirteen different types of burgers from basic to premium. If you are tired of a classic cheeseburger, try their Seoul Sister burger with garlic soy fried chicken, sesame seeds, mozzarella cheese, kimchi, romaine lettuce, tomatoes, cucumber and gochujang. For a vegetarian option, try their Magic Truffle Mushroom burger with grilled portobello, provolone cheese, truffle oil, caramelised onions, sliced tomatoes, red frisee, and homemade garlic aioli.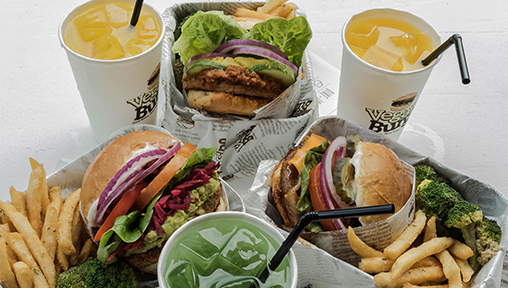 VeganBurg - Best Burgers in Singapore that are All Vegan
On a plant-based diet? For meat-free alternatives and vegan burgers, visit VeganBurg. Located at Jalan Eunos, this place bills itself as the world's first vegan burger fast food joint. Try their "Char-Grilled Satay" burger where creamy satay sauce is poured over a soy patty and topped with lettuce, cucumber, and onion rings. VeganBurg even has a spicy Chili Krab burger as well as best sellers Avocado Beetroot and Creamy Shrooms. An added bonus - they promise it's high in antioxidants.
BERGS - Best Burgers in Singapore Inspired by Australian Burgers
With two outlets in Singapore - East Coast and Haji Lane - BERGS is the perfect place to grub on some gourmet burgers. Their extensive menu includes fish, lamb, and veggie options. The burger buns are baked daily using a special recipe that complements their flavourful signature BERGS sauces. Try their Kiwi Stud burger featuring a garam masala spiced lamb pattie, lettuce, tomato, red onion, BERGS sauce and aioli. They also have three vegetarian burgers including the Impossible Burger.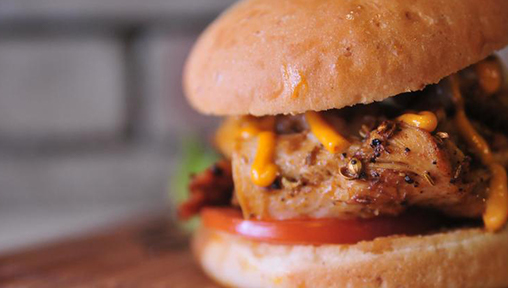 Two Blur Guys - Best Burgers in Singapore at a Hole-in-the-Wall Restaurant
Literally started by two blur guys with a passion for burgers, this small, fuss-free gourmet burger joint is located just walking distance from Tanjong Pagar MRT. Their "Pulled Pork" burger with tender pulled pork, gruyere cheese and honey mustard on a wholemeal bun is a must-try. Alternatively, try the signature "Prime Beef" burger topped with truffle mayo and don't forget to thank us! The vegetarian burger features grilled mushrooms while the vegan burger comes with a homemade tofu patty.
Three Buns Quayside - Best Burgers in Singapore by the River
Located along the Singapore River at Robertson Quay, Three Buns offers gourmet burgers and crafted cocktails. It is home to some of the best burgers in Singapore. They use only the finest quality meat, artisan buns with sauces that are homemade from scratch. Try the Sly Stallone - Hawkes Bay Ovation lamb patty, Quader de Cavra cheese, heirloom tomatoes, pesto and lettuce in a toasted demi brioche bun. Plant-based and meat-free alternatives are also available with four different types of Impossible Burgers.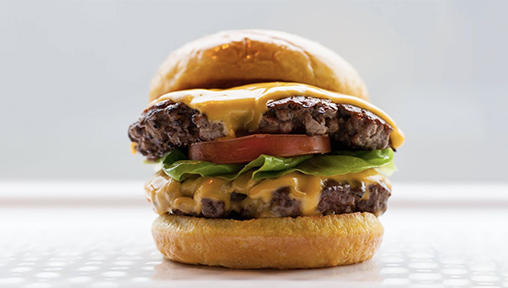 Omakase Burger - Best Burgers in Singapore with Patented Patties
Almost everyone you ask about a burger joint will probably name Omakase Burger as one of their favourites. When every single burger is hand-made daily, the patties are fresh and of the highest quality, why wouldn't it be? The clear classic Omakase Cheeseburger still reigns supreme with its hand-ground beef patty, toasted bun, melted American cheese, lettuce, tomato and secret Omakase sauce. Omakase Burger also offers two varieties of Impossible Burgers to be paired with Impossible chilli cheese fries!