Ayurvedic skincare brands are the new rage in town; they are natural, safe and great for  you! While the market for skincare products out there is crowded, we did some research and discovered five Ayurvedic brands that worked wonders for us. Ayurveda is the ancient science of medicine based on the idea of balance in bodily systems. So, if you're on the lookout for the perfect products to suit your skin, we assure you won't go wrong with our list.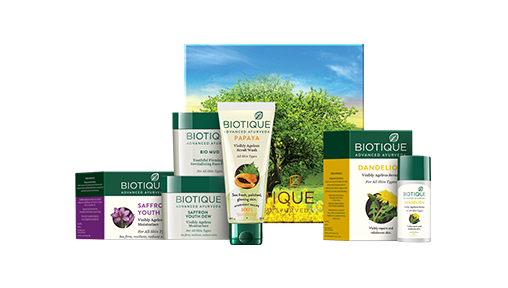 Organically pure, preservative-free, dermatologist-tested for safety and with several therapeutic properties, Biotique balances all of nature's wonders through a blend of Ayurveda's 5,000 year old traditional recipe and 21st century Swiss biotechnology.
Some of their signature products include Bio Winter Cherry Rejuvenating Body Nourisher (contains the richness of several nutritious oils and botanical extracts, giving your body the much-needed moisture that it needs in the winter months); Bio Almond Oil Nourishing Body Soap (blended with wholesome almond, margosa and coconut oils mixed with turmeric, gently washing away impurities without unsettling the skin's natural PH balance); Bio Honey Gel Refreshing Foaming Face Wash (100% soap-free gel-blended with pure honey, wild turmeric, and extracts from the bark of the arjun tree; dissolves makeup and impurities, softens the skin and helps lighten the complexion); and Morning Nectar Visibly Flawless Skin Moisturiser (replenishes the skin, keeping it fresh, light and bright; while reducing fine lines and wrinkles).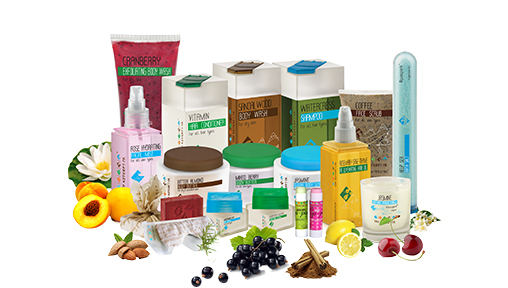 The Nature's Co. applies the age-old healing and curative powers of pure nature in all its ingredients—delicate herbs, fragrant flowers, natural preservatives, essential oils and extracts. Their luxurious creations come under five distinct ranges: Atmospure (air), Starrize (sun), Foressence (forest), Earthborne (earth) and Aquaspark (water). With strict quality controls, micro-testing and clinical trials on humans only, their traditional natural remedies are safe, gentle, effective and environment-friendly. Their philosophy emphasizes a strict adherence to the 'all natural' way, with products that are vegan as well as free from silicones, synthetics and chemicals.
Their top seller is the Coffee Face Scrub (full of anti-microbial and antioxidant properties that sloughs dead skin, boosts circulation and imparts an instant radiant glow). Other notable ones include: the highly effective Fuller's Earth Face Pack (removes toxins and excess oil, rendering skin with a glowing complexion) and the heavenly Sandalwood Body Wash (a unique, woody wash that calms and relaxes the body and mind, purifies and hydrates ageing, dry or flaky skin, and balances oily skin conditions). While you're at it, don't forget to try their brand new offering, the Saffron Radiance Face Cream.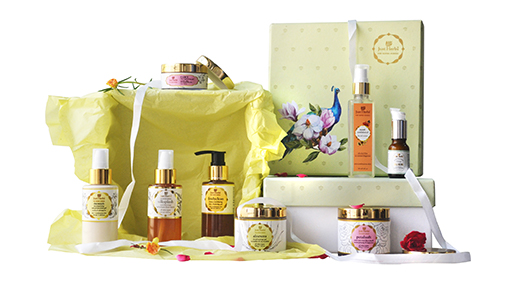 Modern-day luxury skincare brought to you by the ancient Indian plant-based organic healing heritage of Ayurveda, Just Herbs in simple terms, is 'yoga for the skin.' None of its products contain sulphates, parabens, GMOs, bleaching agents or any other carcinogenic or harsh chemicals; instead, they use certified organic and wild-crafted Ayurvedic herbs.
Both the rehydrant Silksplash Facewash and Nosun Moisturising Sun Protection Gel have the natural goodness of neem, sandalwood and honey in them. The Gotukola Indian Ginseng Rejuvenating Beauty Elixir Facial Serum is a synergistic blend of treasured Indian herbs that blocks inflammatory changes during the skin ageing process while restoring its youthfulness. The Intensive Skin Rejuvenating Aloevera Facial Massage Gel livens up dull and lifeless skin and the Instaglow Almond Complexion Pack revitalises dehydrated skin.
The Kerala Coconut Handmade Bathing Bar pacifies, cools and moisturises dry skin and the Herb Enriched Skin Tint provides sun protection, blurs imperfection, and masks pores and blemishes. Lastly, the distinctive Coorgi Coffee Lip Smoothening Salve is a lip remedy enriched with coffee extracts and the Tender Touch Body Radiance Oil relieves stress and keeps the skin emollient.
The only Indian brand to offer certified-natural personal care and beauty products, SoulTree's products use authentic Ayurvedic recipes and honestly-sourced natural, organic ingredients. Carrying a triple seal of Truth—Ayurvedic, Organic and Ethical—it is also the only Indian brand annually certified by the reputed European Certification Agency BDIH of Germany.
Some of their must-try products in the skincare range include the following: Tulsi & Sandalwood Moisturising Gel (a non-greasy moisturiser having olive and jojoba oils, sandalwood, aloe vera, witch hazel water, lodhra, tulsi, neem and organic honey); Indian Rose Face Wash (turmeric combined with fresh extracts of Indian rose, aloe and forest honey keeps the skin clear, soft and protected); Saffron & Almond Oil with Natural Vitamin E Nourishing Cream (a light nourishing cream having saffron, natural vitamin E and sweet almond oil that keeps the skin supple and smoothens fine lines); Turmeric & Aamla with Skin-Firming Brahmi Anti-wrinkle Cream (fresh extracts of nine organic ingredients make this a complete skin-toning bouquet).
A special mention is the Ayurvedic Kajal available in 12 shades (made by a 3,000 year old  traditional Ayurvedic recipe, using organic ghee, camphor, organic almond oil and natural pigments.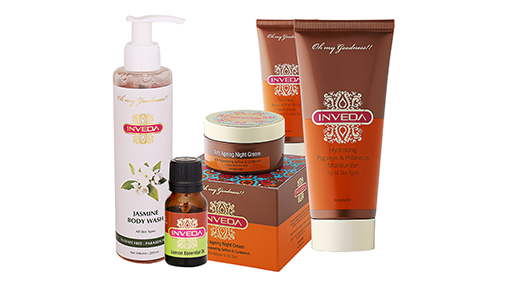 Inveda infuses the age-old wisdom from the Vedas with the therapeutic and regenerative qualities intrinsic in natural extracts. Some of its paraben-free products include the following: Anti Ageing Night Cream with Rejuvenating Saffron and Cardamom (lavishes the skin with rich minerals, leaving it warm, smooth and firm; also helps reduce fine lines and wrinkles, and enhances the skin's emollient-absorbing ability); Hydrating Papaya & Hibiscus Moisturiser (spreads easily and smells heavenly, keeping the skin moist, soft and supple. It also smoothens flaking skin and seals in the skin's moisture); Soothing Rose & Patchouli Face Wash (removes impurities without disturbing PH balance, while soothing and moisturising the skin); the deliciously scented, sulphate-free Jasmine Body Wash (a creamy and fondant foam enriched with jasmine and gotukola having antioxidant and regenerating properties, which hydrate and nourish the skin); and the Lemon Essential Oil (cleanses, freshens and disinfects, and can be used in an aroma lamp, bath or potpourri).