For some, history and fashion are considered to be worlds apart, but designer Ayesha Kohli has found a way to effortlessly meld the two together.
The talented designer combined her appreciation for textiles, storytelling and graphic design as she launched her label of cashmere scarves called Ayesha Cashmere. Each scarf has their own story to share, truly living up to her design ethos of "Stories Forgotten and Familiar."
The Jaali scarf for example takes inspiration from the beautiful, old, and a slightly rusty window from the Ottoman Empire, Ayesha has transformed the story of these ornate and delicate window frames of the yesteryears on to her scarf by playing with prints of "ogival lattice" which is a type of pattern produced on Ottoman silks back in the 16th century.
To know more about how these stories are transformed into beautiful cashmere scarves, Vanilla Luxury sat to have a quick chat with Ayesha Kohli, founder of Ayesha Cashmere.
Vanilla Luxury: With a background in marketing, public relations and economics, how did your journey as a fashion designer start?
Ayesha Kohli: During my university days, I studied Economic History and became fascinated by the impact of the global textile trade. That was when my journey as a 'textile junkie' started as I began collecting all kinds of fabrics during my travels. Apart from the designs and colours of each piece, what would fascinate me were the stories behind each item. In my day jobs, I would be working on brands and storytelling. So my scarves reflect my two decade-long love for textiles, graphic design and storytelling.
Vanilla Luxury: Who would you consider as your biggest support in establishing the brand?
Ayesha Kohli: Without a doubt, my family and friends are my biggest champions. The encouragement and support, constructive feedback and suggestions that I have got from people close to me is invaluable. They are also my best brand ambassadors and tell my story with such pride – it's both empowering and humbling, and fills me with immense gratitude. Since my enterprise is based in Singapore, I have also got a lot of support from the Textile Federation of Singapore, IE Singapore in accessing platforms and opportunities that newbie may find difficult to approach.
Vanilla Luxury: Your designs have a lot to do with history, how did you come up with the idea of merging history and fashion into your scarves?
Ayesha Kohli: I love history. I studied the history of the textile trade extensively when I was at university so the fascination with history and fabrics started quite a while back. If you grow up in India, like I did, you can't help but be influenced by the richness and diversity of Indian crafts as well.
I also briefly dabbled in interior design (and have a diploma as well) and once again, love the history behind trends in interior design and the decorative arts.  While I never trained in fashion, I have a natural tendency to look back and be inspired by crafts and techniques of times gone by and handcrafted artisanal work. When I started my business, I was very clear in my vision – my design ethos called 'stories forgotten and familiar' - would get its inspiration from history but then reinterpret a concept to create a print or texture, using the finest cashmere and create an end product that would be both contemporary and modern.
Vanilla Luxury: Which is your favourite piece from all your collections?
Ayesha Kohli: My first design is close to my heart, because I started an incredible journey because of it. It's called the Sarasa, inspired by Indian Sarasa textiles popular in the Edo period (1615-1868) used for sashes (obi) and the lining of robes (kosode). The main motif is a Japanese Chrysanthemum, evoking Japanese Buddhist iconography. Initially I produced 10 pieces just for fun and gave them as gifts to family and friends. And then my friends would keep telling me that they were getting compliments for the design and their friends were asking where they could buy one. Two years since its first trial run, my Sarasa print is being worn by happy clients all around the world.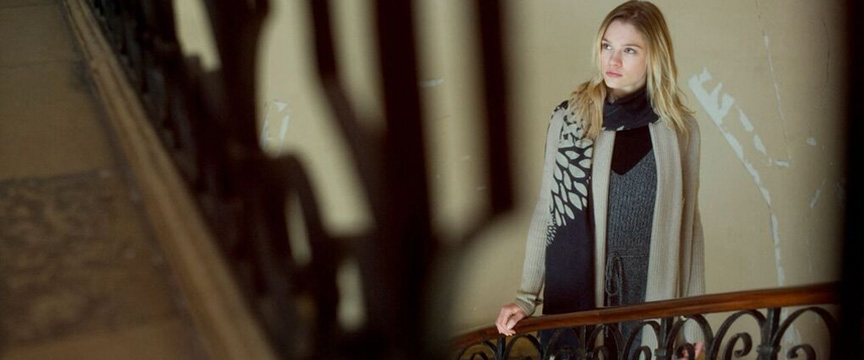 Vanilla Luxury:  Between designing, manufacturing and actually getting to see customers wear the brand, what do you think is the most rewarding part of your job?
Ayesha Kohli: Getting to see customers wear the brand and recommend it to friends is the most rewarding, because it validates everything my label is about - my design aesthetic, my product quality, my commitment to ethical sourcing and supporting handwoven crafts and craftspeople.
Vanilla Luxury: How do you juggle the brand, your marketing company and being a mom all at once?
Ayesha Kohli: It does get a bit crazy at times, but I am fairly organized. I must give lots of credit to my husband who is incredibly supportive and organized as well, especially when I may be busy. We plan our travel schedules so that at least one of us is always around for our children. Our two boys, 12 and 9 are responsible kids who know what they need to get done in terms of homework, extracurricular activities and chores, so that makes life a lot easier. We spend a lot of time together as a family, so I think work and life is pretty balanced on the whole.
Vanilla Luxury: Give me one reason why should anyone purchase an Ayesha Cashmere scarf?
Ayesha Kohli: The uniqueness lies in the quality and design combination of an Ayesha Cashmere scarf. The weave, softness and texture of an Ayesha Cashmere scarf is the direct result of using premium grade cashmere and having experienced weavers create a fabric that keeps getting better with time. The designs are contemporary, yet timeless, colourful and yet easy to wear with a variety of outfits.  This was my vision when I started out and this is exactly the feedback I get from happy customers who come back for a return purchase.  Plus I produce each design in limited quantities, so that the prints remain exclusive. Apart from this, my business is built on the philosophy of 'Source Ethical, Support Local Craft.' I only work with small factories after ensuring that their sourcing and labour practices are ethical and friendly and these small studios work with local weavers and craftspeople.
So an Ayesha Cashmere scarf is a beautifully created product, from the initial yarn to the final wrap.
Vanilla Luxury: As a customer, how would you suggest I differentiate real cashmere from knock-offs?
Ayesha Kohli: When you touch a high quality cashmere product, the softness, feel and flow of the weave is immediately recognizable and even people who may not know the intricacies of different yarns, can instinctively tell that it is a superior product versus a cheap knockoff.
The technical industry term for the yarn is 'cashmere', so if the product label does not give the composition of cashmere used, one should be wary. I offer 3 types of scarves – 100% cashmere, 70%cashmere and 30% silk and 50% cashmere - 50% linen and it's always specified on the label. I use premium grade cashmere yarn to create a fabric that is very soft, breathes well in any climate, keeps you warm in winter and cool in summer. Good quality cashmere becomes softer with age, wears well and lasts long. The price for genuine, premium cashmere is higher than mass-produced knock-offs, but it's an investment that's totally worth it.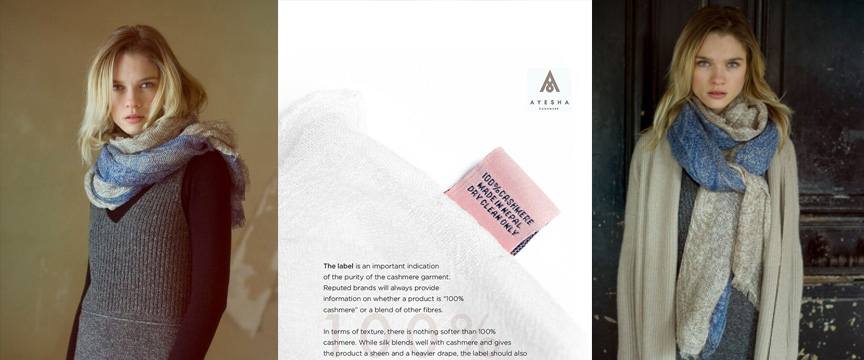 Vanilla Luxury: Do you have plans of branching out to other products besides scarves in the near future?
Ayesha Kohli: Yes, I would like to expand into ready-to-wear at some point. I have done several kinds of samples for different kinds of items. However it's still a work in progress currently.
Vanilla Luxury:  A fashion/styling tip for our readers at Vanilla Luxury?
Ayesha Kohli: Play with texture, pattern and proportion and embrace the unexpected.
Layering an outfit with different types of textures, patterns and proportions is one of my favourite ways to create interest in an outfit. The key is to edit the look and pull off something chic and yet a little unexpected. Unusual prints, colours, silhouettes and embellishments always add an unexpected element. When it comes to styling a scarf, I love playing with contrasting colours or wearing them in unusual ways to create some visual drama.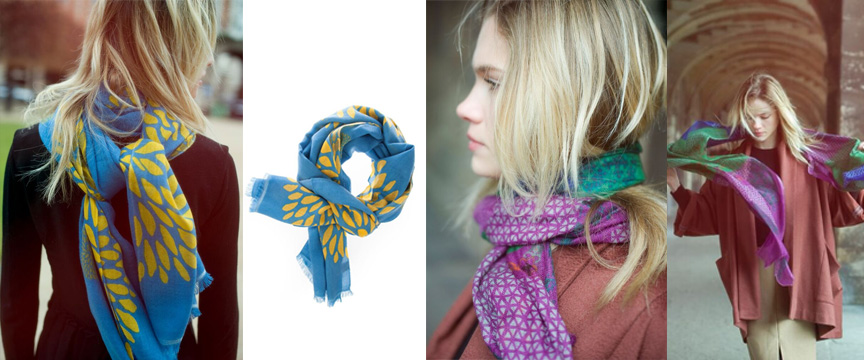 To view their latest designs or book your private viewing, please visit the Ayesha Cashmere website or contact her at +65 9836 6341.