Many people underestimate the beauty of manicured nails and in turn, making it an underestimated accessory. To me, a good manicure is not only time for you to relax and unwind and at the end of it, you feel like a million bucks and with a huge boost of confidence. Yes, yes, we all know that getting your nails done isn't exactly the cheapest thing but hey, you have to pamper yourself and let yourself be pampered once in a while. The next time you head to your manicurist, add on some nail art to spice up your look and make a statement. 
Minimalist nails are the nail art trend of the season! It entails negative spaces, lines, dots and simple geometric shapes. To be frank, minimalist nails debuted in 2014 with New York Fashion Week and it has never really faded away ever since. 
Here are two ways you could go about getting that super simple yet stunning minimalist nail art! You know what they say 'Less is More'. 
Monochrome and Minimalistic
You can never go wrong with a set of black and white monochrome nails. It is such a versatile design that goes with everything.
Opt for negative spaces and a very simple geometric shape for a classy and sleek design.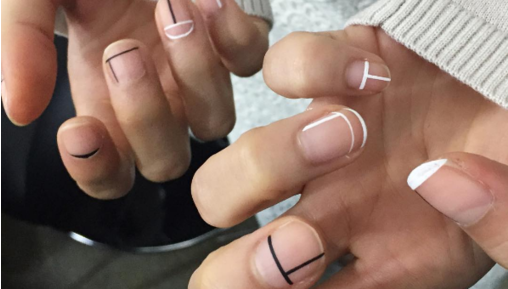 Go for lines to create structure to your look and besides this is super easy to do at home.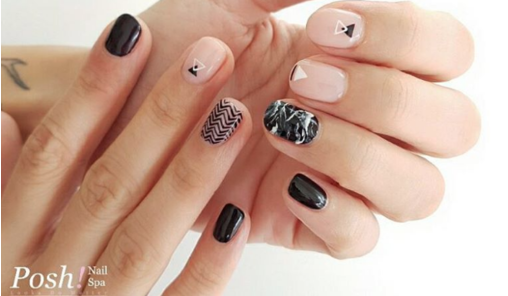 Image Credit: Posh! Nail Spa
Monochrome minimalistic doesn't need to by uniform designs on all nails, play around with various shapes, waves and marbling to give it complexity and sophistication. If you are looking for something work appropriate, switch it up with a nude and white monochrome. 
Colour and Minimalistic
We know some of you love vibrancy and a pop of colour. Great news! You can have minimalistic nails with a dash of oomph.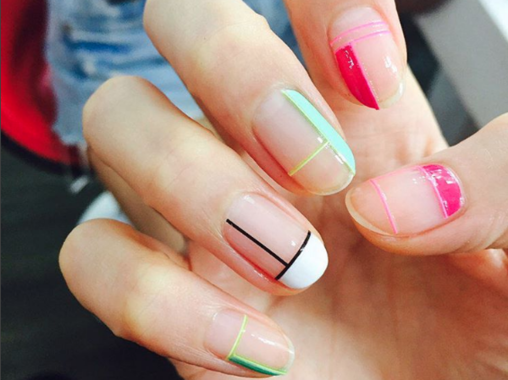 Image Credit: nail_unistella
You can take a modern twist on the traditional French manicure with a play of colours, lines and negative spaces.
Colour blocking is also a simple and minimal way to be cheeky with your nails. Go for contrasting colours to further make a statement. 
To make things a little more interesting, opt for irregular shapes and stand out. 
Minimalistic nails are trendy and fun because it does not necessarily succumb to uniformity and gives you and the nail technicians freedom for creativity. If you ever need inspiration, pinterest and Instagram are your best bets, as always! Go ahead, book your appointments and get your nails done the minimalistic way!