Award-winning fashion designer and celebrity stylist, Neeta Lulla, has been in the Indian fashion scene for over two decades. She has designed numerous iconic Bollywood costumes in over 300 films, and continues to bring glamour to Indian wedding dresses.
We talked to her about her new collection, her inspirations, and her forecast on upcoming trends for 2018.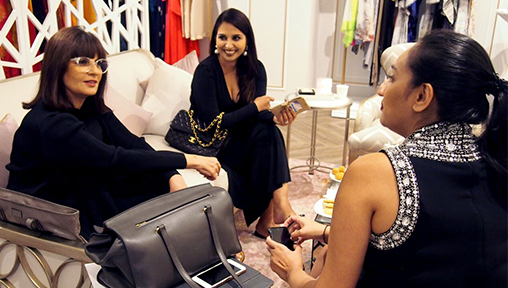 Vanilla Luxury: Is this the first time you are showcasing your collection in Singapore? Are you excited? What are you looking forward to the most?
Neeta Lulla: Yes, this is the first time I'm showcasing in Singapore. I appreciate the core vision of White & Gold of showcasing experimental designs that cater to a global outlook on Indian craft and heritage, and bridging the gap between India and Singapore. Besides, I also plan to visit Marina Bay, Holland Village and Dempsey Hill.
Vanilla Luxury: Which collection of yours would you be sharing with fans of yours in Singapore?
Neeta Lulla: I will be premiering 'N Pret' from the iconic retail powerhouse, The House of Neeta Lulla, for the first time ever on global shores. 'N Pret' aims to create a fine balance between haute couture and prêt à porter for the discerning consumers who are sentient of fashion aesthetics. The unique selling point of the brand is its ability to fuse western and ethnic silhouettes, prints and designs catering to varied taste.
Cocktail ready-to-wear gowns, pre-stitched body contouring saree drapes, asymmetric tops with flared pants, digital printed skirts with tasselled and sequinned embellishments are part of the collection which is apt for formal outings and resort or destination weddings.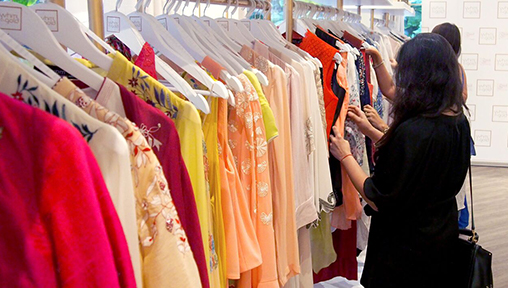 Vanilla Luxury: Having designed for so many Bollywood celebrities, share with us your favourite muses.
Neeta Lulla: This is a long list of my favourites: Lamhe and Khudagawah for Sridevi; Darr, Aaina and Hum Hain Rahi Pyaar Ke for Juhi Chawla; Hum Dil De Chuke Sanam, Devdas and Jodha Akhbar for Aishwarya Rai; and now Kangana Ranaut for Manikarnika.
Vanilla Luxury: We have gone through your various collections from Runway, Celebrity Style, to Bridal & Couture. How do you keep coming up with new creations?
Neeta Lulla: To design a collection is to communicate something in an aesthetic and surreal language. It is constant research and I am always looking to do something out of the box and to question the typecast. Very often I communicate ideas knowing that it may have a social message or a rich heritage inspired by our beautiful crafts like Kanjeevaram, Kalamkari or paithani weaves. I choose to create collections through which I can create a dialogue with my consumer about culture, legacy, tradition, and heritage through a collection that retains the indigenous aspect and adds a dash of contemporary chic.
Having seen many ideologies in my lifetime, it's difficult to comprehend fashion through a singular thought. I still think the culture and history of the past are important tools for analysing the present and the future and making comparisons. Thus, not constructing my inspirations and going with the flow of aspirations.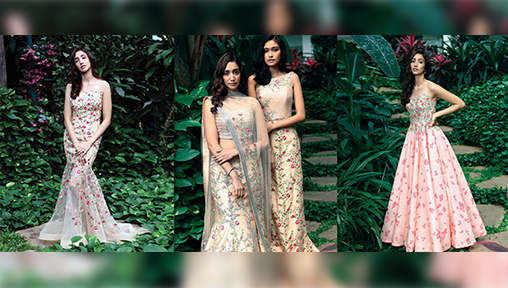 Vanilla Luxury: What is your design inspiration?
Neeta Lulla: I am inspired by everyday experiences and from everyday people. I draw inspiration from life. The late Frida Kahlo has been a very big inspiration for me as she pursued her work and creative talent against all odds and was a holistic woman of substance. Shahdab Darazi for his impeccable finish, Azzedine Alia for his figure hugging cuts and silhouettes, Alexander McQueen for his luxuriant yet quirky aesthetics with a message that came through from time to time from his collections and Dolce Gabbana for their fantastic sense of blending color and prints and creative vibrant collections.
However, despite respecting such talents the sensibilities, my design draws inspiration from the romantic structures and silhouettes of the Edwardian era with rich color of the renaissance period blended intricately with Indian fabrics and weaves and detailed with Indian embroidery to create a fusion.
Vanilla Luxury: What is a typical day for Neeta Lulla?
Neeta Lulla: A day filled with passion, experimentation and hustle.
Vanilla Luxury: We respect you using your voice on gender based violence with your 2016 #SheIsMe collection. Would you consider creating a yearly collection so that the message is always reinforced?
Neeta Lulla: Neeta Lulla as a brand always has a deeper purpose than just being a runway brand. Fashion needs to always promote a social message because fashion is a mass concept. #SheIsMe was my personal tribute to tell the women of the world that despite their flaws and limitations, they are beautiful, magical and strong. It was an inspirational showcase. People around the world were fed up with violence against women, unhappy with the lack of accountability for abusers, and fed up with politicians and others who normalise abuse or fail to combat it.
I was quite emotionally disturbed after hearing about foeticides and later Nirbhaya and feel that we as women who stand up for their own right in our industry should combat these issues in raising our voice or creating awareness in some way. Thus a lot of my shows addressed these issues through inspired collections.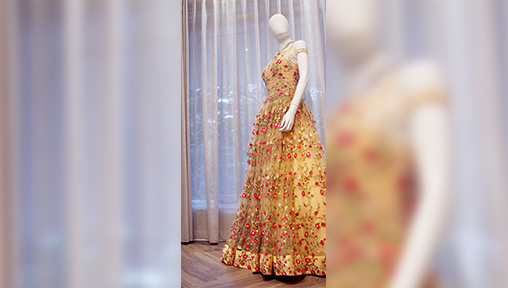 Vanilla Luxury: What's your trend forecast for Spring Summer 2018?
Neeta Lulla: Sequins and sparkles will be come back into vogue. Heritage checks will continue to dominate the racks. Pastel Gelato hues will be the go-to color palette. Asymmetrical and square necklines, ruffles, fringes, feathers, polka dots, rainbow prints, puffed shoulders, sheer material. Transparent plastic fanny packs, x girl sunglasses, Cinderella shoes, and rubber coats will be accessories to experiment with.
White & Gold is located at 21 Orchard Boulevard, #01-21 Parkhouse, Singapore 248645.