Singapore International Jewellery Expo (SIJE) is back again this year and it's larger than ever. Spanning across four days, from July 21 to 24, 2016, the exhibition is showcasing jewellery worth more than USD 150million from 200 jewellers across 25 countries.
Vanilla Luxury attended the shows opening ceremony yesterday and was definitely delighted to some of the most exquisite jewellery from jewelers around the world. 35 jewelers from Italy, 40 from Hong Kong, 30 from India, 31 from Singapore, 15 from Cambodia, 9 from Indonesia,16 from Japan, 8 from Thailand, 6 from Myanmar and a newcomer from Peru and many more jewelers from 25 countries were at the exhibit and each one of the had beautiful pieces to offer to consumers.
Spread over 8,000 square metres, this show is the largest consumer jewelry in Singapore and the region. While surrounding yourself with so many beautiful treasures could be quite confusing, make sure to have a look at our guide of the most exquisite pieces below before you head out to the show this weekend.
1. Historic Emerald Pendant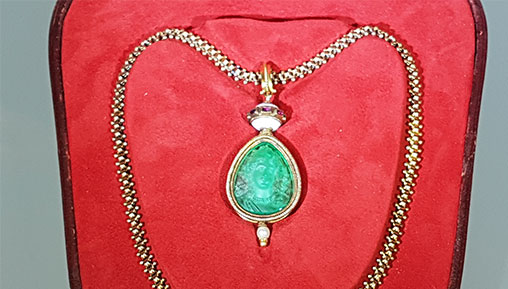 With maximum security and a guard by its side the whole time through, this piece of jewelery is one of the main attractions at this years show. This emerald pendant, carved by the famed Italian jeweler Fortunato Pio Castellani back in the 19th century and was reportedly a gift from Napolean III to his lover, Virginia Oldoini. 
Price: Undisclosed
2. Kahn Emerald Ring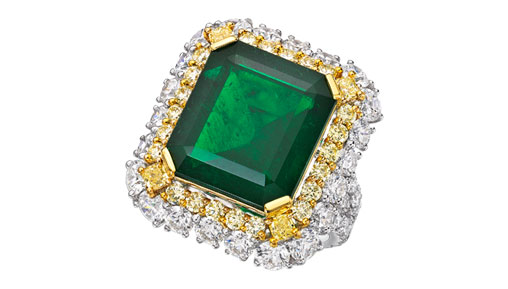 A ring that looks like its made for a queen and is available at the booth by Aspire Designs. The 12.32 carrat Emerald ring is set in a comvination of 18k White and yellow gold, and surrounded by 26 fancy yellow diamonds totaling to 1.28 carrats. 
Price: SGD 400,000
3. Yellow Diamond Ring
Yellow diamonds are definitely the trend of this jewelery fair and we found an absolutely stunning piece by a local Singaporean Jeweller, Infinity Jewels. The yellow center stone is a 9.03 carrat yellow diamond surrounded by smaller white diamonds giving this ring a total of 12.30 carrats. 
Price: SGD 240, 000
4. An Ode to Singapore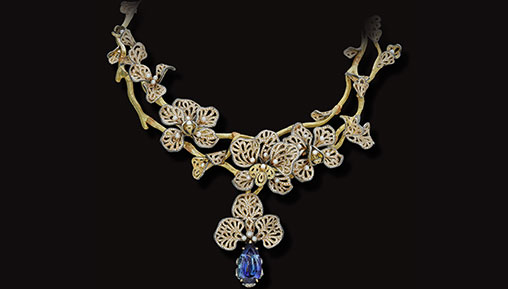 A reputable name in Singapore's jewelery industry, Caratell is seen exhibiting a piece that is inspired by Singapore's national flower, the orchid. This piece of necklace is made using 1 16.14 carrat non heat tanzanite, 1,735 yellow diamonds weighing 6.514 carrats, 3168 white diamonds weighing 10.70 carrats, 29 pearls and 18k yellow diamond - definitely a collectors piece! 
Price: SGD 149, 500
5. The Serpent Pendant 
Hidden in one of the nooks of the exhibit is a brand named Clavem. Clavem which is latin for the word key, is a representation of the brand. The brand creates beautiful handmade key pendants with different themes and no piece of jewellery is ever made twice. The serpent definitely stands out from the rest. 
Price: SGD 26, 560
6. Beautiful Carved Sapphire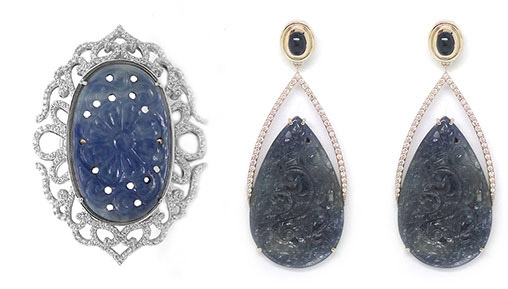 We're very sure you've never seen anything like this before. This exquisite pieces by Roberto Tucci is one you should definitely see. The ring features a carved sapphire surrounded by diamonds and plated in 18k gold. 
Price: SGD 10, 100 
7. Jewels of the Nile: Le Boquet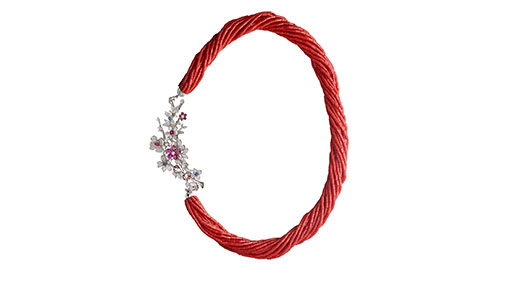 Simone Jewels brings together the kaleidoscopic beauty of gems in the most artistic of settings. This statement piece, made with rubies, blue sapphires, diamonds and red mediterannian corals, definitely caught our attention. 
Price: SGD 28, 800
8. Unique Earrings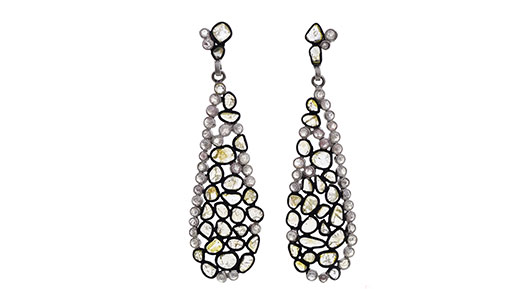 For the young socialities, you will definitely want to pay Deeta Thakural a visit. With unique, simple and sassy pieces like the above, Deeta uses 18k white gold, yellow gold, and rose gold with natural diamond slices and rosecuts. 
Price: SGD 2, 600
9. Something for Him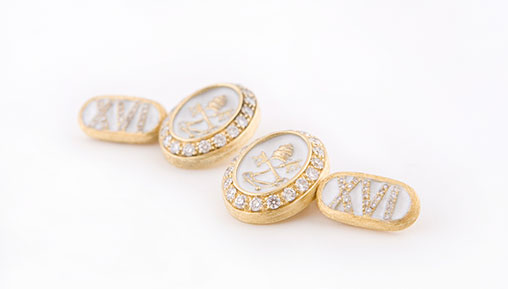 If you thought this jewellery expo is just for women, think again. The expo features rings, bracelets, watches for men and from all that we saw, these cufflinks by Castaldi definitely stood out. Inspired by the city of Rome, these cufflinks will make any man stand out. 
Price: Undisclosed
10. Peruvian Silver Jewels
For those of you looking for a more affordable, every day wear piece, you have to visit Paqarina's booth. It is the only booth that represents Peru in the jewellery expo and their pieces give you a run for your money. These adorable silver earrings made of 95% silver are adorable pieces that could up-do any of your plain outfits. 
Price: SGD 135
The Singapore International Jewellery Expo is being held from the 21st to 24th of July at the Marina Bay Sands Expo Hall A and B. For more information about the expo, visit their website.