The InterContinental Danang Sun Peninsula Resort hides in the Son Tra Peninsula Nature Reserve, atop the Monkey Mountains and an azure lined private bay. Gorgeous greens, surrounded by cliff hanging, jaw dropping views of the ocean and legendary Bill Bensley design welcome you to this stunning property. Perhaps the greatest jewel in the InterContinental groups' crown, the resort needs to be included in your upcoming travel plans and here's why!
The Approach
A quick 30 minutes' drive from the Danang International Airport, the scenic road is lined by several of the resort's signature monkey statues. No real monkeys around? You will see plenty at the hotel and even through your room window!
As you approach the hotel and its grounds, acclaimed architect Bensley's black and white theme with its Vietnamese influences, is a design dream come true. A quick, pleasant check in and a buggy ride later; you can head to your room at one of the four levels - Heaven, Sky, Earth and Sea. Remember to get a map of the resort – it's massive and has both a buggy system and a dedicated vertical tram (yes!) at your service.  
Rooms and the Indulgence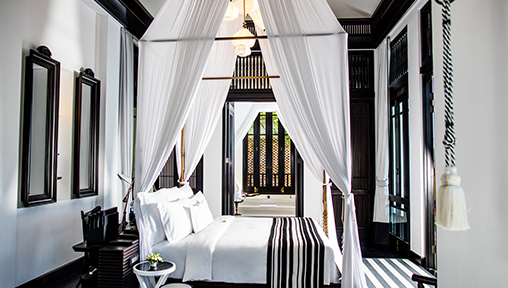 Sea Side Villa
The Intercontinental Club Rooms and Villas are fancy, of course. With access to Club Privileges and your own personal butler; you can truly revel in the luxury here. The indulgence however carries through even if you have booked a basic level room! Each category at this resort comes with a stunning private balcony with views of the ocean bay. One can literally, watch the hours go by in this serene enclosure. We for once did!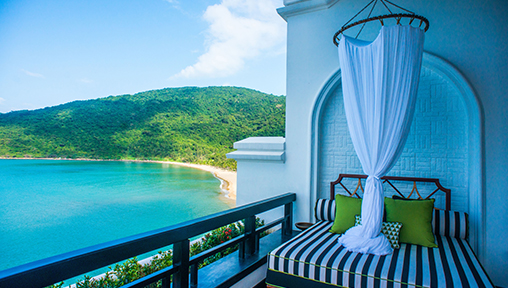 Ocean View terrace overlooking the azure waters
Luxury amenities of all kinds keep you company including a bathtub that overlooks the blue waters down below. A long soak with wine anyone?
The little details add up. From pink razors (for the ladies) to a delicate Non La (or palm leaf Conical hat) and beach bag with slippers - rest assured your stay is going to be comfortable. There's even a pharmacy service available for any travel bugs you may have picked up on the way.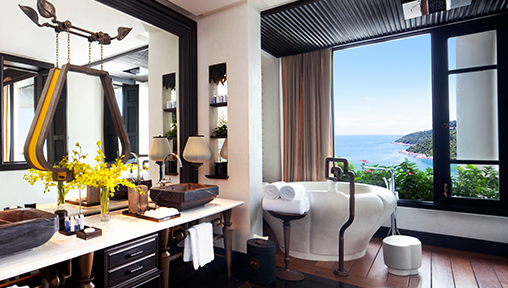 The view from your bath-tub
Why Step Out?
The temptation to relax endlessly in a hotel room rings truer than ever for this resort, but do get up and get out! There is plenty to do around the hotel grounds. A lavishly inviting beachfront, water sports, basket boat lessons and lantern making, for starters!
Got little ones tagging along? The Kids Club is amongst the most well equipped across Asia and comes with doting, experienced staff. Think hair braiding, art activities, face painting and $10++ babysitting charges for after hours.
Take in the movies that are screened at the hotel regularly or book private theatres and karaoke rooms for your own personal use! Drinks and freshly made popcorn needed? Just ask the staff!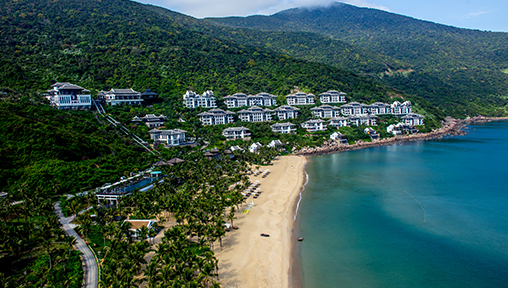 The long inviting beachfront
The weather in Danang demands warmer waters and there is a heated pool at hand along with a massive jacuzzi to sink yourselves into. There's also another Adult's Only pool on top of The Long Bar that gives you breath-taking views of the ocean front.
Want to see what's around Danang? Should you like to leave the hotel and visit the ancient town of Hoi An, which is a must see and just an hour away;  the hotel runs a regular shuttle service or can help you book a private car.
A World Class Spa. And a World Class Pedicure Studio!
The PEDI:MANI:CURE Studio by Bastien Gonzalez is amongst his coveted ones around the globe. As the world's most sought-after pedicurist, expect indulgent pedicures and nourishing nail care. An hour later and painting your nails will never be the same again!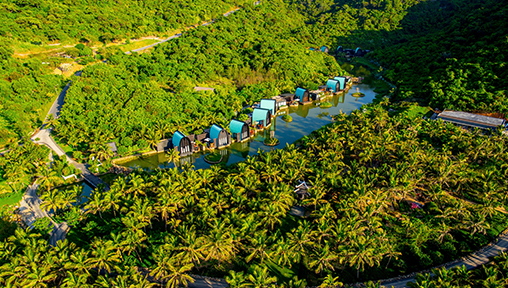 Harnn Heritage Spa
With no holiday complete before a visit (or several!) to the spa – make sure to visit the one at the resort too. The World Spa Awards 2016 recently awarded the Harnn Heritage Spa as Asia's Best. Look forward to pampering Asian treatments using only the finest botanical ingredients in a setting that is as dreamy as the resort itself.
Gastronomy Delights!
As one of the top dining destinations in Vietnam, La Maison 1888 attracts hotel guests and visitors alike. Helmed by Three Michelin Star Chef Pierre Gagnaire, it is the perfect setting for a romantic classic French meal.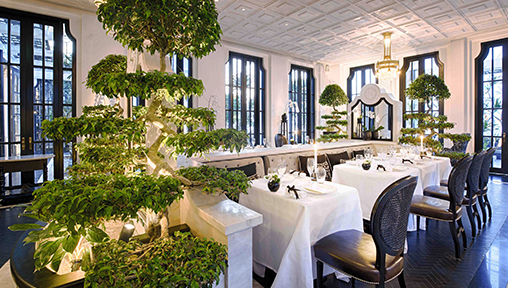 La Maison 1888
Also, don't miss the daily breakfast buffet at Citron, where amongst a lavish spread of morning delights there are jaw-dropping views to boot. We also enjoyed dining at Citron for Vietnamese specials that are sure to be the highlight of any trip to the country.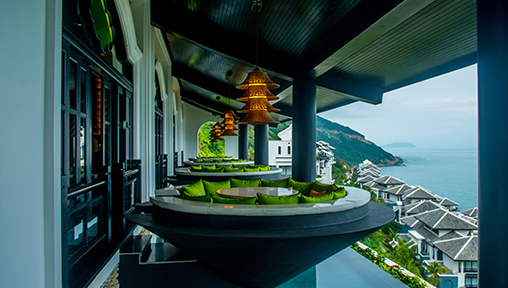 Jaw-dropping views from Citron
The Barefoot restaurant is at its name suggests. Right by the beach, casual and with no shoes needed! Order thin-crust pizzas, amongst other seafood and sandwiches while your toes dip in the soft powdery sand below. The Long Bar, poolside drinks or the extensive in-room dining menu – suffice to say, you won't go hungry any time soon!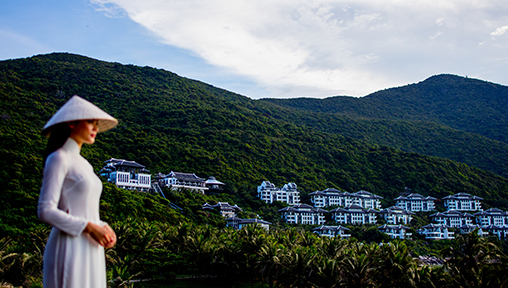 A treat for all senses, visual and otherwise - it's no wonder that the Intercontinental Danang Sun Peninsula Resort sees many a repeat visitors, every year. The location and design of the resort is a sure winner complemented by impeccable service and the hospitality on offer. A short and easy ride away by plane, a mere 2.5 hours from Singapore; they will certainly be seeing more of us!
To book a stay at The Intercontinental Danang Sun Peninsula Resort click here. Alternatively vote for the resort in the running for Conde Nast Traveler's Readers' Choice Awards 2017, and you may just win a stay there!